Democrat Sanders Gaining On Front-Runner Clinton In 2016 Presidential Race: Poll
@reuters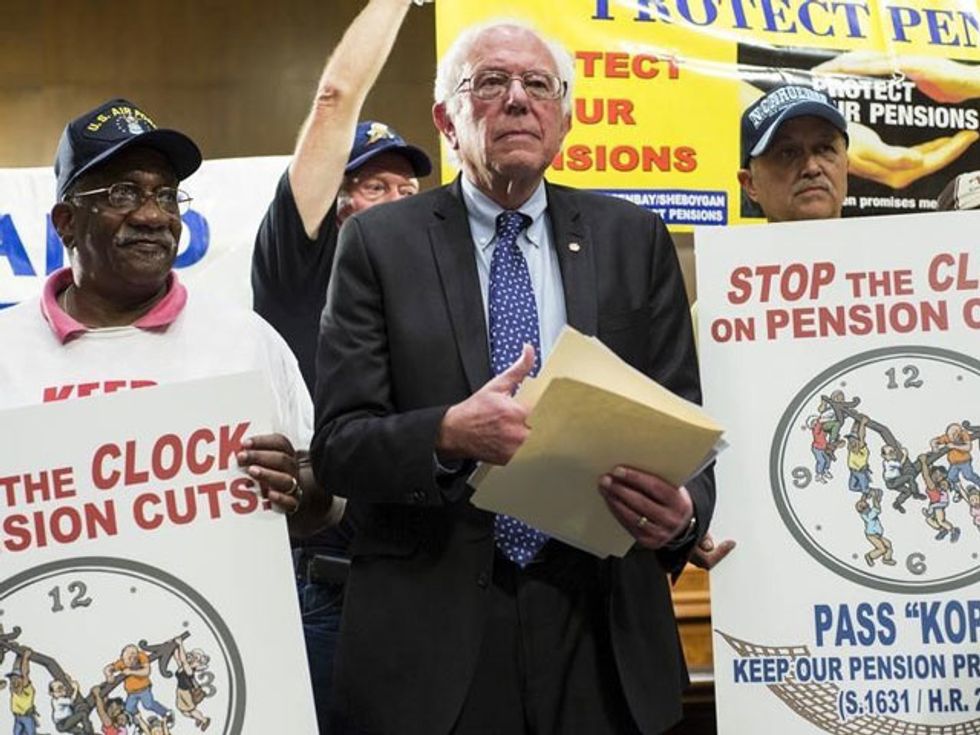 WASHINGTON (Reuters) — Vermont Senator Bernie Sanders is gaining fast on front-runner Hillary Clinton in the Democratic presidential race and has moved within single digits of her for the first time, a Reuters/Ipsos opinion poll showed on Friday.
Clinton leads Sanders nationally among Democrats by eight percentage points, 39 percent to 31 percent, her smallest cushion since the nominating battle began for the November 2016 election. She led Sanders by 20 percentage points in the online poll a week ago. (Reuters/Ipsos poll: http://bit.ly/1L6Tpwu)
Clinton's support among Democrats has steadily eroded for weeks amid questions about her use of a private email server while she was secretary of state. Her support was at 45 percent one week ago.
Clinton apologized for the email practice earlier this week, but the controversy has helped knock her support among Democrats to its lowest level since Reuters/Ipsos began polling on the 2016 election almost three years ago.
Sanders has galvanized the party's left-leaning activists and primary voters and taken advantage of what other polls show are Clinton's declining ratings on honesty and trustworthiness to surge into contention. He was at 25 percent support in the rolling, five-day Reuters/Ipsos poll a week ago.
Other public opinion polls show Sanders moving into the lead or tied with Clinton in Iowa and New Hampshire, the states that kick off the nominating contest.
Clinton's troubles also have given rise to a possible late entry from Vice President Joe Biden, who says he is evaluating whether he and his family have the energy and commitment for a presidential race after the recent death of his son Beau.
Biden is in third place at 16 percent in the Reuters/Ipsos poll, about where he was a week ago.
John Myers, a South Carolina Democrat who participated in the survey, said he is tentatively backing Biden to represent the party in the November 2016 election but there are too many unanswered questions to be sure.
"I'm really kind of up in the air," Myers said. "I want to see what Biden does, and I want to see where this goes with the Clinton email situation."
The Reuters/Ipsos poll surveyed 668 Democrats Sept. 7-11 and had a credibility interval of 4.4 percentage points.
For more on the 2016 presidential race, see the Reuters blog, "Tales from the Trail" (http://blogs.reuters.com/talesfromthetrail/).
(Reporting by John Whitesides; Editing by Lisa Shumaker)
Photo: Democratic presidential candidate Sen. Bernie Sanders (I-VT) takes part in a rally to preserve union pensions on Capitol Hill in Washington September 10, 2015. REUTERS/Joshua Roberts