Democratic Aspirations Are Headed For The Ash Heap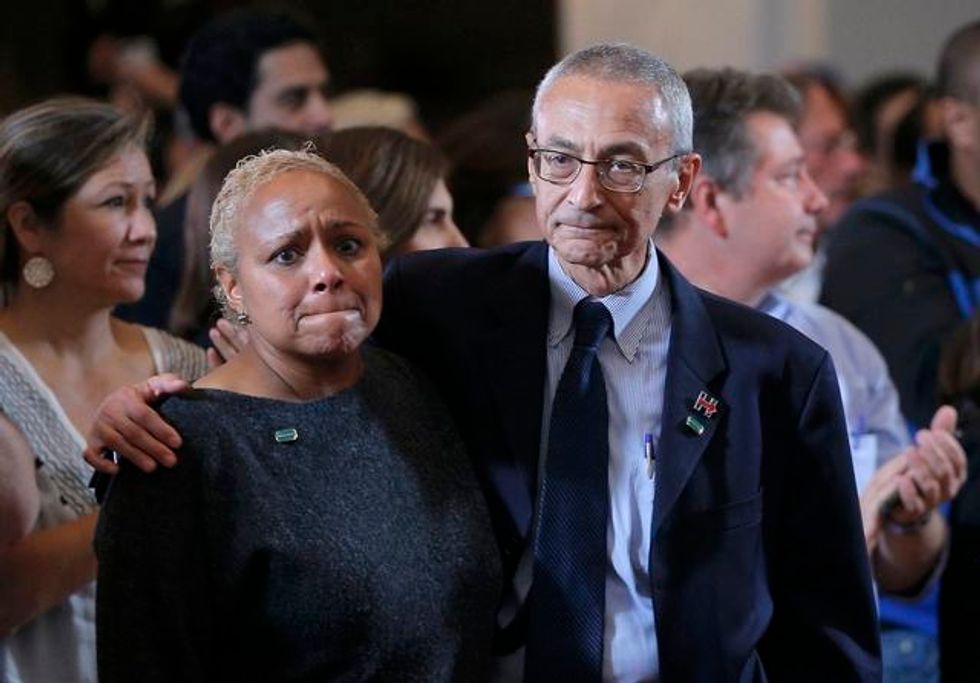 Most political analysts and pundits — myself included — spent the election season predicting the death of the Republican Party, which was embroiled in civil war. We were right: The GOP, at least the GOP of Ronald Reagan and the George Bushes, is dead.
The party in power calls itself Republican, but it is really the party of Donald Trump. We are about to find out what that means.
Still — along with dismissing the plausibility of a President Trump — the commentariat missed an equally important development that is now startlingly obvious: The Democratic Party is bleeding out and near death, too. It may not be terminal, but it is certainly comatose. It may recover, but even if it does, its health will be fragile for years, if not decades, to come.
As a few recounts around the country continue, it's clear that Republican governors and state legislative candidates have romped to victory in most races. The GOP (or the party of Trump) now controls the vast majority of governorships and legislatures. Brooklyn College history professor Robert David Johnson told The Washington Post that a political party has not been so dominant since the World War II era.
That's after taking into account the smoldering heap of Democratic aspirations left behind at the federal level. Republicans now control the White House, both branches of Congress and, shortly, the U.S. Supreme Court. Not only is there a vacancy left by the death of Antonin Scalia, but there are two justices over the age of 80 (liberal Ruth Bader Ginsberg and moderate Anthony Kennedy) and one who is 78 (liberal Stephen Breyer).
That means that Trump could conceivably pick four justices with no resistance from a GOP-controlled Senate. If he chooses conservative justices who are, say, in their 50s, the nation's governing document will be interpreted by a right-wing faction for more than a generation.
That means that President Obama, whom Democrats once believed would be transformational, will have no legacy beyond serving two terms as the nation's first black president. Every major policy or program he put in place is about to be overturned. His executive orders on issues such as deportation will be easiest to reverse, of course.
But a President Trump will also find few obstacles on his way to repealing the Affordable Care Act. Or rolling back Obama's agreement with Iran limiting its nuclear program. Or reversing the president's seemingly historic treaty to curb climate change. The Donald has pledged to rescind all these, and there is no reason to doubt him. Republican leaders already had those legacy-making accomplishments in their gun-sights.
Looking back, the signs of a Democratic Party skating toward disaster have been apparent for some time. Since Obama's first term, news accounts have recorded the decline of state Democratic organizations around the country, a dangerous frailty that became more apparent after the 2010 midterm elections.
The backlash against President Obama was already in full roar, and furious Tea Partiers and their GOP establishment allies turned out at the ballot box in droves. The highly vaunted Obama coalition, by contrast, apparently didn't understand the importance of those elections, and Republicans took over statehouses, Congress and the U.S. Senate. But because the White House was still in Democratic hands, it was easier to overlook the vulnerabilities lurking just beneath the level of the Oval Office.
Now, there is nothing to stop a rollback of the personal liberties and human rights that Americans had begun to take for granted. Vice President-elect Pence, a Christian fundamentalist, will surely want abortion rights abolished and the full array of gay and lesbian rights curbed. Gay marriage? There is every reason to expect right-wingers will try to get a new Supreme Court to overturn its historic marriage ruling.
Perhaps, though, those rollbacks in personal and civil liberties would seed a rebirth of the progressive movement and the political party that has, for decades now, been associated with it: the Democratic Party. It's a shame that the nation will first have to suffer through some oppressive times to get there.
Cynthia Tucker won the Pulitzer Prize for commentary in 2007. She can be reached at cynthia@cynthiatucker.com.
IMAGE: Campaign Chairman John Podesta  hugs Tina Flournoy, chief of staff to former U.S. President Bill Clinton, as they attend an event being held by Hillary Clinton to address her staff and supporters about the results of the U.S. election at a hotel in the Manhattan borough of New York, U.S., November 9, 2016. REUTERS/Brian Snyder