For Democratic Candidates, Iraq Becomes A Campaign Issue — Again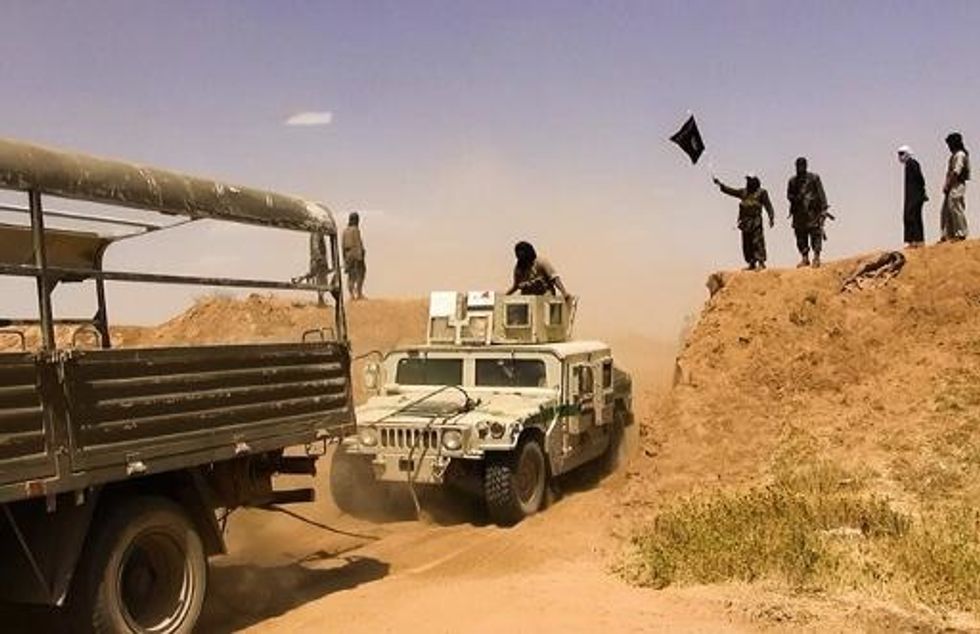 By Maeve Reston, Los Angeles Times
ROCHESTER, N.H. — The Iraq war was once again front and center on the campaign trail in New Hampshire last week, with a Democratic president under fire.
The gruesome beheading of native son James Foley at the hands of Islamic militants thrust the issue to the fore, leading residents to debate how far the United States should go to stop them in Iraq and whether the government had done enough to rescue Foley.
But even before that, Republican Senate candidate Scott Brown was using Iraq to attack the Democratic incumbent, Sen. Jeanne Shaheen, for supporting what he called the president's "incoherent foreign policy."
"Our allies don't trust us; our foes don't fear or respect us. We're in trouble," Brown, a former reservist in the Army National Guard, said at a town hall meeting last week, noting the instability in Iraq, Ukraine, and Gaza. "We do not need rubber-stamp policy, rubber-stamping the policies of the president."
The Iraq war was the target of President George W. Bush's critics in 2006, and now the bull's-eye has shifted to Obama, who won election in part on his promise to withdraw U.S. forces from Iraq. After applauding the president's efforts to end the long U.S. entanglement in the region, Shaheen and other vulnerable Senate Democrats have found themselves on defense as American involvement escalates.
They know that they must energize Democrats and independents who have opposed U.S. involvement overseas in an election year that will determine who controls the Senate.
At the same time, they are facing an onslaught of attacks from Republicans who argue that a foreign policy approach espoused by Obama — and, by extension, his Democratic colleagues — has caused an eruption of problems around the world, with the expansion of Islamic State militants in Syria and Iraq and the execution of Foley serving as the latest examples.
With that delicate balance in mind, few campaigning Senate Democrats have rushed to confront the issue. When pressed, they have highlighted that the president insists he will not reintroduce ground troops in Iraq.
Still, Republicans have their own fine line to walk as they attempt to woo voters who are in an isolationist mood and reject a return to Bush administration policies. Jennifer Duffy, who analyzes Senate races for the nonpartisan Cook Political Report, said the current military operation had created "risks for both sides" if they tried to make Iraq a campaign issue.
"For Democrats, it brings up the demands that they made to get out of Iraq. … They risk getting tagged with the blame for that," Duffy said. Republicans, in turn, want to look supportive of the troops "when they always made the case that we left Iraq too soon," she said. "But at the same time, they want to see how it goes before they start to play 'I told you so.' "
As Shaheen faces a tightening Senate race and the drag from the president's unpopularity, her statements on the Iraq airstrikes have been carefully drawn to reflect the wariness of her constituents of a prolonged role in the Iraq conflict. But they grew more hawkish after the death of Foley, a photojournalist who was killed on video by a militant who said the act was in retaliation for U.S. airstrikes.
At first she focused on the humanitarian mission to rescue the Yazidis on Mount Sinjar, but said she would draw the line at a limited military engagement to halt the advance of the Islamic State.
"This is a fight that the Iraqis have to engage in," she said in an interview at a pizza parlor in Milford, N.H., shortly after the first wave of airstrikes. "We should not be thinking about putting boots on the ground in Iraq. I certainly don't support that, and I can't imagine that many of my constituents would support that."
The morning after news broke of Foley's death, she said the U.S. needed to do "everything possible to stop the threat" from Islamic State. "This is a threat, not just to people on the ground in (Syria and Iraq), but, as we saw with their execution of James Foley, they are obviously a threat to the United States as well."
The Iraq issue has particular potency in the early voting states of New Hampshire and Iowa, where Democratic activists have been deeply engaged in the debate for three presidential election cycles.
Foley's death may make voters more willing to accept sustained airstrikes in Iraq in the near term. But the risk for Shaheen and other Democrats if military operations continue well into the fall is that they could depress Democratic turnout in November, said Andrew Smith, director of the University of New Hampshire Survey Center.
Republicans are motivated to go to the polls because of their anger about Obamacare and the economy, Smith said.
"But for Democrats, what is going to be their motivation to go out and support Democratic candidates?" he asked, "when even on the war, which was the one issue that distinguished them from Republicans very strongly in the last 10 years, they're kind of going along with what Republicans did, but only less so."
Senate Democrats like Shaheen may also see a cautionary lesson in the example of the 2008 presidential run of Hillary Rodham Clinton, when her more hawkish stances on foreign policy and the Iraq war cost her Democratic votes.
Obama's victory in the 2008 Iowa caucuses — and his strong support in New Hampshire, where Clinton eked out a primary win — was fueled in part by Democrats' steady opposition to the Iraq war.
Though Clinton and Obama both supported a phased withdrawal from Iraq during the 2008 campaign, Obama pounded Clinton for supporting Bush's plan and authorizing the use of force in Iraq in 2002.
At a time when Clinton is weighing a second run for president in 2016, her differences with Obama on foreign policy are back in the spotlight. During the town hall gathering last week in support of Brown's campaign, Sen. John McCain of Arizona used the former secretary of State's recent criticism of administration policy in Syria as a cudgel against Obama — and by extension Shaheen.
"These people are planning to attack the United States of America," McCain said of Islamic State. "No one wants to send ground troops back in, but we've got to stop ISIS, and we've got to start, rather than vacillate and equivocate the way this president has done. … Even former Secretary of State Clinton has differed with him."
AFP Photo
Interested in U.S. politics? Sign up for our daily email newsletter!