Democrats' Boycott Of Netanyahu Gains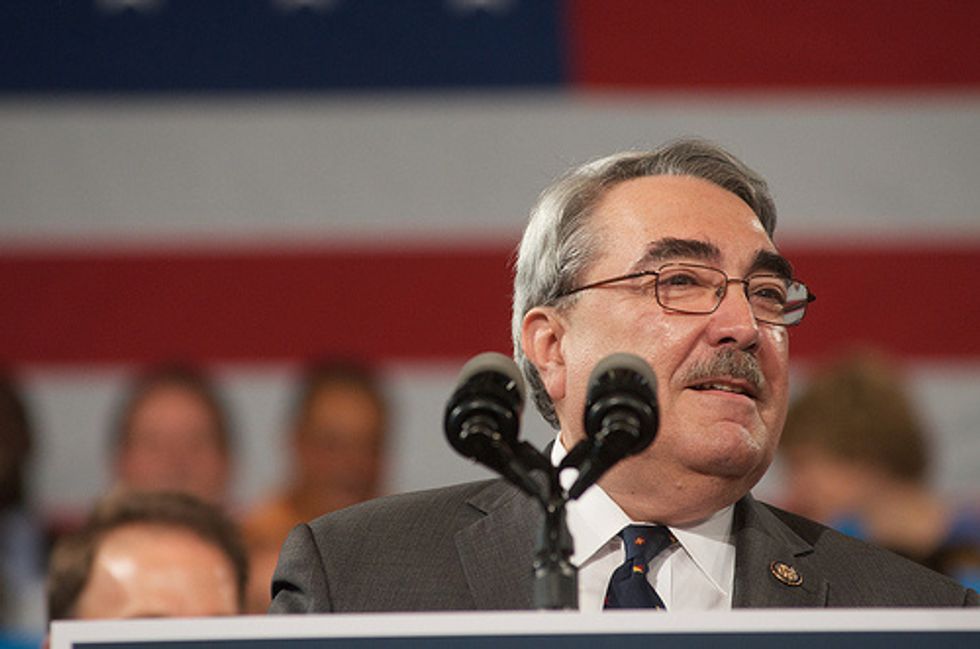 By William Douglas, McClatchy Washington Bureau (TNS)
WASHINGTON — The head of the Congressional Black Caucus said Thursday he will boycott Israeli Prime Minister Benjamin Netanyahu's scheduled address to a joint session of Congress next month, joining a small band of Democrats skipping the event that could include Vice President Joe Biden.
Rep. G.K. Butterfield (D-NC) said House Speaker John Boehner's invitation to Netanyahu — without coordinating with President Barack Obama — undermines the office of the president.
"For the Speaker to invite a head of state, of any country, to address the U.S. Congress without the consent of the (House) minority leader and the White House goes beyond the traditions of his office," Butterfield said in a statement. "It is baffling that Speaker Boehner, who incessantly proclaims executive overreach by the president, would buck long standing diplomatic protocol to extend such an invitation."
Butterfield stressed that "the United States is and will remain Israel's strongest ally. However, I refuse to be a part of a political stunt aimed at undercutting President Obama."
Reports suggest that dozens of lawmakers could join the three Democrats who have said publicly they will stay away from the address: Reps. John Lewis (D-GA), Earl Blumenauer (D-OR), and Butterfield. They contend that Boehner breached protocol in issuing the invitation and put the U.S. in an awkward position of appearing to favor Netanyahu in Israel's coming elections.
"It was an insult to the president, to the State Department, what the speaker did, by not consulting the State Department and not consulting the White House," Lewis said.
White House press secretary Josh Earnest on Thursday left open the possibility that Biden, the president of the Senate, also might not attend Netanyahu's talk.
Earnest told reporters that he anticipates Biden attending Pope Francis' speech to Congress in September, an event that was announced Thursday. When asked about Netanyahu's speech, Earnest noted that Biden's schedule is not yet set, and opened the door to Biden missing it.
"The vice president takes very seriously the ceremonial responsibilities that he has before the United States Senate," Earnest said. "Now, there has been at least one previous occasion during his tenure as vice president where he's been unable to attend a joint session of Congress, because he was traveling overseas."
House Minority Leader Nancy Pelosi (D-CA), said Thursday the House chamber will be filled for the prime minister — even if many seats are filled with aides rather than elected members.
"I don't think anybody should use the word 'boycott,' " House Minority Leader Nancy Pelosi (D-CA). "When these heads of state come, people are here doing their work, they're trying to pass legislation, they're meeting with their constituents and the rest. It's not a high-priority item for them."
Pelosi said that often when dignitaries speak at joint sessions, "you look at that audience and it looks like … the average age is 21 years old," a suggestion that young staffers or interns fill the seats instead of their bosses.
Despite criticism from both ends of Pennsylvania Avenue and from some Jewish groups in the U.S. and Israel, Boehner defended his decision to invite the prime minister at a time Congress is weighing sanctions against Iran in support of Israel and defiance of the White House desire to hold off while engaged in nuclear talks with Iran.
"It was a very good idea," Boehner told reporters. "There's a message that the American people need to hear and I think he's the perfect person to deliver it. The threat of radical Islamist terrorists is a real threat. The threat of Iran to the region and the rest of the world is a real threat. And I believe that the American people are interested in hearing the truth about what's happening in that part of the world."
Republicans have backed Boehner's action, saying he has a right to invite Netanyahu or any other world leader or dignitary he wants to speak on Capitol Hill.
"I'm very pleased the speaker took the initiative to invite him. I think it's perfectly appropriate," said Rep. Tom Cole (R-OK). "I don't think we have to clear it with the president. We are a co-equal branch of government. He (Obama) certainly has been kind of thumbing his nose at Congress lately, so I'm kind of surprised he would complain when something like this happens."
Democratic outrage reached such a crescendo that Ron Dermer, Israel's U.S. ambassador and a key figure in Boehner's Netanyahu invite, met with some Democratic lawmakers Wednesday to allay their concerns.
"There's serious unease, but don't even think in terms of the word 'boycott,' " Pelosi said. 'Members will go or they won't go, as they usually go or don't do."
Photo: Rep. G.K. Butterfield introduces Vice President Joe Biden in 2012 (Keith Kissel via Flickr)