Democrats Face Risky Votes Ahead Of Memorial Day Recess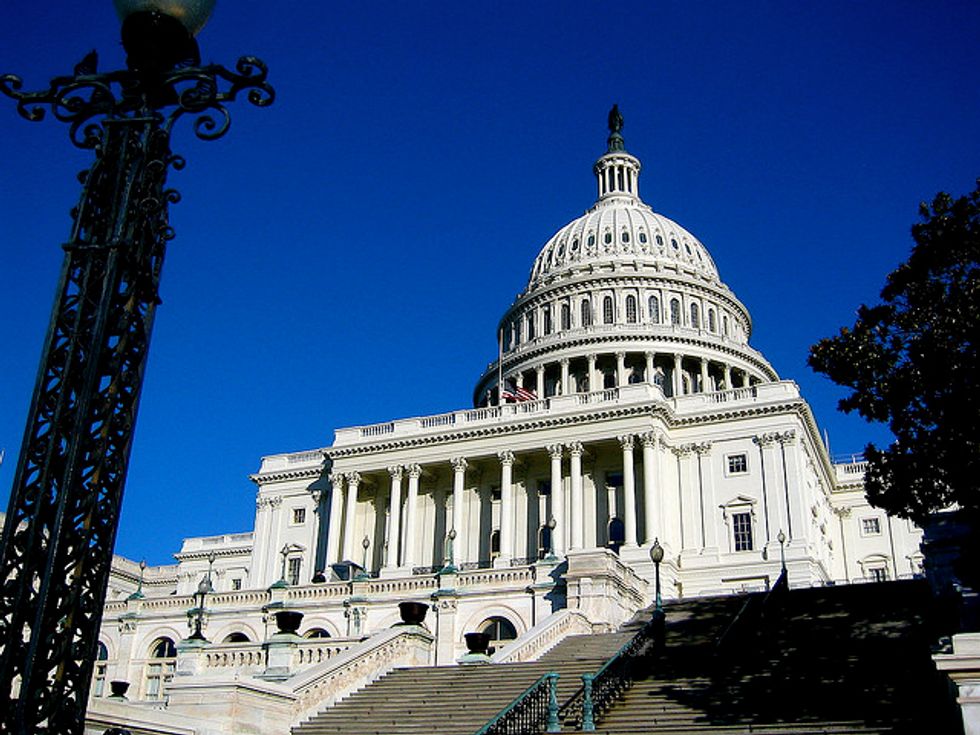 By Emma Dumain, CQ-Roll Call (TNS)
WASHINGTON — House Democrats have some tough decisions to make before Congress breaks for a weeklong Memorial Day recess.
Walking a fine line between practicality and messaging, rank-and-file members are weighing their options for having the most impact on two legislative agenda items: a short-term extension of the Highway Trust Fund and the fiscal 2016 Legislative Branch appropriations bill.
Some lawmakers think if they withhold votes for either of these measures, they'll be sending strong statements against proverbial can-kicking and sequester-level spending caps.
Those "no" votes, however, carry some political risk.
Voting against a bill that would keep countless transportation and infrastructure projects — and jobs — afloat past May 31 is hard to defend at first blush. Still, a growing number of Democrats and even some GOP moderates are arguing what's more destructive is the succession of short-term patches preventing long-term certainty and sustainability.
Late last week, a bipartisan House coalition of mainly Democrats was looking for co-signers on a letter to Speaker John A. Boehner (R-OH), and Minority Leader Nancy Pelosi (D-CA), pledging opposition to anything short of a multiyear highway bill. The measure due for consideration this week would extend the Highway Trust Fund, set to expire this month, through July 31.
Proponents say the extension buys Congress time to negotiate a six- or seven-year solution and reach consensus on the disagreements on offsets and costs. But Democrats counter they don't have many options left to force leadership on both sides of the aisle to come to the table and hash out that elusive deal.
"What you're seeing is people reaching a boiling point about the irresponsibility of not having a long-term transportation fund with a long-term funding source," Representative Peter Welch (D-VT), said in the letter to Boehner and Pelosi. "This is protesting a failure to do our jobs."
For Democrats worrying over the ramifications of voting against a short-term Highway Trust Fund extension, Welch said there was little to fear: If he and his allies were successful in sinking the patch, leaders would be compelled to act quickly to strike a compromise.
"Things can happen quickly around here when they have to," he said.
Another co-signer, Representative John Carney (D-DE), admitted there were a number of colleagues who would have liked to join the effort but didn't want to pretend a long-term agreement was tenable just days before the current Highway Trust Fund extension expires.
"Our tactic was mainly to send a message that people have this view," Carney explained. "I think we've been successful, at least, in thinking about it and focusing on how do you actually force action or force folks to face up to the reality and in that sense we've had great dialogue."
Welch and Carney might have backing from House Democratic leaders, though no decisions have been made.
"Republicans had ten months to come up with a long-term solution, and that's what should be coming to the floor," said an aide with Democratic leadership. "We will be talking to our members about the proposal Republicans introduced."
Democrats face even longer odds on stopping the GOP's Legislative Branch spending bill. The bill is usually the least controversial of all 12 appropriations, and rejecting it because of the topline number is a tough sell: At least with the other bills, like the fiscal 2016 Military Construction and Veterans Affairs measure, there were amendments Democrats didn't like to justify their opposition.
A separate House Democratic leadership aide suggested Legislative Branch, which funds the operations of Congress, wouldn't cause serious consternation.
As for a formal strategy to stonewall every appropriations bill until Republicans agree to a budget deal replacing sequestration, that same aide denied anything like that was in the works. He did, however, say there was an agreement to use the amendment process in committee markups and floor debates to put Republicans on the spot.
Forcing GOP appropriators during last week's Transportation, Housing and Urban Development markup to go on record opposing full funding for Amtrak after the deadly derailment in Philadelphia was one example of that tactic. Whatever amendment votes Democrats make Republicans take during the scheduled Wednesday markup of the Commerce, Justice, and Science appropriations bill will also be key.
But that doesn't mean there aren't ongoing conversations about what kind of message it would send to have every Democrat be unified in opposition to spending bills, even one as parochial as Legislative Branch.
Late last week, Representative Steve Israel (D-NY), chairman of the Democratic Policy and Communications Committee, invited appropriation subcommittee ranking members to the weekly meeting to discuss messaging strategy around appropriations bills.
"Look, I understand, and would expect, that some members of the committee struggle with voting against their own bills. I'm struggling myself with voting against those bills," said Israel, who is also a member of the appropriations committee. "And the purpose of the meeting was to say whatever those concerns would be…let's just have one message."
Israel said that means voting against the bills — he would be voting against Legislative Branch, he said — or voting for them, but doing so in context: Explain the reasons behind the "yes" vote but don't forget to argue against sequestration in the process.
"One of the things the DPCC is trying to do is have many messengers, but one message," Israel said.
Photo: Elliott P. via Flickr