Deported Immigrants Know Consequences Of Participating In Bring Them Home Campaign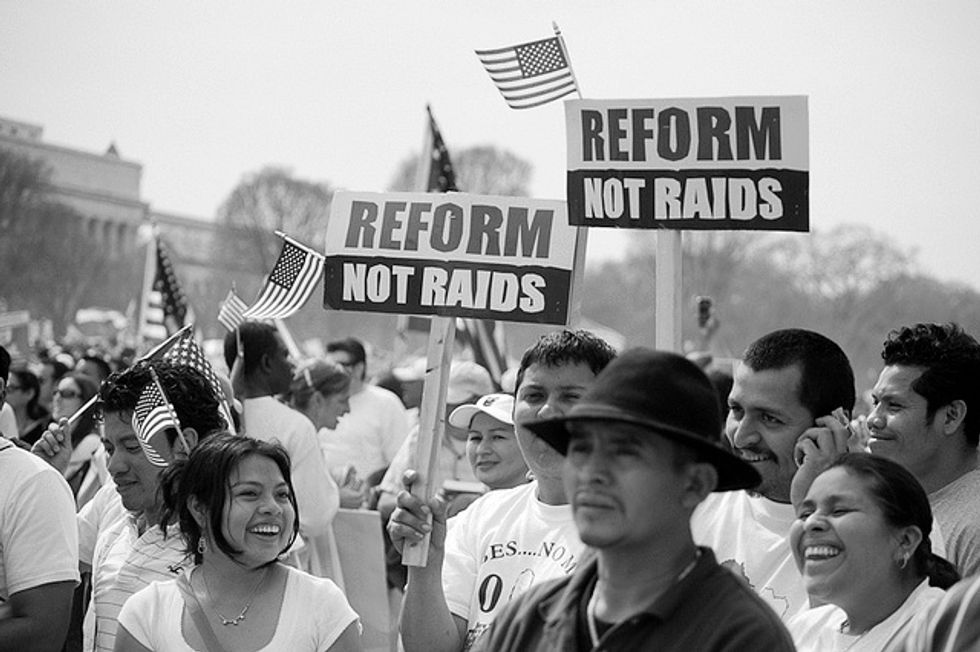 By Lornet Turnbull, The Seattle Times
SEATTLE — Three years ago, Dolores Lara was stopped by Yakima, Washignton, police on suspicion of DUI, jailed and turned over to immigration authorities, who deported him to his native Mexico.
The father of three, who had labored for more than a decade picking vegetables and fruit in Eastern Washington, struggled in Tijuana to find employment, occasionally picking up work at his nephew's auto shop.
On Monday, Lara joined 30 other undocumented immigrants who showed up at a border crossing in San Diego, California, seeking to re-enter the U.S. to join family they had left behind.
Another, larger group is expected to attempt a crossing later this week.
Participants in this radical national campaign, called Bring Them Home, know they won't be allowed back in this country, and that their actions could well land them either in detention or back in Mexico — facing a 10-year or permanent bar to re-entry.
Lara was not allowed to enter.
As the number of deportations under the Obama administration approaches 2 million, Bring Them Home is one of several actions by immigrant advocates here and across the country designed to draw attention to the impact of deportations on families and point out Congress's inaction on immigration.
Proclaiming not one more deportation, advocates have been protesting outside the Northwest Detention Center in Tacoma, Washington, for several months. Inside the facility, frustrations over deportations triggered a hunger strike last Friday when as many as 750 of the 1,300 detainees on Friday stopped eating and demanded better food and conditions, as well as better pay for detention-center jobs.
As the strike entered its fifth day Tuesday, the five immigrants still striking were isolated in a pod and being medically observed.
A spokesman for Immigration and Customs Enforcement said center staff had been meeting with detainees and that some of their concerns were being addressed. But one of the strike's leaders told advocates late Tuesday that he planned to continue "for as long as it takes."
Another action was launched last week by the national group We Belong Together, made up mostly of women immigrants and their supporters: a monthlong fasting campaign expected to roll into the Seattle area later this month. It continues several acts of disobedience that included a sit-in last November at the Bellevue offices of the state Republican Party, where 33 women were arrested.
The group wants to pressure key Republicans to take up immigration legislation this year or risk losing the women's vote this November.

Republican leaders in the U.S. House have said they are unlikely to bring up immigration this year.
"This surge of activity is all over the place," said Rich Stolz, executive director of OneAmerica, the state's largest immigrant-advocacy group.
A delegation from OneAmerica is in Washington, D.C., meeting with members of Congress.
"Immigrant communities are struggling to keep together, having had the promise of immigration reform pushed forward and pulled back, pushed forward and pulled back," Stolz said. "We're seeing a lot of tactics under the common themes of keeping families together."
But Ira Mehlman, Seattle-based spokesman for the Federation for American Immigration Reform, which favors immigration enforcement, said the number of deportations is inflated and pointed out that this administration, he said, unlike previous ones, counts among the deported those who are apprehended at the border.
"In reality, if you look at the total number removed by this administration, it's the lowest since the Ford administration," Mehlman said.
Mehlman said the anger over the impact of deportation on families is misplaced.
"It's the violators that are putting families in jeopardy, not the law itself," he said. "Children are not human shields."
This is the third major action for Bring Them Home, a campaign organized by the National Immigrant Youth Alliance.
Two separate groups of immigrants participated, most of them young people who had been brought illegally to the U.S. as children and then deported. Upon trying to re-enter at the border, most were detained when they claimed political asylum, saying they feared returning to Mexico.
A few were deported.
It's unclear how many of the 30 undocumented immigrants who the campaign said tried to enter on Monday were allowed to enter the country.
At Lara's side as he lined up to be processed at the Otay Mesa border crossing on Monday was his 10-year-old daughter, Jessica, who was born in the U.S. and had gone to visit her father in Mexico even before the details of the re-entry campaign were firmed up.
His 21-year-old daughter, Elizabeth, a student at Heritage University in Toppenish, Yakima County, who had first come to the U.S. with her parents and younger brother in 2000, said she talked to them both as they were lining up, waiting to be processed by immigration authorities.
"I told her she would see my dad arrested and detained but that she had to be brave; I told her that everything would be OK," Elizabeth Lara said from San Diego.
Her father, she said, was aware he could be turned away. "He decided to take the risk for the chance to return home to his children and family," she said.
She said she last saw him last year when she, her younger brother and Jessica traveled to San Diego and went to Border Field State Park, where they could talk to him through a fence.
"We were able to spend three minutes with him" before they were told to leave, she said.
"It's sad that we had to be reunited with our father through a fence."
Anunska Sampredo via Flickr