Deputy Shot In Courthouse Assault, May Have Stopped Slaughter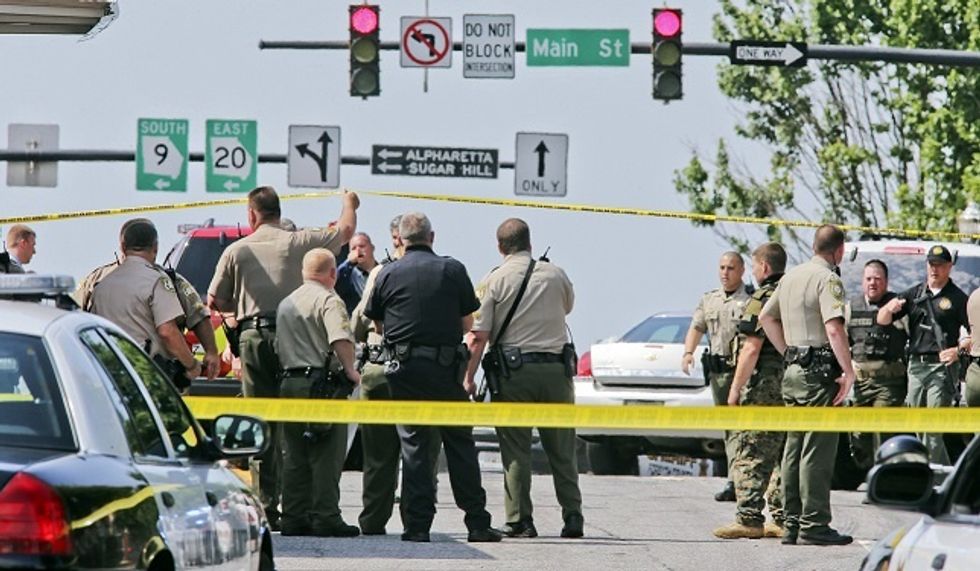 By James Salzer, The Atlanta Journal-Constitution
CUMMING, Ga. — A man identified as a "sovereign citizen" assaulted the Forsyth County courthouse Friday, wounding a deputy before dying in a hail of bullets, officials said.
Dennis Marx was part of an anti-government group that has been tied to violent attacks on law enforcement around the country, said Forsyth County Sheriff Duane Piper. Marx spelled out his problems with the agency in a lawsuit obtained by the Atlanta Journal-Constitution, and he was due in court Friday for a hearing on drug and weapons charges, official said.
Instead, they say Marx, armed with multiple explosives and lots of ammunition — and possibly wearing a bulletproof vest and gas mask — drove his SUV up to the courthouse. He threw out homemade smoke grenades, pepper spray grenades and spike sticks in an effort to keep law enforcement personnel from stopping his approach to the courthouse.
A deputy working the doorway of the courthouse confronted Marx, who shot the officer in the leg through the windshield of his vehicle. Witnesses said Marx jumped from the SUV and started shooting his rife. Officers returned fire and Marx was dead.
"It would be a guess to think how many lives he (the deputy) saved had he not engaged him right there," Piper said. "Mr. Marx's intention was to get inside that front door and to take hostages.
"He had been planning it for a while," the sheriff added.
The deputy, a 25-year veteran of the sheriff's department, was taken to North Fulton Hospital and is expected to recover, officials said.
Police searched Marx's home for explosives after the incident. Sheriff's officials said it will be several hours before the scene of the shooting is clear.
Marx filed a lawsuit last year against the sheriff's department "on behalf of the citizens of Forsyth County, state of Georgia and all citizens of the United States," saying the agency's officers violated constitutional rights. He said they were guilty of illegal searches and of regularly using of excessive force.
Piper's response to the lawsuit in April said it stemmed from Marx's 2012 indictment on six drug-related charges and was aimed at the search, arrest and evidence gathering in that case.
Marx, in court documents, said the case was hurting his "on-going search for additional employment.
"Defendants have illegally seized all of plaintiff's and plaintiff's family's life savings and weapons collection, considered to be one of the current 'best investments,"' Marx said.
Marx said he was a professionally trained, certified Glock armorer.
"The Forsyth County authorities inappropriately acting within their respective jurisdictions have already sealed the plaintiff's future," he wrote. "Plaintiff seeks to ensure that other unsuspecting citizens are spared the lies and brutality that he has personally survived to date."
Photo: John Spink/Atlanta Journal Constitution/MCT