Derailed Train Was Speeding, Officials Say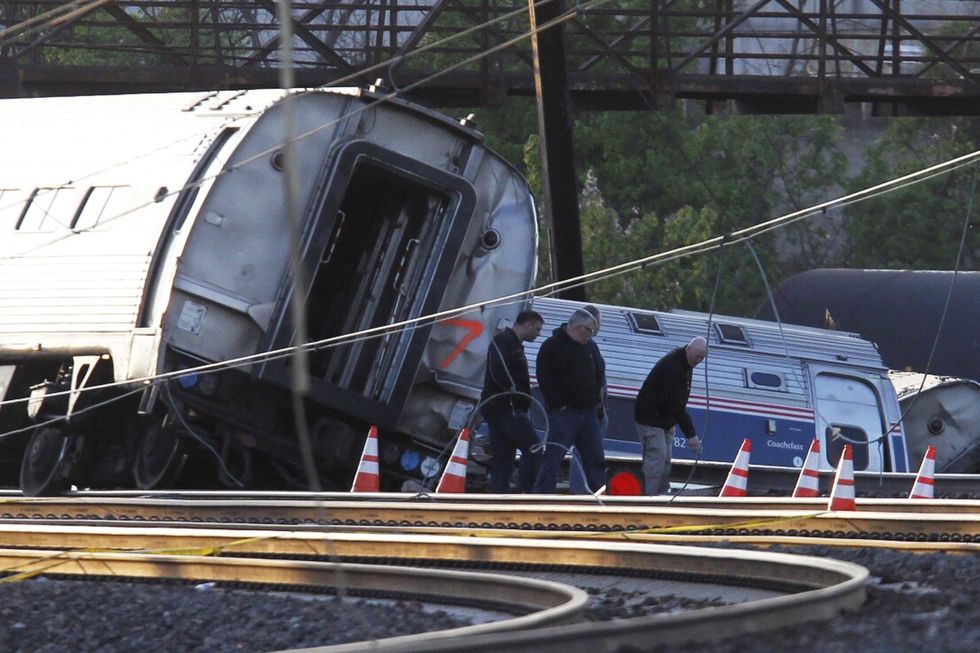 By Joseph A. Gambardello and Anthony R. Wood, The Philadelphia Inquirer (TNS)
PHILADELPHIA — Seven deaths were confirmed Wednesday and the toll was almost certain to go higher in the derailment of an Amtrak train that officials said was traveling at double the speed limit as it approached a curve at Frankford Junction in Philadelphia.
The search for more bodies was continuing, Mayor Michael Nutter said at a midafternoon briefing at the site. More than 200 people were injured, and at least eight people remained in critical condition.
The National Transportation Safety Board said that the train was moving at 100 mph when it jumped the tracks at a sharp curve where several lines merge, toppling all seven cars.
Nutter said President Barack Obama had contacted him to pledge the federal government's "full support." In a statement, Obama commended the first responders and medical personnel as well as uninjured passengers who assisted the injured.
"Along the Northeast Corridor, Amtrak is a way of life for many," he said. "From Washington, D.C., and Philadelphia to New York City and Boston, this is a tragedy that touches us all."
The incident marked the deadliest crash on the Northeast Corridor since 16 people were killed when an Amtrak train collided with a pair of Conrail engines near Baltimore in 1987.
NTSB Board member Robert Sumwalt said the agency would hold a briefing later Wednesday.
Investigators are going to focus on the speed of the train, the condition of the track, possible mechanical problems or defects with the train and actions of the crew, among other things, Sumwalt said.
The curve at Frankford Junction is not yet equipped with a system called Positive Train Control that would automatically slow a speeding train.
Nutter said the train's event recorders had been recovered and were being examined at an Amtrak facility in Delaware.
Sumwalt said the train also was equipped with a forward looking video camera and that would be part of the investigation.
"We have not experienced anything like this in modern times," Nutter said.
The train's engineer and conductor survived the crash.
The engineer, who has not been identified, declined to give a statement to police investigators and left the East Detectives Division with an attorney, Police Commissioner Charles H. Ramsey said Wednesday.
The conductor, also unidentified, was at Einstein Hospital with a skull fracture, Ramsey said.
Thousands of commuters in the meantime scrambled to find alternate ways to work as the derailment has halted Amtrak service between New York and Philadelphia as well as service on SEPTA's Trenton line. SEPTA said the Trenton line could remain out of operation for the remainder of the workweek.
Amtrak Train 188, was bound to New York from Washington with 238 passengers and five crew members aboard when the incident occurred jumped the tracks just before 9:30 p.m. on a curve in the Northeast Corridor's Frankford Junction.
The area is normally under a speed restriction, requiring trains to slow down as they approach.
In the moments after the derailment, scores of emergency personnel swarmed over the toppled train cars, trying to reach the dazed, the injured, the dying.
Some people were reported trapped in the train, and crews cut into the cars to free the injured.
There is no official word yet on the identities of passengers who are unaccounted for, but a family friend said Rachel Jacobs, the CEO of an online learning start-up based in Philadelphia, was on the train and has been reported missing.
The U.S. Naval Academy said a midshipman on leave was among the dead. His family identified him as Justin Zemser, a 20-year-old from Rockaway Beach in Queens, who was in his second year at the Academy. In a statement, his parents said: "This tragedy has shocked us in the worst way and we wish to spend this time grieving with our close family and friends."
The Associated Press said one of the victims was an AP employee. It said Jim Gaines, 48, a father of two, had attended meetings in Washington and was returning home to Plainsboro, N.J., when the train derailed.
Herbert Cushing, Temple's chief medical officer, said the hospital had received a total of 54 patients, 25 of whom remained hospitalized Wednesday.

"The patients who were awake and could talk to me were folks that were in the last two cars," Cushing said. Doctor said patients described the crash scene as chaotic. "The folks I talked to were injured because people fell on them or things fell on them."
He said the patients included visitors from Spain, India, and Albania who "just happened to be here on that train."
Samantha Phillips, the city's emergency management director, said more than 200 people were taken to hospitals following the derailment.
Gov. Tom Wolf, who visited the scene overnight, said later that the trains derailed near a row of tanker cars "and that is a cause of additional concern."
"The crash site was awful, heartrending," he said.
Wolf ordered all Pennsylvania flags in the Capitol Complex in Harrisburg and at state offices throughout Pennsylvania facilities statewide to fly at half-staff until sundown Sunday to honor the victims of the derailment.
Among the injured was Caleb Bonham, 28, who was treated at Aria Health's hospital in Torresdale and released.
He was in the last car of the train, listening to music on his iPod when he noticed his computer start shaking. Suddenly "everything went black," he said.
"Next thing you know, you wake up and you're on the other side," he said. He was thrown to the opposite side of the train car.
"My recollection of what happened … it's really hazy," he said.
Passengers' belongings were scattered all over, he said. Even the train seats had tumbled around the car.
"There was stuff flying all over the place."
Bonham said he hit his head but felt OK. He and other passengers began to help others off the train.
Many people in his car could stand up on their own. One woman had a broken leg. He saw one woman who had lost her front teeth, and was bleeding from her mouth. Some passengers were lying on the floor. He had to bend down close to them to tell if they were all right and help them up.
"Blood was all over the place," he said.

He exited through the back door of the train car. Once outside, he and other passengers were wandering around before emergency crews arrived.
He saw where two other train cars had buckled together and lifted off the ground; some passengers were walking underneath and taking photos.
Police directed Bonham and others who were able to walk but needed medical attention onto a SEPTA bus. He said he was transported to Aria Health, where he waited to have his minor head injury checked and was released at about 2 or 3 a.m. He left and got his own hotel room for the rest of the night.
At 30th Street Station, two dozen American Red Cross volunteers wearing red vests were on hand Wednesday in response to the derailment.
A Red Cross spokesman said the agency has helped 75 people since the accident, including about 60 stranded at 30th Street.
The Red Cross, in coordination with Amtrak, was working to provide transportation for those passengers. Some had family and friends retrieve them; others took taxis and buses. One family was from Chile, Red Cross spokesman Anthony Tornetta said, and they were staying in New York on vacation.
Counseling, along with coffee, snacks and water on food court tables, was being offered by the Red Cross.
"We're making sure they're in good spirits," Tornetta said.
—
(Contributing to this report were Daily News staff writers Dana DiFilippo and Stephanie Farr and Inquirer staff writers Paul Nussbaum, Laura McCrystal, Caitlin McCabe, Jessica Parks, and Martha Woodall.)
(c)2015 The Philadelphia Inquirer, Distributed by Tribune Content Agency, LLC.
Photo: Investigators examine the train derailment site on Wednesday, May 13, 2015, after a northbound Amtrak train crashed in the Port Richmond area of Philadelphia Tuesday night. (Alejandro A. Alvarez/Philadelphia Inquirer/TNS)