'Slitting Throats' And 'Stone Cold Dead': DeSantis Amps Up Violent Rhetoric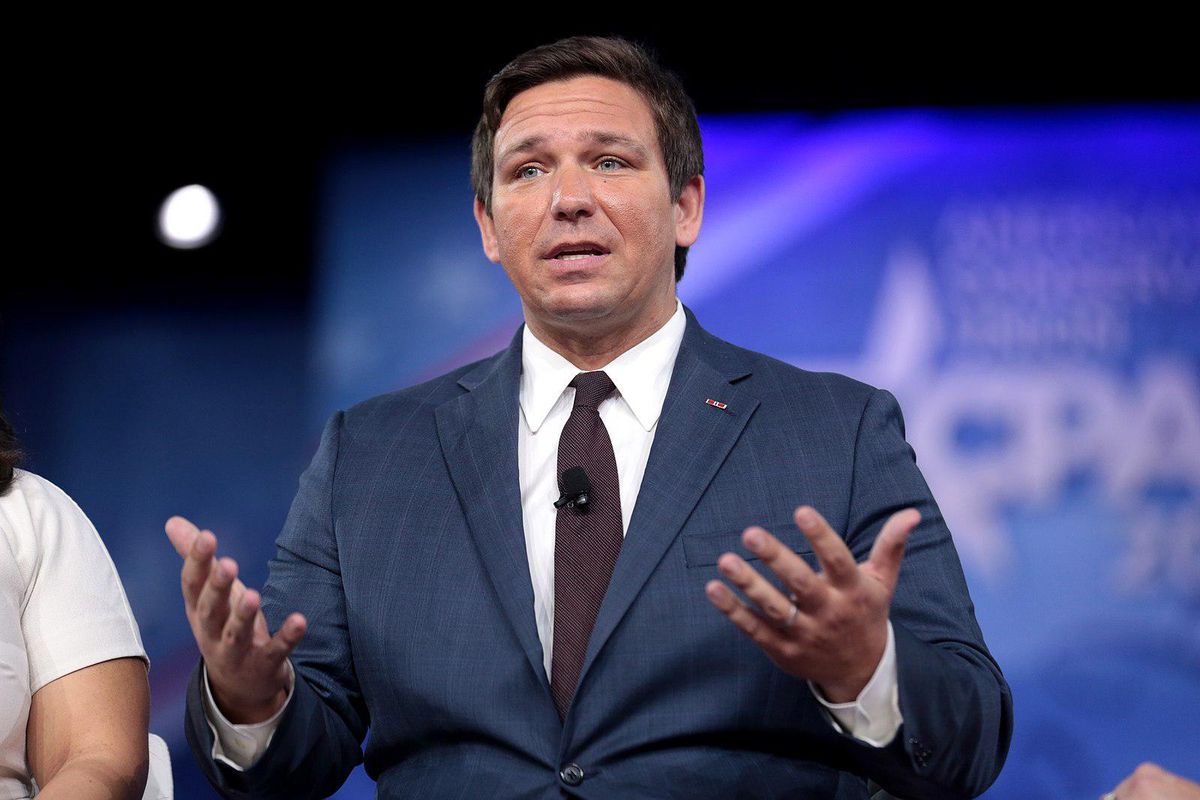 Ron DeSantis
Florida Republican Gov. Ron DeSantis, on the presidential campaign trail in New Hampshire in late July pledged to supporters he would root out the deep state from the federal government: "We are going to start slitting throats on Day One."
Responding to DeSantis' throat-slitting remarks, Professor of Political Science & Public Affairs Mark Copelovitch on August 4 observed, "In an actual serious country, using language like this in re: government employees would result in the man's immediate resignation as governor & the end of national media covering him as a viable presidential candidate."
Political historian Brian Rosenwald, also that day, commented on DeSantis' rhetoric: "Put bluntly: this is the type of language that gets people killed. It reflects DeSantis's unfitness, and every paper in America should have a headline tomorrow, 'DeSantis' violent rhetoric risks violence.'"
It wasn't the first time DeSantis had used that term but it did make headlines. And it did elicit letters from concerned federal government union heads.
"Governor DeSantis' threat to 'start slitting throats' of federal employees is dangerous, disgusting, disgraceful, and disqualifying," said American Federation of Government Employees National President Everett Kelley. "Federal employees – over a third of whom are veterans now wearing their second uniform in service to their country – have dedicated their lives to serving their fellow Americans."
"No federal employee should face death threats from anyone, least of all from someone seeking to lead the U.S. government. Governor DeSantis must retract his irresponsible statement," Kelley demanded.
Also in July, the Florida governor told the right wing website Real America's Voice that he would not promote a current military officer to become Secretary of Defense – not because he believes in a civilian-run military, but because he wants his Defense Secretary to "slit some throats."
"You know, they may have to slit some throats, and it's a lot harder to do that if these are people that you've trained with in the past or that, you know, so we're going to have somebody out there, you know, be very firm, very strong, but they are going to make sure that we have the best people in the best positions and there's not going to be necessarily prior relationships that would cloud that judgment," DeSantis said, according to Florida Politics.
These were not "one-off" gaffes. Ron DeSantis has a history of using violent rhetoric.
The Tampa Bay Times on Friday noted, "Violent imagery is a key part of Gov. Ron DeSantis' verbal arsenal on the campaign trail."
"DeSantis has used other violent rhetoric on the campaign trail, making headlines earlier this summer with his calls for deadly force against some people trying to break through wall at the U.S.-Mexico border while carrying drugs," The Washington Postreported in early August.
"We are going to be the first president that's going to be willing to lean against the Mexican drug cartels," DeSantis had also said while in New Hampshire. "If they're trying to bring fentanyl into our communities that's going to be the last thing they do because at the border they're going to be shot stone cold dead."
DeSantis made almost the exact same remark on Friday:
Law professor and political scientist Anthony Michael Kreis, commenting on DeSantis' "stone old dead" remark, stated: "Extra-judicial executions are just murder by another name."
The Washington Post's Greg Sargent in July pointed to DeSantis' anti-immigrant rhetoric.
"Florida Gov. Ron DeSantis released a plan for the southern border this week that uses the word 'invasion' at least five times. He later took this rhetoric to hallucinogenic extremes, declaring on Fox News that anyone with drugs who 'is cutting through a border wall' should end up 'stone-cold dead,'" Sargent wrote. "The specter of a migrant 'invasion,' which carries white nationalist overtones, has been a mainstay of Donald Trump's political vocabulary ever since he ran for president in 2016. But the fact that DeSantis and Trump — the leaders in polls for the Republican nomination — are both all in on this ugly notion shows how profoundly it is capturing the GOP."
One year ago almost to the day, speaking at a rally in Orlando, DeSantis attacked Dr. Anthony Fauci, who for two administrations had been the federal government's face of the response to COVID-19. the Florida governor said he wanted someone to "chuck" Fauci "across the Potomac."
Fauci, now retired, was at the time an 81-year old immunologist and the chief medical advisor to the president, who began in public service in 1968 when he joined the National Institutes of Health (NIH).
"I'm just sick of seeing him," DeSantis said at a Florida GOP rally, as WFLA reported. "I know he says he's going to retire. Someone needs to grab that little elf and chuck him across the Potomac."
Back in June journalist Thomas Kennedy pointed to a photo from a DeSantis rally with an anti-immigration poster that read, "Stop the invasion."
"Same rhetoric employed by the El Paso shooter and other violent white supremacists," he noted. "They are inciting violence and they know what they are doing."
MSNBC's Medhi Hasan in June discussed DeSantis' promise to "destroy leftism," which he says is "dangerous."
"Everyone knows if I'm the nominee, I will beat Biden and I will serve two terms. I will be able to destroy leftism in this country and leave woke ideology on the dust bin of history," DeSantis pledged.
Reprinted with permission from American Independent.