Desperation Mode: What 'Draft Mitt' Reveals About The GOP's Future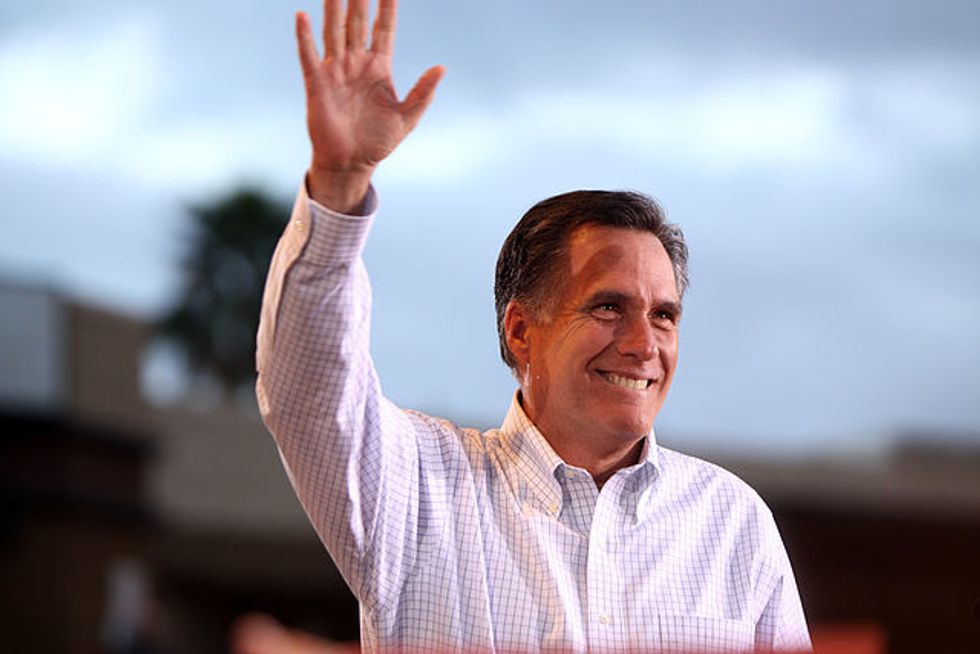 Could Mitt Romney really run for president again in 2016?
According to Rep. Jason Chaffetz (R-UT), the answer is yes. During a Monday evening appearance on MSNBC's Hardball, Chaffetz insisted that Romney will not only run — but that this time, he'll win.
"A hundred times he says he's not, but Mitt Romney has always accomplished what he's set out to do," Chaffetz explained to host Chris Matthews. "I think he's proven right on a lot of stuff. I happen to be in the camp that thinks he's actually going to run, and I think he will be the next president of the United States."
Chaffetz, who endorsed Romney early in the 2012 primaries, is not the only Republican to call for a third Romney run. Former Bush administration Assistant Treasury Secretary Emil Henry penned a Politico op-ed which (favorably) compared Romney to Richard Nixon. The Washington Postreported on a GOP donor summit which "quickly became a Romney revival," and quoted several of the attendees pining for another presidential bid from the twice-failed candidate.
"Everybody realizes we're devoid of leadership in DC," top Republican fundraiser Harold Hamm told the Post. "Everybody would encourage him to consider it again."
The report also notes that MSNBC host and former Republican congressman Joe Scarborough encouraged the crowd "to begin a 'Draft Romney' movement in 2016," insisting that "this is the only person that can fill the stage."
Such a movement now exists; more than 51,000 people have signed a petition urging Romney to run in the next election.
Despite all of this "Mittmentum," the odds of a Romney run remain extremely long. Romney himself has repeatedly denied any interest in another White House bid, and after the long string of indignities he suffered during his two presidential campaigns, it's easy to believe him.
Still, the "Draft Mitt" drive is undisputably a real and growing movement within the GOP. And that must be profoundly sad for Republicans.
For years, Republicans boasted of their "deep bench" of 2016 presidential contenders (a narrative that was eagerly embraced by the political media). But by 2014 the bench has been left, as Salon's Joan Walsh deftly put it, "in splinters." New Jersey governor Chris Christie entangled himself in "Bridgegate" as his state's economy sank. Wisconsin governor Scott Walker is fending off ethics questions of his own, and is no longer even a safe bet to be re-elected in 2014. Louisiana governor Bobby Jindal boasts a 32 percent approval rating in his own state. Florida senator Marco Rubio's clunky attempts to appeal to both sides of the GOP civil war left him detested by both. Senator Ted Cruz (R-TX) is literally Democrats' dream candidate. And former Viriginia governor Bob McDonnell is literally on his way to jail.
Of course, Romney has plenty of baggage of his own. He's still the same stiff, sneering right-wing plutocrat who struggled to fight off the likes of Herman Cain and Rick Santorum before losing the general election by 126 electoral votes. In 2016, he'd face the added hurdles of age (at 69, he'd be tied with Ronald Reagan as the oldest president to ever enter the office), and the fact that it's been nearly a decade since he's held a job other than unsuccessfully running for president.
It's not as though Republicans aren't aware of Romney's flaws; many of them vocally and repeatedly pointed them out in 2008 and 2012, when Romney still had a realistic shot at becoming president. That some are now crawling back to him when his odds would be longer than ever speaks volumes about the damaged state of the Republican Party.
Photo: Gage Skidmore via Flickr
Want more political news and analysis? Sign up for our daily email newsletter!