Despite Our Frigid Winter, The Earth Is Getting Hotter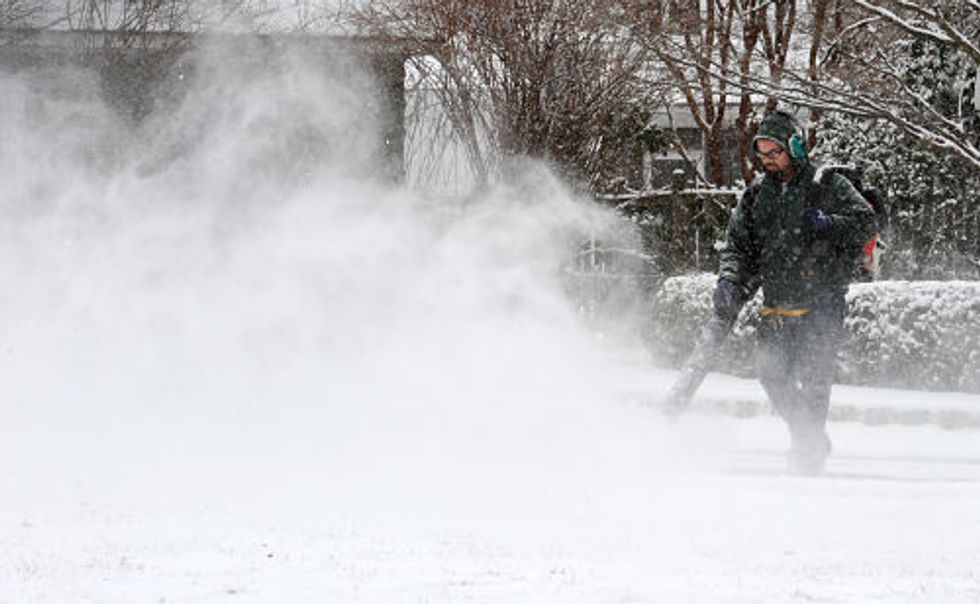 Still shivering from the frigid Arctic air that engulfed much of the country last week? Did you have to dig out your kids' thermal underwear?
I did — though I live on Alabama's Gulf Coast, where the moderate temperatures hold down sales of winter coats. The Arctic blast was so severe that it prompted some school systems, even in winter-wise zones such as Chicago, to shut their doors for a day or two.
The spate of very cold air was enough to cheer the naysayers who've spent years casting suspicion on the science of climate change: See how cold it is? See that snow? Donald Trump, not exactly highly regarded for his scientific acumen, tweeted last week, "It's record cold all over the country and world — where the hell is global warming, we need some fast!"
If Trump were the sort to take data seriously, he'd consider this: Last week, the Japan Meteorological Agency announced that 2014 was the hottest year in more than a century of recordkeeping. That doesn't mean winter won't occasionally break out with weather that is punishingly cold. As climate scientist Marshall Shepherd, director of the University of Georgia's atmospheric sciences program, likes to put it, "Climate is like personality. Weather is like mood."
In other words, the weather in any week is a passing, or temporary, phenomenon. Climate, by contrast, gives you the overview. And Earth's climate is getting hotter.
That's true even though 2014 wasn't an especially hot year in this country. If you take a broader view of the planet, you'll see the bigger picture. Europe's temperatures last year were the hottest in 500 years, according to climate scientists.
Australia broke heat records and is continuing to do so. (It's summer in Australia now, and temperatures hovering around 112 degrees Fahrenheit shut down Internet service in Perth last week.) California's devastating drought, the worst in 1,200 years, continues.
That makes President Obama's efforts to ameliorate climate change all the more significant, perhaps the most important part of his legacy. But a Republican-controlled Congress is itching to fight the president on every front, and his environmental regulations are in their crosshairs. Just last July, Sen. James Inhofe (R-OK), perhaps the most infamous flat-Earther in Congress, stood on the floor of the Senate to declare, "For the past 15 years, temperatures across the globe have not increased." Unhappily, Inhofe will shortly take the reins of the Senate's Environment and Public Works Committee.
Last week, the GOP jump-started a bill to construct the Keystone XL pipeline, designed to move Canadian oil to the Gulf of Mexico, as its first order of business. Obama responded with the threat of a veto.
(Obama's GOP critics refuse to give him credit for doing what he said he would — pursuing an energy policy that weans the United States off Mideast oil. The president has supported domestic oil drilling, which has helped to bring about some of the lowest petroleum prices in years.)
But the Keystone pipeline, no matter how politically charged the debate, isn't even the most important part of Obama's climate-change agenda. Not only have Republicans exaggerated its significance to the economy, but environmentalists have also exaggerated its threat to the climate.
Much more important is the president's Clean Power Plan, which includes a limit on emissions from coal-fired power plants. Those regulations have also drawn intense opposition, not only from Republicans but also from a handful of Democrats from coal-heavy states such as West Virginia and Pennsylvania.
So far, though, the U.S. Supreme Court has backed the Environmental Protection Agency, noting that Congress gave the agency broad power when it was established. If Obama manages to limit emissions in the U.S, he will have the moral authority to lead the world to a groundbreaking agreement on climate change in Paris later this year.
That won't come a moment too soon. The planet is getting dangerously hot, even if winter can still muster a few days of frigid temperatures.
Cynthia Tucker won the Pulitzer Prize for commentary in 2007. She can be reached at cynthia@cynthiatucker.com.
Photo: Jim Nather, owner of JJN Landscaping and Design in Media, uses a leaf blower to clear a customer's driveway in Swarthmore, PA, as an Alberta Clipper sweeps through the area dumping up to two inches of snow on Tuesday, Jan. 6, 2015. (Clem Murray/Philadelphia Inquirer/TNS)