Despite NRA Threats, Filibuster Broken And Gun Debate Begins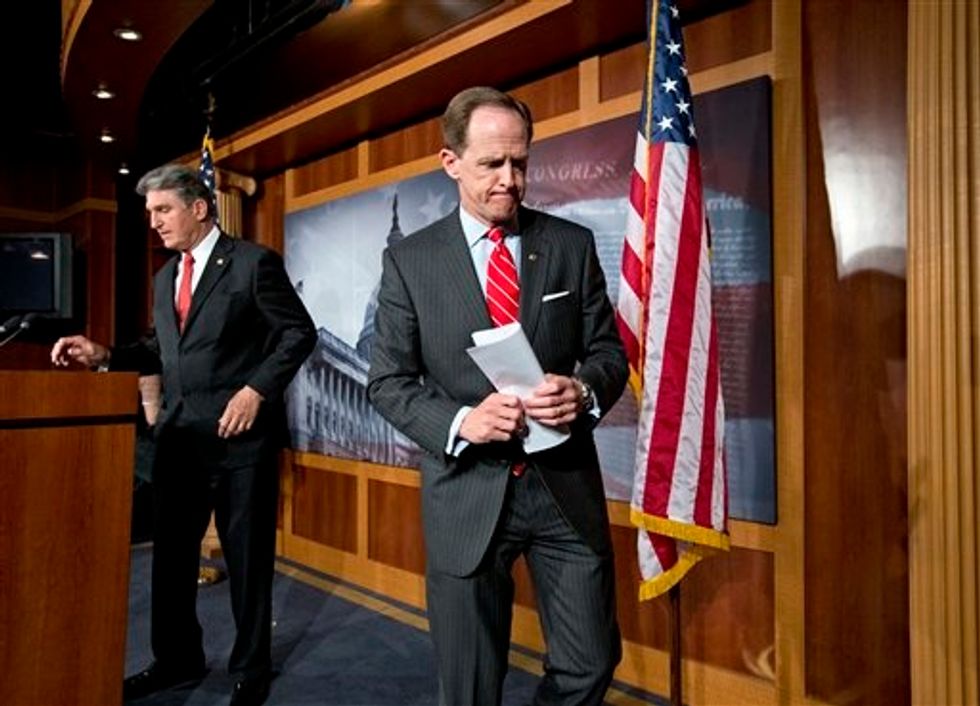 The Senate has voted 68-31 to open a debate on compromise gun legislation that expands background checks. The bill will be based on a compromise between senators Pat Toomey (R-PA) and Joe Manchin (D-WV), both of whom currently have an "A" rating from the National Rifle Association (NRA) gun lobby.
The NRA threatened to "score" Thursday's vote against lawmakers' ratings, hoping to kill the bill before it was even written. But 17 Republicans joined all the Democrats in the Senate except Mark Pryor (D-AR) and Mark Begich (D-AK) for cloture to prevent a filibuster from derailing the debate. The Washington Post's Ed O'Keefe points out that 21 of the "aye" votes came from senators with NRA ratings A- or higher.
Several family members of those killed in the Newtown massacre four months ago were on hand to witness the vote in the Senate chamber.
Senate Majority Leader Harry Reid (R-NV) took to the floor after the vote.
"The hard work starts now," he said.
"There are powerful feelings about each of these proposals — both strong support and strong opposition," Reid said. "But whichever side you are on, we ought to be able to agree to engage in a thoughtful debate about these measures."
He added that he hopes "a few senators don't spoil everything," referencing the threat by 14 senators including Ted Cruz (R-TX) and Rand Paul (R-KY) to filibuster the bill.
Senate Minority Leader Mitch McConnell (R-KY) is one of those senators. On Thursday he said, "This bill is a clear overreach that will predominantly punish and harass our neighbors, friends, and family."
The debate is expected to last for weeks, with the NRA continuing to score even procedural votes.
Though about one-third of the Senate voted against even having a debate, polls show that around 90 percent of Americans support expanding background checks.
"Those two leaders stepping up is a very good way to start," said Mary Landrieu (D-LA), who is seeking re-election next year in red state Louisiana. "How it ends, I don't know."
This morning, Congressman Peter King (R-NY) told The Washington Post's Greg Sargent that he thought the bill had a chance of passing the House of Representatives if it makes it out of the Senate.
 AP Photo/J. Scott Applewhite