Despite His Safe Seat, Ellison Plunges Into Race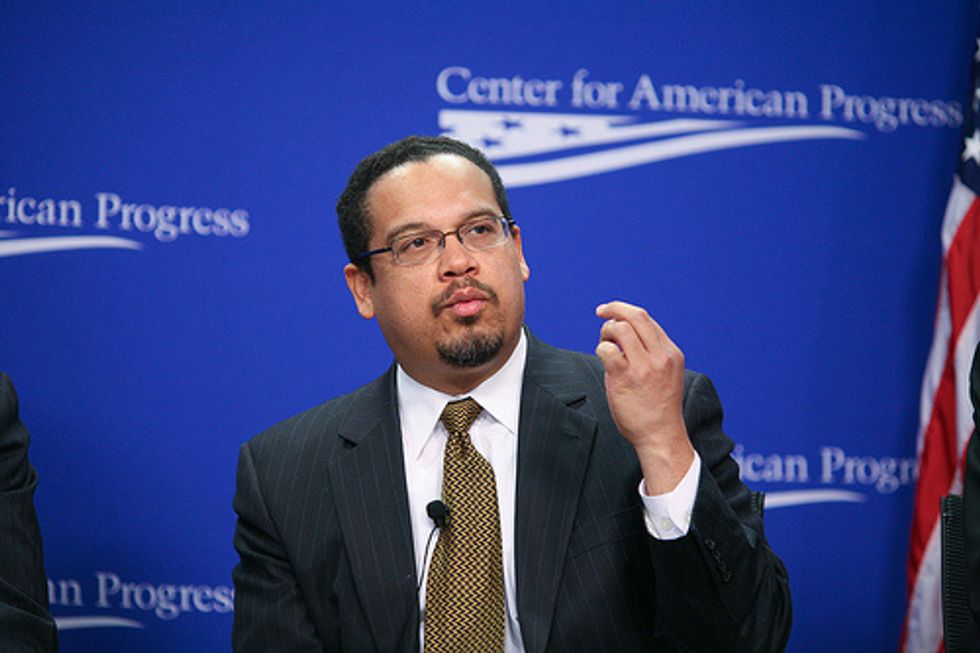 By Allison Sherry, Star Tribune (MCT)
U.S. Rep. Keith Ellison, running in his heavily Democratic Minneapolis congressional district, could put his campaign in neutral and coast to victory if he wanted.
But that's not how he's approaching this race.
As Democrats across the country fret over projections that Republicans are now heavily favored to take the U.S. Senate and that Democratic governors are at risk, Ellison wants to do his part.
So even though he faces only token opposition, the four-term congressman is spending nights canvassing Minneapolis neighborhoods and college dormitories, strumming his guitar and trying to get people excited about politics — or more accurately, about voting. He plans to rent vans to shuttle city churchgoers to the polls after Sunday services in a "souls to the polls" effort. His re-election team has devised an "apartment program" where they identify whole buildings of voters who may never get called because they are so transient. Ellison then goes to those places and knocks on doors.
It's not because he needs it. Two years ago, only seven House members in the country racked up more raw votes than Ellison. His urban district is what political insiders call a "D+22," which means Democrats are favored to win by a full 22 percentage points over Republicans.
The reason Ellison expends all this energy is twofold. First, he wants to be a team player and aid fellow Democrats Gov. Mark Dayton and Sen. Al Franken at the top of the ticket and he has the luxury of a safe seat from which to do so. Second, as he demurely nurses ambitions of cultivating voter outreach efforts nationally, it helps to have a track record.
"I believe that if there is any antidote to big money in politics, it's grassroots organizing and massive voter turnout," said Ellison, 51, whose GOP challenger is former software engineer Doug Daggett, 50, of Minneapolis. "I really believe if this kind of turnout operation was replicated all over the country it would change the whole dynamic. It would create a significantly different landscape. But to motivate those voters, you gotta talk to them, you gotta talk to them about something they care about."
The truth is, when any campaign is asked about its voter outreach efforts, staffers promise they are doing the next big thing. Minnesota Republicans boast 18 "victory offices" they opened around the state — something they have never done before. Minnesota GOP Chair Keith Downey says the offices — and the activities going on inside them — help counter the sophisticated Obama ground campaign that swamped Republicans in 2008 and 2012.
"I can't tell you the last time we really did a bang-up job," Downey said. "Clearly we got beat badly on the ground in 2012, and that was my commitment coming in as chairman, to improve our field operation and rebuild our ground game capability to help our candidates. I think the party is in a much better position this year. Our brand is positive again."
Franken's campaign says it is building up micro-campaigns in neighborhoods around the state and that volunteers will run voter drives out of their living rooms. Mike McFadden's camp says it has a "database guy" who has built a profile of what undecided voters who may support the GOP Senate challenger may look like and are using that strategy to do their own microtargeting.
Ellison is spending some of his own campaign cash — some $200,000 on hand through July — to attract voters like University of Minnesota student Lindsay Powell, who just turned 18.
The Wisconsin native, who lives in a U dorm, says she would have tried to register to vote ahead of the election, but the aggressive voter registration efforts made it easy for the busy college student to send in an absentee ballot.
"I'm a lot busier than I thought, but this whole idea of them coming to the dorm room, it was definitely a good approach," she said.
Democrats face a constant battle on the turnout front because Republicans are generally better at consistent voting — even in bad weather, in off-years, in uninteresting elections. Quick case in point: In Ellison's 5th Congressional District, only 234,000 voted in 2010, the last midterm election. In the heavily Republican Sixth Congressional District, 305,000 people showed up to vote that same year. Congressional districts are drawn to be roughly the same population size.
Staffers point out that after much work between 2010 and 2012, Ellison pulled a full 142,000 more voters to the polls last cycle.
Asked why he isn't funneling efforts somewhere else, maybe to save some plummeting Democrat in another state, Ellison said he liked sleeping in his own bed and "throwing down your buckets where you are."
"I wish everybody would do this," he said, coy about whether he wants to take this kind of work to a national platform someday. "All these races, all these Senate races that are so close right now, they have urban pockets where there are huge numbers of Democrats. … A lot of things we're doing, I'd like to see replicated."
Photo: Center for American Progress via Flickr