DeVos Meeting With Men's Rights Groups To Talk About Sexual Assault?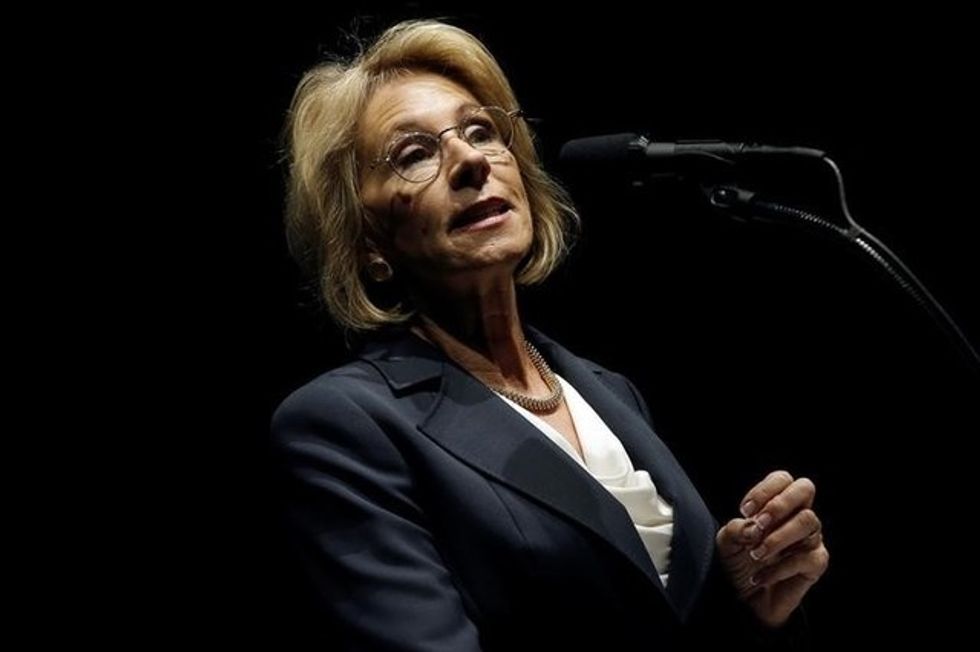 Reprinted with permission from Alternet.
Education Secretary Betsy DeVos plans to host meetings this week about sexual assault on college campuses and Title IX guidance. But in addition to meeting with advocacy groups for survivors of sexual assault, DeVos will also be sitting down with groups that fight to protect students accused of sexual assault. Some of these groups have a history of advocating for so-called men's rights and dismissing sexual violence survivors.
According to Politico, DeVos' Education Department reached out to SAVE (Stop Abuse and Violent Environments), Families Advocating for Campus Equality and the National Coalition for Men.
National Coalition for Men
The National Coalition for Men, founded in 1970, dedicates itself to what it calls "male victimhood" and has a long history of men's rights activism. According to its website, the organization is "dedicated to the removal of harmful gender-based stereotypes" as they affect men. Some NCFM chapters have published photos of women labeling them "false victims" in instances where sexual assault cases were dismissed by a college review board or a police department did not believe a woman's story.
NCFM president Harry Crouch once said the coalition is dedicated to "unseating the men's violence industry." In an interview with the Pacific Standard, Crouch defended NFL player Ray Rice, who was indicted for third-degree aggravated assault in 2014 for beating his fiancee, Janay Palmer, in an elevator.
"I'm not saying he's a good guy," Crouch said. "But if she hadn't aggravated him, she wouldn't have been hit. They would say that's blaming the victim. But I don't buy it."
Crouch also dismissed the existence of rape culture, telling the Pacific Standard that "No facts in the universe back this up. They propagandize the whole one in five women will be sexually assaulted by graduation—what does that have to do with college? And think about the way you grew up: Did anyone teach you to go out and rape?"
In the past, the NCFM has supported the Republican Party's version of the Violence Against Women Act, which would have removed protections from LGBTQ people in crisis centers. The coalition was involved in a lawsuit in 2015 requiring women to register for the draft.
Stop Abuse and Violent Environments
SAVE is labeled as a misogynist organization in a list compiled by the Southern Poverty Law Center. Despite its name, SAVE has often worked on behalf of the "falsely accused" rather than sexual violence survivors. An assertion included in one of SAVE's fact sheets states argues that "female initiation of partner violence is the leading reason for the woman becoming a victim of subsequent injury"; however, studies show that twice as many women than men are injured during domestic violence disputes.
SAVE has also been critical of a federal rule that in sexual assault cases, makes the sharing of a victim's sexual history inadmissible in court.
Families Advocating for Campus Equality
Families Advocating for Campus Equality is a non-profit founded by mothers of young men who were accused of sexual assault while in college. On its website, FACE says its mission is to advocate for "equal treatment and due process for those affected by sexual misconduct allegations on college campuses." FACE refers to people accused of sexual assault as "Title IX's other victims." The site argues that the accused often suffer the same emotional trauma as rape victims.
Sherry Warner-Seefeld, one of the founders of FACE, told the National Review in 2014 that the Campus Accountability and Safety Act was "dangerous to our country." The bill was meant to improve the ways colleges and universities handle sexual assault cases, with one of the stipulations being that colleges publish an annual survey online of students' experiences.
While DeVos has not taken a hard stance on the expanded Title IX guidelines put forth by the Obama administration, she said during her January confirmation hearing that there were "conflicting ideas and opinions around that guidance" and that "it would be premature" to commit to upholding the guidance.
The hiring of Candice Jackson as the Education Department's new deputy assistant secretary and acting assistant secretary of the Office for Civil Rights—which investigates Title IX lawsuits filed against colleges—gives more hints to how the department could handle the 2011 sexual assault guidance. Jackson has previously called the women accusing President Donald Trump of sexual assault during the 2016 election "fake victims."
According to Politico, last month Jackson suggested that the department may reset the guidelines via a negotiated rulemaking process rather than rescind it altogether. Jackson also sent out a memo to the regional directors for the Office for Civil Rights saying that the department will no longer require investigators to gather three years' worth of complaints at colleges and universities to see if systemic discrimination had created a hostile environment for students.
Celisa Calacal is a junior writing fellow for AlterNet. She is a senior journalism major and legal studies minor at Ithaca College in Ithaca, New York. Previously she worked at ThinkProgress and served as an editor for Ithaca College's student newspaper. Follow her at @celisa_mia.
This article was made possible by the readers and supporters of AlterNet.