DHS Secretary: Cages For Migrant Kids Are 'Larger' Than Dog Cages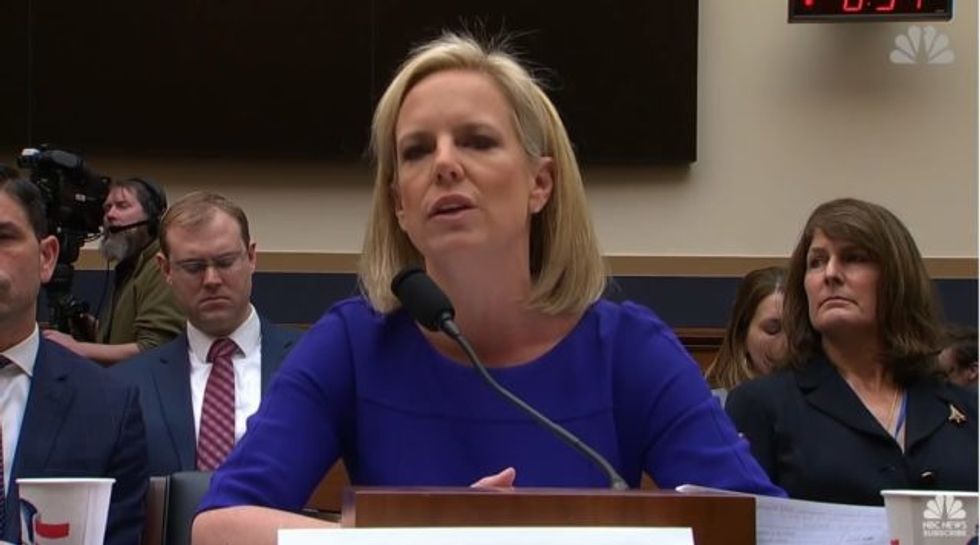 Homeland Security Secretary Kirstjen Nielsen's Wednesday testimony on the Trump administration's child separation policy was an unmitigated disaster.
Nielsen showed up to the hearing, which was called by Democrats who now hold the House majority, completely unprepared and unable to defend the practice of ripping migrant children from their parents at the border.
In one truly jaw-dropping exchange with Rep. Bonnie Watson Coleman (D-NJ), Nielsen tried and failed to explain why the facilities used to house some migrant children were any different from the kinds of cages dogs are kept in.
"What is a chain-link fence, enclosed into a chamber on a concrete floor, represent to you — is that a cage?" Watson Coleman asked Nielsen.
"It's a detention space, ma'am, that, you know, has existed for decades," Nielsen replied.
Watson Coleman didn't stop there.
"Does it differ from the cages you put your dogs in when you let them stay outside, is it different?" Watson Coleman continued.
"Yes," Nielsen said.
"In what sense?" Coleman pressed.
That's when Nielsen dropped this doozy: "It's larger, it has facilities, it provides room to sit, to stand, to lay down."
"So did my dog's cage," Coleman replied.
To Nielsen, apparently, the only thing differentiating the cages used to detain toddlers from the cages in a dog run is that they have toilets and are a little bigger.
Try as she might to defend the Trump administration's inhumane treatment families, Nielsen can only fail.
After all, she's trying to defend the indefensible.
Published with permission of The American Independent.