Did Ben Carson Call Hillary Clinton… A Satanist?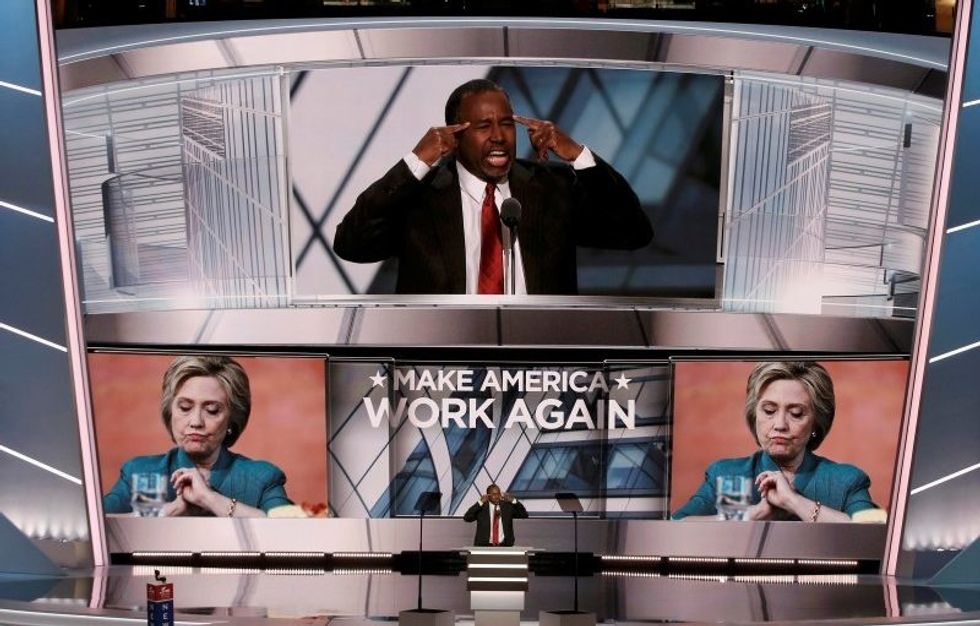 You can judge for yourself:
Carson cited Hillary Clinton's senior thesis on Saul Alinsky, the community organizer from Chicago and much-used conspiratorial bludgeon against Democratic presidential candidates this century. The thesis, which has been available to the public since 2001, was, according to the Boston Globe's Michael Levenson, "dispassionate, disappointed, and amused by [Alinsky's] divisive methods and dogmatic ideology." Clinton interviewed Alinsky twice for the paper, and conservative outlet the Washington Free Beacon later uncovered one letter from Clinton to Alinsky in 1971, two years later.
And Alinsky considered himself an agnostic Jew, not a Satanist. The acknowledgement to which Carson is referring sits right below quotes from Rabbi Hillel and Thomas Paine, and reads in full (pp.5):
Lest we forget at least an over-the-shoulder acknowledgment to the very first radical: from all our legends, mythology, and history (and who is to know where mythology leaves off and history begins or which is which), the first radical known to man who rebelled against the establishment and did it so effectively that he at least won his own kingdom – Lucifer.
Carson takes the "over-the-shoulder" bit more seriously than any honest reader would. But he's Ben Carson, evangelical leader of Trump's America — and a leader who has dipped into the Hillary-Clinton-Is-A-Godless-Heathen bag more than once.
Of course, when Donald Trump questioned Hillary Clinton's religion — most recently in front of a group of evangelical leaders who later strained to give him the benefit of the doubt — Carson was quick to condemn: "I have invested absolutely zero thought in what her religious inclinations are," he said in an interview with The Daily Beast.
Trump questioned Carson's religion, too, when they were competitors for the nomination. Carson wasn't as quick to defend himself then as he was Clinton in June.
Perhaps he was hoping no one would notice the brazen hypocrisy of citing one third of the acknowledgements page of the subject of a 43-year-old college paper — in order to make a point about moral rectitude about an opponent who happens to be a lifelong Methodist parishioner.
Photo: Former Republican U.S. presidential candidate Dr. Ben Carson speaks during the second day of the Republican National Convention in Cleveland, Ohio, U.S. July 19, 2016. REUTERS/Mike Segar