Did Missouri's New Senator Use Taxpayer Funds For His Campaign?
@FAWFULFAN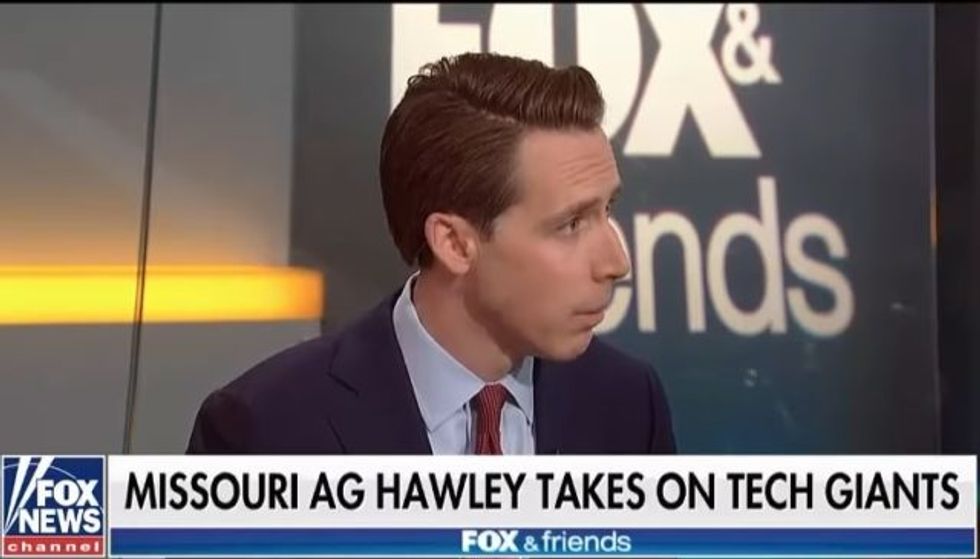 Reprinted with permission from AlterNet.
Missouri Attorney General Josh Hawley managed to best incumbent Democratic Sen. Claire McCaskill in a fiercely contested race in November. But even before he being sworn into office, Hawley is facing an investigation for potentially illegal mingling of taxpayer resources with his campaign, according to a report by the St. Louis Post-Dispatch:
Secretary of State Jay Ashcroft has launched an investigation into the way Attorney General Josh Hawley ran his attorney general's office, Ashcroft's deputy general counsel wrote to the Democratic-allied American Democracy Legal Fund on Thursday.

The group wrote to Ashcroft on Nov. 2, days before the midterm elections, alleging that Hawley may have "used public funds as Attorney General to support his candidacy for U.S. Senate."
The allegation stems from a report by the Kansas City Star in late October, revealing that Hawley farmed out much of his job to out-of-state political consultants shortly after taking office, freeing him from day-to-day operations so that he could plan his Senate campaign. The report was damning, given that Hawley had promised voters during his 2016 attorney general campaign that he would not leverage "one office to get to another." It was also damning given that the Hawley's office was in shambles during this period, with career civil rights litigators stepping down, judges exasperated at the slow pace of discovery in state cases, vetting issues with top aides, and millions of dollars of public money wasted.
But Hawley's arrangement may have been more than incompetent — they may have been illegal. The report also found that Hawley's campaign strategists seemed to be in the chain of command of his office, giving orders to his taxpayer-funded staffers, which would raise questions about whether Hawley was mingling his official staff with his campaign staff. That would create the potential for him to have used taxpayer resources on the campaign.
A spokeswoman for Hawley's office, Mary Compton, denied there had been any use of taxpayer money for campaign purposes and called the allegations "totally meritless and nothing more than a partisan attempt to slander the work of the Attorney General's Office" — which might be a bit of a stretch, as the investigation is being conducted by a Republican secretary of state.
If it does transpire that Hawley used funds from his office for his Senate campaign, the consequences could be severe. As the Post-Dispatch notes, "In 1993, Missouri Attorney General William L. Webster was sentenced to two years in prison for conspiracy and embezzlement of state resources after an investigation revealed Webster was using state resources for political purposes."
Statewide Republicans in Missouri have been shaken up by serious scandals over the past two years. In May, Gov. Eric Greitens stepped down amid allegations he had sexually assaulted and blackmailed a woman, as well as a felony indictment for computer tampering related to his misuse of a veterans' charity's donor list.
Matthew Chapman is a video game designer, science fiction author, and political reporter from Austin, TX. Follow him on Twitter @fawfulfan.