Did The Romneys' Auto Bailout Bonanza Violate Federal Ethics Law?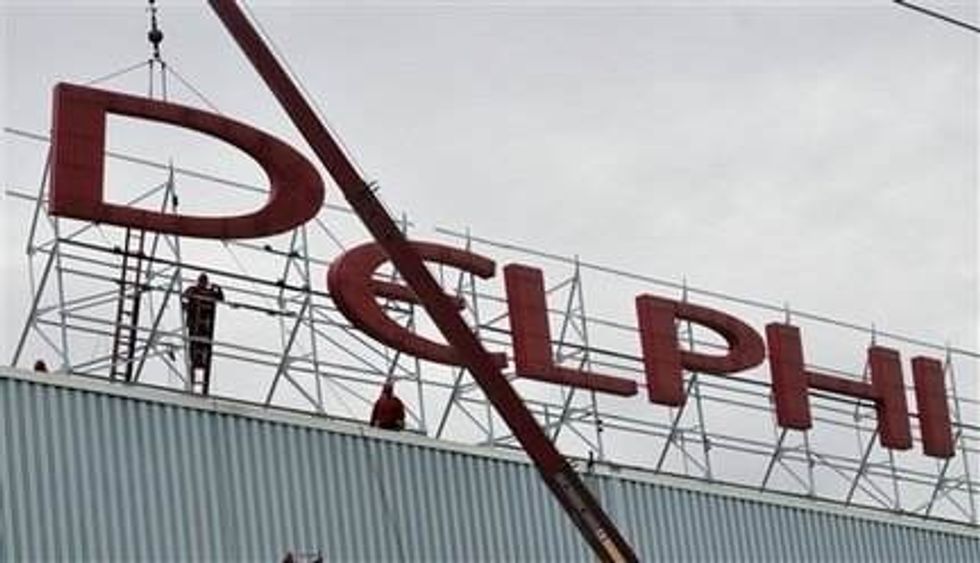 Toledo, OHIO –  Mitt Romney may "celebrate success" in earning a $15.3 million profit from the auto industry rescue, but by failing to reveal the windfall in his federal Candidate Disclosure Form, he may also have violated the law.So says a formal complaint filed on Thursday with the federal Office of Government Ethics by the United Auto Workers (UAW), Citizens for Responsibility and Ethics in Washington (CREW) and a host of other labor and nonpartisan watchdog groups.
In Toledo, UAW President Bob King brought union activists in a packed hall to their feet with the complaint's demand: "Divulge or divest!"
King's remarks cited the recent exposé in The Nation magazine that revealed how Mitt and Ann Romney had earned between $15 million and $115 million from the bailout — all subsidized by taxpayers in payments to the Delphi auto parts company, with the payday hidden in Ann Romney's so-called blind trust.
As this writer reported in The Nation, Ann Romney made a 4,000% profit on her secret interest in Delphi through a limited partnership with a hedge fund operated by billionaire Paul Singer. Identified by Forbes as one of Romney's key campaign donors, Singer has given more than $1 million to the Romney SuperPAC known as Restore Our Future.
According to lawyers for Public Citizen, People for the American Way, the Service Employees International Union and other signatories to the ethics complaint, Ann Romney' so-called "blind" trust was, in fact, a ruse. The Romneys knew the details of their holdings, including their multimillion dollar profit from US Treasury funds. In the complaint to the federal ethics office, lawyers for CREW write: "Romney has not even attempted to meet the requirements for a federal blind trust with respect to his substantial equity holdings [in Delphi]."
The Ethics in Government Act, according to the Nov. 1 complaint, "requires candidates for federal office to disclose their financial holdings so that the public can identify potential conflicts of interest and personal economic priorities of federal officials and candidates."
The UAW's King said he was especially incensed because "Romney's hedge fund partners threatened to shut down General Motors" by withholding key parts made by Delphi. Both U.S. Treasury and Delphi executives have said that in 2009, negotiators for Delphi's hedge fund owners said they could force GM to close by withholding steering columns and other essential parts. Ultimately, the taxpayers provided the hedge funds with $12.9 billion in subsidies which pumped up the value of Romney's Delphi stock from 67 cents a share to $30.
"Romney made a huge profit off this extortion," said King, "and the public has the right to know about it."
After King spoke, Ohio's Democratic Senator Sherrod Brown stopped by the UAW hall to rally  get-out-the-vote troops for his and Obama's reelection campaign. Brown told The National Memo that Romney and his hedge-fund partners "would extort everything if they had a chance."
Heath Lindsey, who hired on at Delphi Ohio 12 years ago, said that the company initially continued to pay his full wages even after filing Chapter 11 bankruptcy in 2005. But then the so-called "vulture funds," which included Romney's partner Singer, took control of the company. In 2007, they cut his wages in half, slashed insurance coverage—and simply abolished his vested pension.
Lindsey, a father of two, said, "It destroyed me. I lost my home to foreclosure. I have medical claims I can't pay. I'm just struggling to get by."
And Lindsey is among the luckier Delphi employees because GM purchased his plant and three more from Delphi. But the speculator group led by Singer eventually closed 24 US plants. The company's filings with the Securities Exchange Commission proudly state that Delphi has not a single UAW union employee left on its payroll, having eliminated all 25,000 jobs.
At the same time, taxpayer-subsidized Delphi expanded its workforce in China to 25,000. Today, Delphi supplies GM and Chrysler parts from Mexico and China.
This week, Republican vice-presidential nominee Rep. Paul Ryan arrived in Ohio to accuse the Obama administration of cutting the pensions of the Delphi non-union pensioners. In fact, says the UAW's King, it was the Singer-Romney group that simply refused to pay any pensions whatsoever to union and non-union workers alike. The company's $6.2 billion pension obligation, says King, "was dumped on the US government Pension Benefit Guarantee Corporation (PBGC) which is limited by law — not by President Obama — in the sums it can pay retirees."
None of this surprises observers of Paul Singer's hedge fund, Elliott Management, which partnered with Ann Romney. Elliott is notorious for what the finance industry calls "vulture" attacks, in which speculators seize old debts of bankrupt corporations — and even nations —  then demand payments of ten or a hundred times their investment, while making threats of economic ruin.
These vulture tactics are at the core of charges in the ethics complaint, which cites not just Elliott's seizure of Delphi but the hedge fund's infamous attacks on the treasuries of the Congo and Peru, which have caused an international diplomatic uproar.
Last April, President Obama and Secretary of State Hillary Clinton took the extraordinary step of filing an action in a US federal court to stop the Singer fund's vulture attacks on Argentina. The government argued that the actions of Singer (and thus also his partners, the Romneys) have a "significant, detrimental impact on our foreign relations."
The Singer group responded to the U.S. State Department legal action by seizing the Argentine Navy's training ship, Libertad, which is a square-rigged sailing frigate.  Which seems to suggest that the Romneys now own a piece of a real-life pirate ship.
Public Citizen's ethics expert, Dr. Craig Holman, notes that as president, Romney would have to choose between U.S. allies and his business partners. He is barred by law from using a "blind trust" to conceal such conflicts of interest.
Greg Palast is the author of the New York Times bestseller, Billionaires & Ballot Bandits:  How to Steal an Election in 9 Easy Steps, which along with his Nation magazine article on the bailout helped to trigger the public interest complaint against Mitt Romney to the Office of Government Ethics.