Diggin' In: Long History Of Herbs To Spice Up Food, Health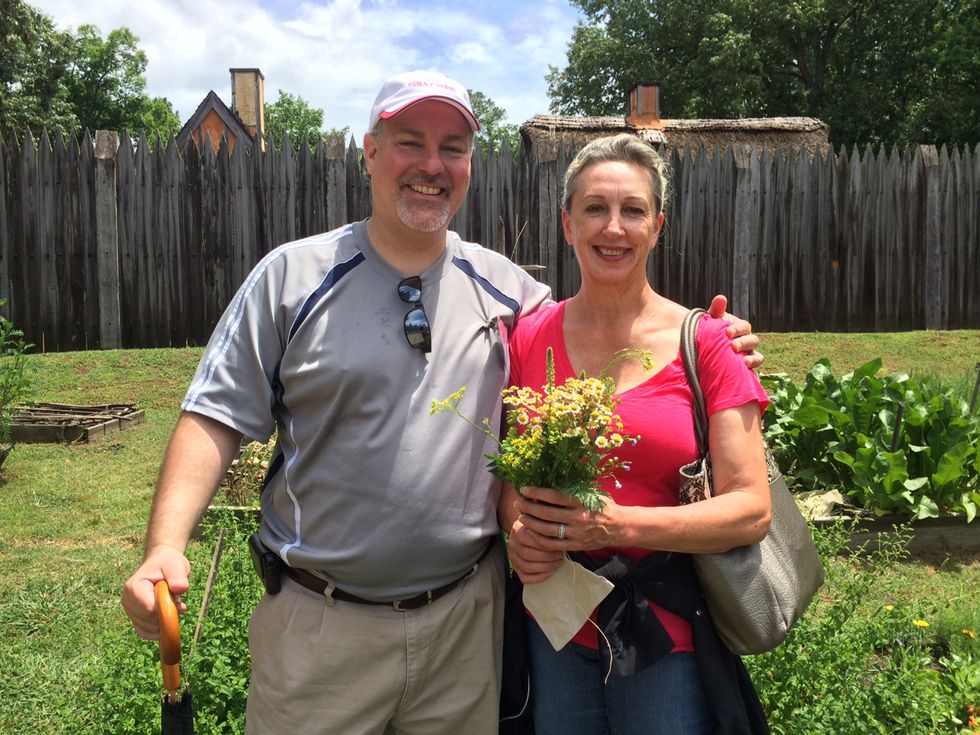 By Kathy Van Mullekom, Daily Press (Newport News, Va.) (TNS)
In the 17th- and 18th-century garden, herbs were an important part of the vegetable plot, growing side-by-side with peas, carrots and lettuces, and then harvested and used in cooking, dye and soap making and herbal medicine.
Today those crops are grown in demonstration raised beds at Virginia's Jamestown Settlement and Yorktown Victory Center, where historical interpreters do the same as part of the living-history museum experience for visitors.
It goes to show that history often repeats itself — today's raised-bed vegetable patches are again popular and practical for small-space, easy-access gardening. Even many of the crops are the same.
For home gardens, Jamestown Settlement historical interpreter Pat Leccadito recommends parsley, sage, rosemary and thyme, and peppermint, spearmint and lemon balm, which colonists also favored. All of these can be grown indoors in pots as well as outdoors, she adds.
"The majority of vegetables and herbs grown in the 17th century are grown today," she says.
"Kitchen herbs grown in England were cultivated in Virginia."
In fact, an advertisement from the Virginia Gazette newspaper dated October 22, 1772, according to interpreters at Yorktown, states, "Imported in the last ships from Britain, and to be sold by the subscriber at Norfolk, a large and complete assortment of garden seeds, also tools; he likewise furnishes plants and herbs of all kinds in their respective seasons."
Visitors are always welcome to explore the gardens and talk with historical interpreters, according to Debby Padgett, spokeswoman for the two historical sites. Garden-themed private tours are available with reservations.
At the Yorktown Victory Center, this year's field crops are growing on a limited basis while a huge expansion and transition is underway at the American Revolution Museum at Yorktown. The entire project, including a reconstructed and enhanced Revolution-period farm, will be complete late 2016, she says.
Useful herbs
Commonly-used herbs and medicinal plants in the 18th-century, according to Jamestown and Yorktown historical interpreters, include:
Rosemary: An ancient medicinal and culinary herb, rosemary is a Mediterranean shrub that found its way to America with early settlers. The plant has long been valued as a stimulant and tonic. It also "quickens a weak memory and the senses," according to "Culpeper's Complete Herbal," originally published in the 17th century.
Cloves: Cloves are the unopened buds of the tropical clove tree, used medicinally and as a spice. The clove bud, when crushed, releases oil that is both anesthetic and antiseptic. It is used for toothaches and indigestion.
Oak gall: Caused by a gall-wasp puncturing the bark of the oak and laying eggs inside, galls are astringent and antiseptic.
"The white gall binds and dries,…yet is good against the dysentery and bloody flux," also according to "Culpeper's Complete Herbal."
Cayenne pepper: Native to tropical America and Africa, it was used medicinally as well as a seasoning. The oil from the peppers was used for salves and to help clear congestion. Modern Capsaicin, which contains capsicum, is from the peppers. It is rubbed on sore joints and muscles.
Tobacco: Grown primarily as a cash crop throughout the 17th and most of the 18th century. Tobacco was also used medicinally. The juice was used as a purgative. The juice was also used on insect stings and bites. The smoke was used for constipation.
Sassafras: This was one of the first native plants to be exported. Sassafras tea was used as a stimulant and antispasmodic; sassafras is the flavoring in root beer.
Mint: There are thought to be at least 30 species of mint, all of which have been highly valued for their medicinal properties since earliest times. By the 18th century, various species were used as a cure for colic and digestive odors.
Willow bark: The bark of the white willow contains salicin, from which acetylsalicylic acid is derived, the main ingredient in aspirin. Needless to say, willow bark was used for headaches or to lower fevers.
Vinegar: Made from apple cider. Many farms had a small apple orchard, and the primary use of the apples was for the making of cider. When the cider turned, it became vinegar, which was used as a preservative as well as medicinally. The benefits of a daily tablespoon of cider vinegar mixed with water are very much in today's health news.
Herbs 101
_ Herbs need sun and well-drained soil.
_ Regular pruning and good air circulation around plants helps keep them healthy.
_ Herbs are easily dried by cutting and hanging them in bunches to dry in a cool, dark place; when the herbs easily crumble, store them in airtight containers.
_ Foliage on herbs can be cut into small pieces and placed in baggies to freeze for later use in dishes; herbs can also be frozen in ice cube trays and dropped into soups, sauces and stews.
_ Learn more about herbs with the American Herb Society at www.herbsociety.org.
___
(Kathy Van Mullekom is the garden/home columnist for the Daily Press in Newport News, Va. Follow her on Facebook@Kathy Hogan Van Mullekom, on Twitter @diggindirt and at Pinterest@digginin. Email her at kvanmullekom@aol.com.)