Disneyland To Close Some Attractions To Build 'Star Wars' Land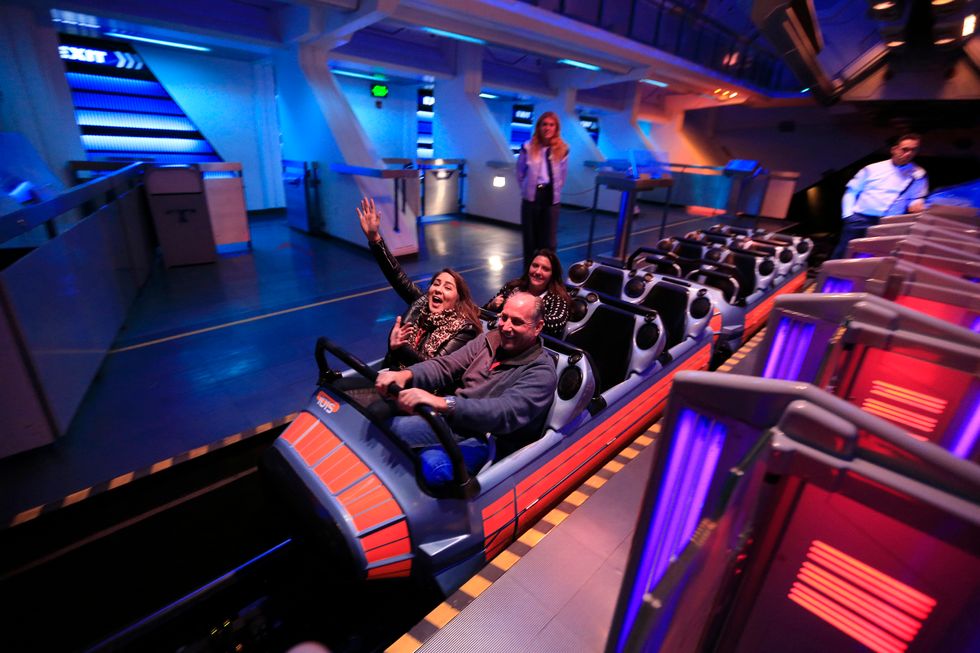 By Hugo Martin, Los Angeles Times (TNS)
LOS ANGELES — To make way for Star Wars, Disneyland is about to launch its largest expansion ever, which means shutting down a significant chunk of the Anaheim theme park.
In January, 10 attractions and eateries will close — some temporarily, some permanently — only a few months after the resort hiked the price of annual passes as much as 31 percent. This spring, Disneyland's biggest rival, Universal Studios Hollywood, plans to unveil a widely anticipated Harry Potter attraction.
For any other operation, charging customers more and giving them less would be a perilous business strategy, especially if the competition is upping its game. Not so at Disneyland.
"At the end of the day, you won't see any attendance drop," said Dennis Speigel, a theme park consultant and president of International Theme Park Services in Cincinnati. "The tourists will come, hell or high water."
Instead, the construction project to build a new Star Wars area is likely to demonstrate the devotion of hard-core Disney fans.
Daniel Bowmen of Los Angeles' Sylmar section, who has owned a Disneyland premium pass for 24 years and visits at least twice a week, said he is disappointed that the park is closing so many attractions during construction. But that won't keep him away.
"I just renewed my annual pass, so I'll be going to Disneyland," he said.
Disney officials won't say whether the announced closures and the annual pass price hike have affected pass sales so far. During the quarter that ended Oct. 3 — before the closures and the price hikes were announced — Walt Disney Co. reported a 15 percent jump in attendance at all domestic parks.
Orange County, home of the Disneyland and Disney California Adventure theme parks, is expected to be the country's fourth-most-popular destination for Christmas travel, according to a study of hotel reservations by the travel website Priceline.com.
Park executives don't seem worried, noting that Disneyland has added several new features in recent months to appeal to devoted Star Wars fans. Disney acquired Lucasfilm, along with the Star Wars franchise, in 2012 for $4 billion.
In Tomorrowland, the Space Mountain and Star Tours rides have been overhauled to include special effects borrowed from the recently released movie Star Wars: The Force Awakens.
An underused area in the Innovations building of Tomorrowland has been converted into Star Wars Launch Bay, a hall where parkgoers can play Star Wars video games, buy merchandise and meet costumed characters from the movie franchise.
The Galactic Grill eatery now sells treats inspired by Star Wars characters, such as a dessert dubbed Darth by Chocolate and the Cheese 3PO Burger.
The additional Star Wars features, part of an overall celebration called Season of the Force, launched Nov. 15. No closing date has been announced.
Perhaps the only crowding problem facing Disneyland over the next few months, say theme park experts, is that park visitors will be swarming around Tomorrowland.
"It's going to be crowded and they are all going to be in one corner of Tomorrowland," said David Koenig, an author of several books about Disney. "The question is, how many bodies are you going to get in there?"
To build the new 14-acre Star Wars area, the park will permanently close Big Thunder Ranch in Frontierland, Big Thunder Ranch Barbecue, Big Thunder Ranch petting zoo and Big Thunder Ranch Jamboree, starting Jan. 10.
(Disneyland officials say the animals in the petting zoo have been adopted by a Southern California family that has worked with Disney animals in the past.)
Nearby attractions on the Rivers of America — mainly Fantasmic, the Mark Twain Riverboat, the Sailing Ship Columbia, the Pirates Lair on Tom Sawyer Island, the Disneyland Railroad and the Davy Crockett Explorer Canoes — will close temporarily.
In total, 14 percent of the park's attractions will be closed either permanently or temporarily in an area that represents nearly a quarter of Disneyland's 85 acres.
Also, Autopia, the mini car attraction that opened in 1955, is set to close for routine maintenance in January. According to Koenig, the car ride will reopen with a new sponsor, Honda. Disney officials declined to comment.
To clear more space for the new Star Wars land, Disney employees who work in offices outside the park, just north of Big Thunder Ranch, have begun to move into two office buildings that Disney purchased last year a few blocks away on South Manchester Avenue.
A completion date has yet to be announced for the Star Wars land, but industry experts predict that an opening date could be at least a year away.
The last time that Disneyland closed several attractions for a major construction project was between 1995 and 1998, when the park overhauled Tomorrowland with several new attractions and a gold-and-brown paint scheme replacing the previous blue-and-white colors.
Disney has yet to reveal what will be included in the new Star Wars land. In announcing the park expansion in August, Disney Chief Executive Robert Iger said it would include a re-creation of the Millennium Falcon, in which guests can take the controls for a "customized secret mission," along with an immersive attraction that will put visitors into "a climactic battle between the First Order and the Resistance."
Instead of discouraging visitors, Speigel said the construction for the Star Wars land could even pique interest among fans who hope to get a glimpse of the new attractions behind the construction walls.
He noted that attendance increased during an expansion of Fantasyland at the Magic Kingdom in Florida from 2011 to 2014.
"It became a great marketing tool," Speigel said. "They capitalized on it."
Meanwhile, Disney officials say they have plenty to offer visitors. The park's 60th anniversary celebration — including a revamped fireworks show, a nightly parade and a water-and-fire extravaganza at Disney California Adventure — will continue until Sept. 5.
"We are excited to begin the work that will lay the foundation for the future Star Wars-themed land at Disneyland," Disney spokeswoman Suzi Brown said. "With our continuing Diamond Celebration entertainment and the new Season of the Force offerings, there is so much for guests to do during this time."
©2015 Los Angeles Times. Distributed by Tribune Content Agency, LLC.
Photo: Riders cheer after riding the updated Hyperspace Mountain at Disneyland during the media preview of Star Wars Season of The Force on Nov. 12, 2015 in Anaheim, Calif. (Allen J. Schaben/Los Angeles Times/TNS)