Disturbing Trend: Bad Cops Getting Rehired Back Into Law Enforcement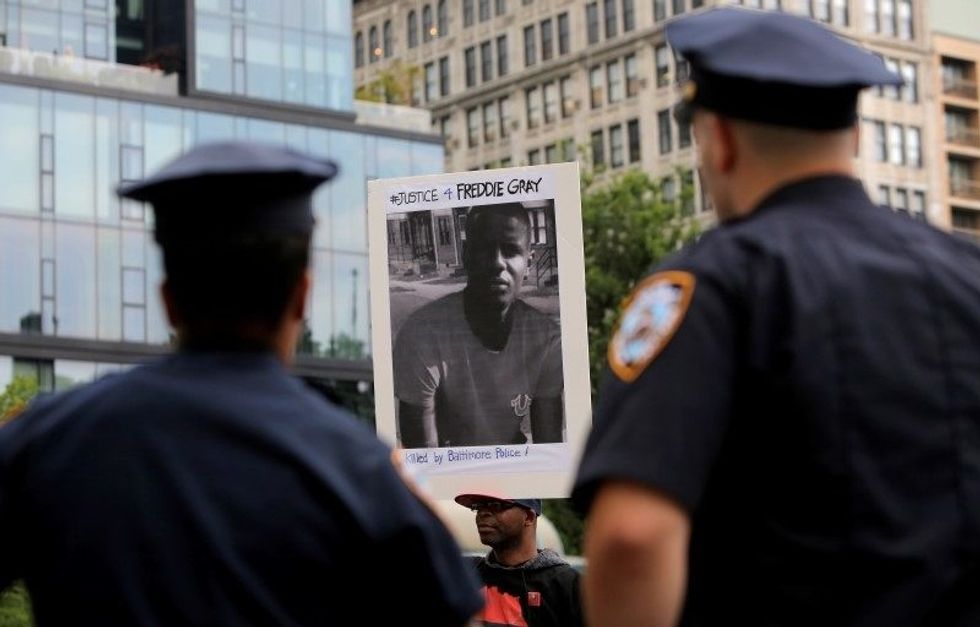 Reprinted with permission from AlterNet.
At minimum, police departments whose mandate is to protect and serve the public should be compelled to remove bad cops from their ranks, to ensure that police power comes with at least a modicum of accountability. Though it doesn't happen nearly enough, some law enforcement officials do try to weed out problem officers. Since 2006, the largest police departments in the country have fired at least 1,881 cops for behaviors that range from ethically questionable to morally unjustifiable. Those officers should have to find new jobs in fields where they don't have the opportunity to again violate the public trust, and in some cases, endanger the community.
Instead, a Washington Post investigation finds that in at least 450 cases, officers were rehired and welcomed back onto the force.
The Post requested hiring and firing numbers from the nation's 55 largest police departments, 37 of which responded. In case after case, investigators found that officer dismissals were overturned during the appeals process, often despite the fact that their wrongdoing remained uncontested. Arbitrators have final say in the cases they review, and are empowered to overrule law enforcement chiefs and other officials even if an officer's guilt is well established. Reinstatement can be granted for any number of reasons, including procedural errors and other technicalities. In some cases, even officers who faced serious criminal charges were allowed to return to the job because arbitrators decided firing was "too harsh" a punishment, or because departments had "missed deadlines" in their investigations.
Of the 451 officers who were rehired, Post researchers found that 33 faced criminal charges, and of that group, 17 had been convicted. In eight cases, bad cops essentially moved through a revolving door, and "were fired and rehired by their departments more than once."
This is all deeply disturbing, not just because it offers further evidence of the ways police are often allowed to live above the law, but because these officers are returning to a highly sensitive field in which they have been proven unfit to serve. It seems absurd to have to revisit this issue again—but when cops behave in ways that are unethical or criminal, they should no longer be allowed to police our communities and neighborhoods. From the Post:
In [Washington, D.C.], police were told to rehire an officer who allegedly forged prosecutors' signatures on court documents. In Texas, police had to reinstate an officer who was investigated for shooting up the truck driven by his ex-girlfriend's new man. In Philadelphia, police were compelled to reinstate an officer despite viral video of him striking a woman in the face. In Florida, police were ordered to reinstate an officer fired for fatally shooting an unarmed man…In the District, an officer convicted of sexually abusing a young woman in his patrol car was ordered returned to the force in 2015.
The Department of Justice, led by Jeff Sessions, has already announced it will pull back on Obama administration police investigations of local police department policies and procedures. Those efforts were undertaken to address public outcry about police abuses around the country—particularly the murders of unarmed African Americans by cops—and to ensure police are in compliance with civil rights laws. In accordance with the rest of Donald Trump's "law and order" agenda, that plan has largely been scrapped. The Post points to Sessions' statement of "concern that good police officers and good departments can be sued by the Department of Justice when you just have individuals within a department who have done wrong."
In other words, we can expect more police abuses across the board, including fewer firings of cops and even more rehirings, following wrongdoing.
Among those who were rehired more than once is Texas officer Matthew Belver, whom the Post indicates "also worked part time as a security guard at a local church." According to the Post, one night in August 2015, Belver was responding to a call about a shooting in a San Antonio neighborhood. A local resident named Eloy Leal approached Belver about some bullet casings he suggested the officer might have overlooked. According to Leal's own recorded statements, "he criticized Belver for missing the casings and announced that he was walking home to get a camera to document the evidence." Belver placed Leal under arrest, handcuffed him and stuck him in the back of a squad car.
The officer's dashcam recorded what happened next: Belver tells Leal he can go free if he is willing to fight. Leal initially agrees, Belver removes his handcuffs, but then the officer realizes the man assumed the officer was kidding. At that point, Belver puts the cuffs back on and complains about Leal's refusal to fight. "I thought you were going to f**king fight, like you said," Belver states. "You had me all excited. I was ready for it."
When the footage finally leaked, Belver was fired. It wasn't the first time he'd gotten in trouble. In two separate incidents during a three-week span in 2010, Belver was accused of beating up two men, and in what suggests a pattern, challenging a drunk driving suspect to fight. He was fired for those incidents. But he appealed and was given back his job, just as he was last September with the Leal case.
Ironically, Belver was taken back the first time under a "last-chance agreement" that required he not get into any more dustups. During Belver's appeal, his counsel argued "that because the last-chance agreement was limited to two years, it had expired eight months before the Leal encounter." That helped tip the arbitrator's ruling in his favor, despite San Antonio Police Chief William McManus' testimony that Belver was a "disaster waiting to happen."
"It's demoralizing, but not just to the chief," Charles H. Ramsey, who previously served as D.C. police chief and Philadelphia police commissioner, told the Post. "It's demoralizing to the rank and file who really don't want to have those kinds of people in their ranks. It causes a tremendous amount of anxiety in the public. Our credibility is shot whenever these things happen."
The San Antonio PD has been ordered by arbitrators to rehire nearly 30 officers since 2006. Chief McManus, who wouldn't speak to the Post about any of those cases, did offer the outlet some insight into how confounding the process can be.
"To overturn a police chief's decision, except in cases of fact errors, is a disservice to the good order of the department," McManus told the paper in a statement. "It also undermines a chief's authority and ignores the chief's understanding of what serves the best interest of the community and the department…I'm sure many police chiefs across the country share the same frustrations that I do when an arbitrator overturns a termination."
Kali Holloway is a senior writer and the associate editor of media and culture at AlterNet.