Diverse Protest Groups Unite As 'The Majority,' Aiming For Large-Scale Demonstrations On May 1st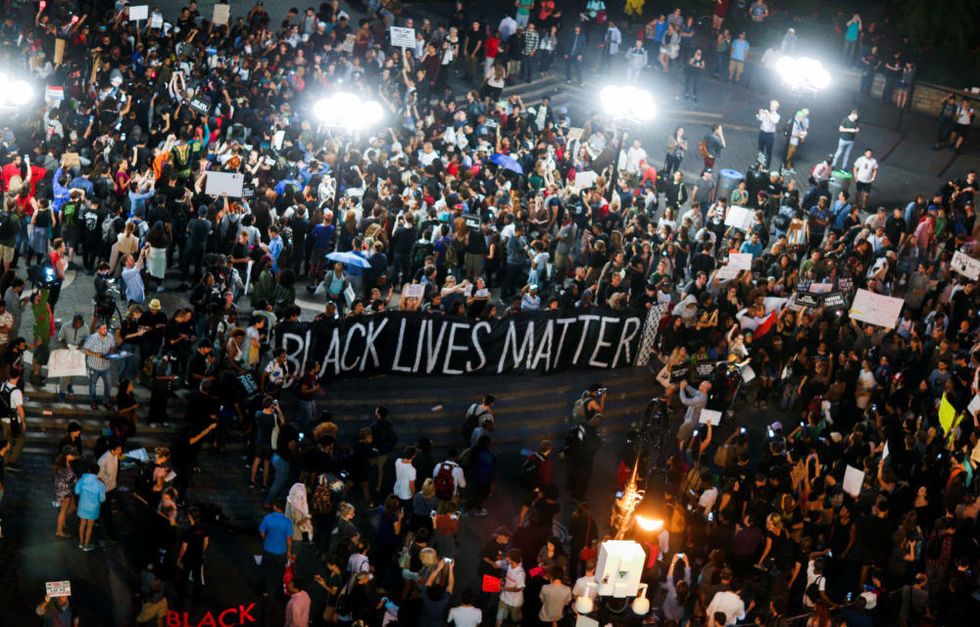 Reprinted with permission from Alternet.
On April 4, 1967, Dr. Martin Luther King Jr. delivered his "Beyond Vietnam" speech in which he denounced the scourges of "poverty, racism, and militarism." Exactly one year later, he was assassinated in Memphis, Tennessee, while organizing alongside black sanitation workers and preparing to launch the Poor People's Campaign.
Now, 50 years after Dr. King's historic address, a new coalition called "The Majority" is emerging to tackle the triple evils identified by Dr. King and build a "multi-racial, cross-movement fight for justice, freedom and the right to live fully, with dignity and respect," according to a statement emailed to AlterNet. This 50-organization-strong initiative includes the Black Lives Matter Global Network, Mijente, Fight for $15, Indigenous Environmental Network and many more organizations.
"The goal of the coalition is to create space where we can come out of our silos as people who do social and racial justice work," said Chelsea Fuller, an organizer with the Movement for Black Lives and a member of The Majority, in an interview with AlterNet. "We want to come together to say that racism, anti-blackness, capitalism and militarism affect all of our communities. They are central to the issues that we are all fighting."
Marisa Franco, director of Mijente, emphasized in a press statement, "The shared attacks our communities are facing mean that we have a shared fate and shared work to do together. We cannot defend ourselves if we do it alone, and we cannot build sanctuary for some of us without it being something that protects all of us."
The initiative comes amid uprisings and protest. Trump's inauguration was greeted with massive demonstrations and direct actions in Washington, D.C., and across the country, and then millions around the world took to the streets as part of the Women's March. Since then, protesters have flooded airports, staged strikes and coordinated actions across the country, organized popular assemblies and mobilized to defend their neighbors.
Those organizing with The Majority coalition seek to unite front-lines movements and rally behind a vision rooted in historical perspective.
Organizers say they draw inspiration from King's 1967 speech, but ultimately credit the broader social movement that he was part of. "While we use the date of Dr. King's historic speech and tragic assassination as a beginning point for our 2017 mobilization, we reject any analysis that would suggest that Dr. King was singularly responsible for the movement," said the Majority. "That's why on April 4th, we will also teach and learn about grassroots organizers who were the backbone of the Black Freedom Movement, and other social justice movements in the U.S. and globally."
The Majority's new initiative, "Beyond the Moment: Uniting Movements from April 4th to May Day," is book-ended by another historical marker: International Workers' Day.
"May 1st or May Day (International Worker's Day) emerged out of the fight for an eight-hour workday in 1886 in Chicago. On this day, striking workers clashed with police, resulting in several deaths—four of the protesters were later hanged," writes The Majority. "In the context of a new president using grandiose promises of job creation to mask the fundamentally anti-worker and pro-corporation nature of his policies, it is imperative that we put forth a true, collective vision of economic justice and worker justice, for all people."
"Between April 4 and May Day, there will be a combination of mass political education and direct actions that will take place across the country," said Fuller. "Right now, folks are still planning their actions, teach-ins, seminars, protests and mass marches. The organizations taking part have membership and reach to groups all over the country."
Meanwhile, momentum for a massive May Day strike appears to be growing. Earlier this month, a network of more than 300,000 farmworkers, servers, cooks and food-manufacturers, including a large local chain of the Service Employees International Union, announced that they will join the walkout "to stop the relentless attacks of the Trump administration and its allies in corporate America." Immigrant justice organizations, including Movimiento Cosecha, or Harvest Movement, have spent months organizing across the country for Un Dia Sin Inmigrantes (A Day Without Immigrants) to win the "permanent protection, dignity, and respect of immigrants."
"The time has never been more urgent for grassroots communities to fight for our lives and liberation together in a multi-racial and intergenerational movement," said Cindy Wiesner of It Takes Roots, one of the many organization members of The Majority.
"We're joining together with the Movement for Black Lives because our two movements have a common bond in fighting the racism that keeps down people of color everywhere," said Latierika Blair, 23, a worker at McDonald's in Memphis, earning $7.35 an hour. "McDonald's conspires with police to try to silence us when we speak out for higher pay. Corporations and politicians act to keep workers and black people from getting ahead in America. We should be investing in our people and communities. That's why we have to protest, and that's why we will keep speaking out together until we win."
This article was made possible by the readers and supporters of AlterNet.