DNC Commemorates The First Anniversary Of The 'Bridgegate' Scandal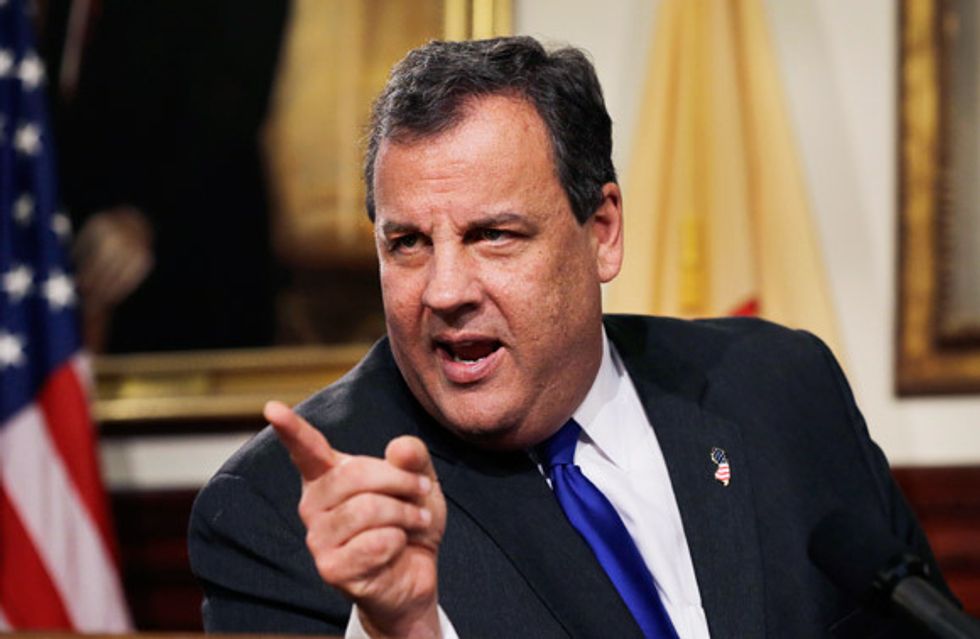 Did you forget about "Bridgegate?" The Democratic National Committee (DNC) certainly hasn't. It's been exactly one year since the Bridgegate scandal launched, and Democrats are celebrating the occasion by holding a press conference and bombarding people who live near the George Washington Bridge with anti-Chris Christie ads.
On September 9, 2013, the Port Authority of New York and New Jersey shut down lanes on the George Washington Bridge, causing a large traffic jam in Fort Lee, New Jersey. Governor Chris Christie's (R-NJ) administration is currently under investigation, as members of his staff may have ordered the lanes closed in retaliation against Democratic Fort Lee mayor Mark Sokolich for not endorsing Christie's re-election campaign.
DNC chair Rep. Debbie Wasserman Schultz (D-FL) went straight to Fort Lee on Monday, to deliver a "Bridgegate Anniversary Press Conference."
"One year ago, Chris Christie was running for re-election on his so-called 'New Jersey Comeback' and on promises that he was a consensus builder — someone who worked across the aisle, who championed compromise and who could get things done," she said. "One year later, we know that those promises were false. They were a sham. What has Chris Christie delivered instead? Gridlock."
She went on to draw a connection between Bridgegate and the way Christie runs his entire government. Christie has denied that he knew anything about the lane closures.
"What Bridgegate did was raise the curtain on his culture of intimidation, bullying, and the incompetence that pervades the Christie administration," she said.
Wasserman Schultz also noted that Christie cut funding for the New Jersey pension fund, vetoed a minimum-wage increase, and gave taxpayer dollars "to big corporations for jobs that haven't materialized."
On Monday, people living in or driving through Fort Lee or uptown Manhattan will see ads on their cellphones, courtesy of the DNC, that read "Gov. Chris Bridgegate Christie." People in the area listening to Pandora will be treated to an ad that states, "Gridlock. That's what happened one year ago in Fort Lee, when the Christie administration shut down lanes to the George Washington Bridge. But it's also what Chris Christie has brought to New Jersey — wrecking our economy and losing our trust."
DNC press secretary Michael Czin told MSNBC that thousands of people would see or hear the ads on Monday.
"We want to remind folks that there are still a lot of unanswered questions, including why the lanes were shut down in the first place," he said. "What we do know is the lanes were shut, and Christie created a culture where something like this happened."
Before the scandal occurred, Christie was a serious presidential contender for 2016. But he still seems to think he has a shot. He recently went to Mexico to meet with business leaders, a trip that has fueled speculation that he's still seriously considering running.
Photo: Peter Stevens via Flickr
Interested in U.S. politics? Sign up for our daily email newsletter!