Proud Boy's Prosecution Proves January 6 Was Terrorist Sedition
@DavidNeiwert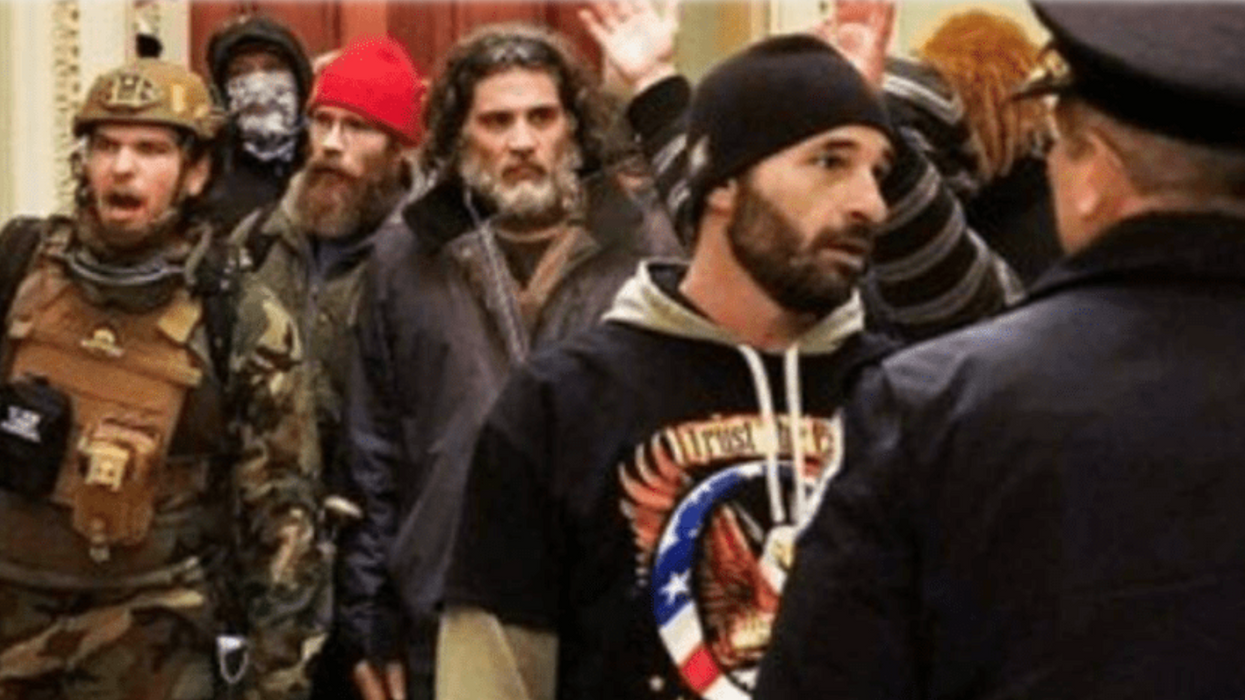 Photo from U.S. Attorney's Office for the District of Columbia
Reprinted with permission from DailyKos
The next time that right-wing gaslighters—whether Tucker Carlson or other far-right pundits, or Republican congressmen—try to valorize the insurrectionists who attacked the U.S. Capitol on January 6 by depicting them as harmless protesters, it might be helpful for everyone to review the case of Proud Boy Dominic Pezzola, charged with conspiracy to obstruct an official proceeding, assault, and multiple other felonies.
The bearded Pezzola, a 44-year-old Rochester, New York, man, is a familiar figure in photos from January 6 as the man who stole a police riot shield and used it to break windows on the south side of the Capitol. He was in court again this week in an attempt to win pretrial release from the D.C. Detention Center, and evidence released in that hearing demonstrate once again how violent and dangerous the insurrectionists were in reality.According to a memorandum filed by prosecutors in the detention hearing this week, among the evidence in his case was a USB thumb drive containing instructions on building homemade bombs, as well as guns and poisons, The Daily Beast reports.
Pezzola was one of the leaders in the Proud Boys' assault on the Capitol, prosecutors allege, along with fellow indictees Ethan Nordean and Joe Biggs, who have made similar legal attempts to obtain pretrial release. If convicted, he could face up to 20 years in prison on the obstruction charge alone.
FBI agents searching Pezzola's home found the thumb drive there, and discovered "hundreds" of PDF files with instructions on building terrorist devices at home. "A sample of titles includes, but is not limited to: multiple serials of a series entitled 'Advanced Improvised Explosives,' those serials including 'Explosive Dusts' and 'Incendiaries'; 'The Box Tube MAC-11,' with subtitle, 'The Ultimate DIY Machine Pistol;' 'Ragnar's Big Book of Homemade Weapons;' 'The Advanced Anarchist's Arsenal: Recipes For Improvised Incendiaries And Explosives.'"
Prosecutors allege Pezzola confronted Capitol Police officer Eugene Goodman outside the Senate Chamber as part of a mob. "Where they meeting at?" Pezzola said, referring to the members of Congress voting to certify Joe Biden's win. "Where they counting the votes?"
In an earlier document filed in August, prosecutors claimed that Pezzola explicitly proclaimed in a video shot inside the Capitol that his intent was to interrupt the count:
Pezzola uploaded a victory speech to social media. Smoking a cigar, he exclaimed: "Victory smoke in the Capitol, boys. This is fucking awesome. I knew we could take this motherfucker over [if we] just tried hard enough." Pezzola concedes that he smoked the victory cigar because "he considered the objective achieved, stopping the certification of the election pursuant to the instructions of the then President."

Pezzola's previous attorney had written in court filings that he believed a so-called "cooperating witness" was sharing information about the Proud Boys. An earlier filing by prosecutors had revealed that this witness heard Proud Boys members claim that "anyone they got their hands on they would have killed," including House Speaker Nancy Pelosi, and that they would have also killed then-Vice President Mike Pence "if given the chance." The men—who all had firearms or access to them—also talked about returning to Washington for Inauguration Day, and that "they plan to kill every single 'm-fer' they can." That witness, prosecutors noted, has not been charged with a crime.
His previous attempts at winning release on bond denied by two different federal judges, Pezzola hired a new legal team to make a third attempt. Those attorneys, Marty Tankleff and Steven Metcalf, argued in court this week that the restrictions the D.C. Jail places on his access to the voluminous evidence in the case violate his constitutional rights.
However, they seem not to have persuaded the judge: "Even if defense were to be able to show a Constitutional violation in the way he's being detained, the remedy wouldn't be to release him, the remedy would be to remedy the Constitutional violations," Federal Judge Timothy Kelly said.
"Pezzola poses both a serious danger to the community and a serious risk of flight," prosecutors argued.
Just a reminder, once again, that there's a reason prosecutors are considering charges of "seditionist conspiracy" against some of these conspirators—and why "insurrection" is precisely the right term to describe what they attempted that day.