Dominion Serves Newsmax, OAN, And Ex-Overstock CEO With Billion Dollar Lawsuits
@jarrell_zach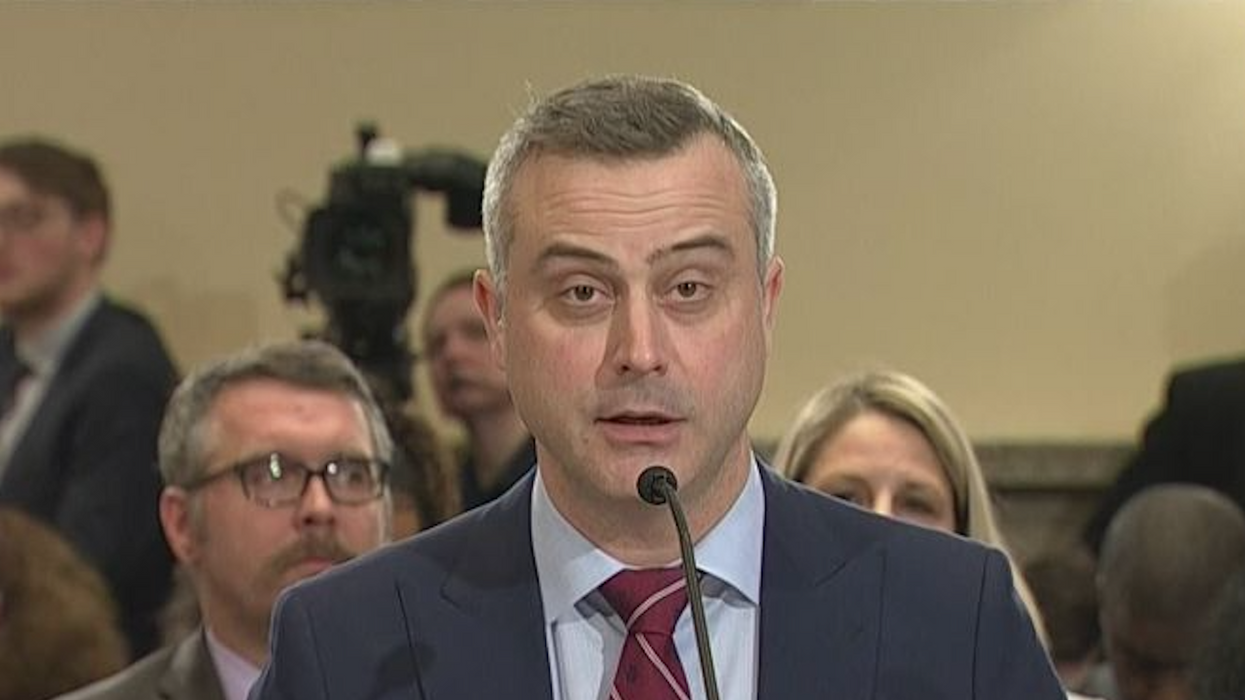 Screenshot from C-SPAN 3
Dominion Voting Systems dished out more billion dollar lawsuits on Tuesday-- filing defamation complaints against cable channels Newsmax and One America News (OAN), as well as former CEO of Overstock.com Patrick Byrne for allegedly lying about the company's role in the 2020 election.
"The defendants in today's filings recklessly disregarded the truth when they spread lies in November and continue to do so today," said Dominion CEO John Poulos. "We are filing these three cases today because the defendants named show no remorse, nor any sign they intend to stop spreading disinformation. This barrage of lies by the Defendants and others have caused—and continue to cause—severe damage to our company, customers, and employees. We have no choice but to seek to hold those responsible to account."
The Newsmax lawsuit, filed in the Superior Court of Delaware, accused the channel of "creat[ing] an entire brand out of defaming."
In the OAN' lawsuit, filed in the District Court for the District of Columbia, Dominion charged that "facts did not matter" to the network. Instead, "what mattered was feeding the audience the alternate reality OAN had helped create and its audience now expected — even if it was spreading false information."
Byrne, a staunch Trump ally, "continues to stick to his manufactured, inherently improbable, profitable, and demonstrable lies," according to the complaint filed against him. Dominion legal counsel Stephen Shackelford added that Byrne "is responsible for bankrolling and promoting a viral disinformation campaign about Dominion that reached millions of people worldwide."
In response, Newsmax defended its coverage of the 2020 election.
"Newsmax simply reported on allegations made by well-known public figures, including the President, his advisors, and members of Congress -- Dominion's action today is a clear attempt to squelch such reporting and undermine a free press," a Newsmax spokesperson said in a statement.
But as ABC News notes, Newsmax has retracted some of its 2020 election reporting, much of which bolstered Trump's Big Lie, after the right-wing news channel reached a settlement in a lawsuit brought by a Dominion employee.
Byrne took a much more aggressive approach, saying through a spokesperson, "Between the imminent release of the Maricopa Audit, and Mike Lindell's current activities in South Dakota, Dominion Voting is about to have a very difficult week. They are simply doing this as a distraction."
OAN has yet to offer a public response to the Dominion lawsuit.
Since far-right Republicans made it their mission to spread baseless lies about the 2020 election, Dominion and other voting system companies have filed multiple defamation lawsuits against the biggest perpetrators.
Back in March, Fox News -- the largest conservative news channel --- was served a similar $1.6 billion lawsuit by Dominion. This followed a $2.7 billion Smartmatic USA defamation suit against the Murdoch outfit.
Trump lawyers Rudy Giuliani and Sidney Powell and MyPillow CEO Mike Lindell have also felt Dominion's wrath in the wake of their deranged attempt to overturn the free and fair 2020 election.
"OAN, Newsmax, and Patrick Byrne have knowingly and continuously sold the false story of election fraud in the 2020 presidential election, with Dominion cast as the villain, severely injuring Dominion in the process," said Shackelford, adding, "We are suing to set the record straight, to vindicate Dominion's rights, to hold the Defendants accountable, and to recover damages for the devastating economic harm done to Dominion's business."