Don Jr. Is Giving Speeches For $100,000 A Pop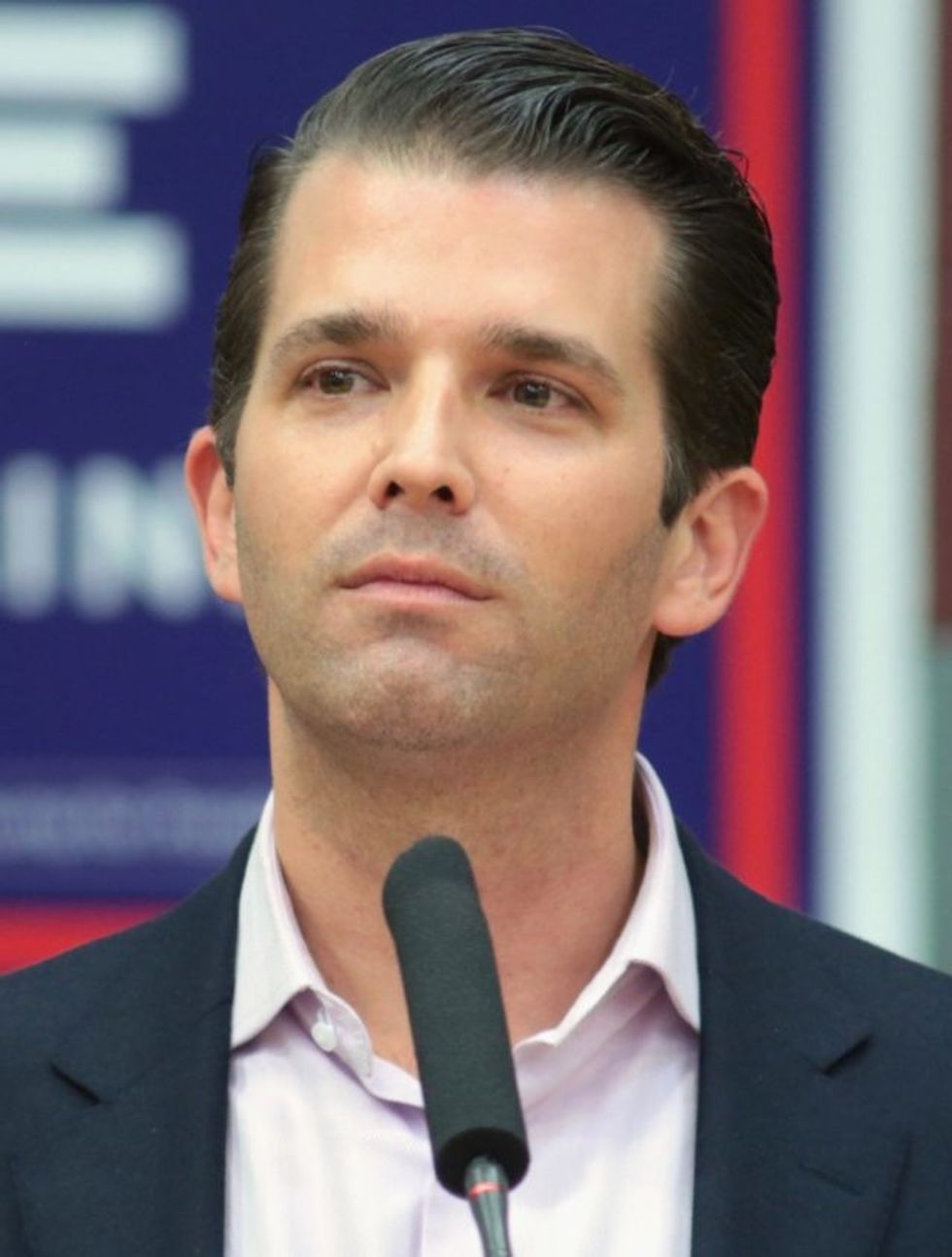 Reprinted with permission from AlterNet.
Donald Trump Jr. reportedly raked in $100,000 for a speech he gave at Faulkner University in Alabama on Thursday, according to Newsweek. The outlet also reports that the president's son will receive a six-digit honorarium, along with $5,000 in food and travel, for an upcoming appearance at the University of North Texas. Trump Jr. made money on at least one other speech, delivered in the UAE, since his father entered the White House.
While none of those speaking gigs qualify as illegal, Newsweek notes that Don Jr.'s appearances are just the "latest in a string of questionable ethics decisions by the Trump family."
"The paid speeches do not break any laws, but create a risk of Trump's children getting unethical benefits from their father's role as president," Noah Bookbinder, who heads Citizens for Responsibility and Ethics in Washington, told NBC News. "They also open the possibility of foreign governments using access to Trump's children as a way to influence U.S. policy."
POTUS has three sons, of which Don Jr. is the eldest. In case you are confused, Eric Trump is the son whose foundation allegedly rerouted money that was intended to go to children with cancer back into the family business. Don Jr. is the son who, along with his sister Ivanka, was reportedly almost charged with felony fraud for duping prospective buyers of units in the Trump SoHo condominium hotel, until their lawyer made a hefty donation to the district attorney's reelection campaign. Junior is also the son who tweeted a fake Top Gun clip of his dad shooting the CNN logo out of the sky, and retweeted a white supremacist meme.
But Don Jr.—who currently serves as executive vice president of the Trump Organization—is most famous for meeting with a lawyer from a hostile foreign government to get dirt that could help his father win the presidential election.
NBC News writes that the website for All American Speakers Bureau, the talent agency that books Don Jr.'s speaking spots, has advertised his speaking fees as starting at $50,001. That page was removed after NBC began asking questions a few weeks ago.
In his speech at Faulkner University, Don. Jr. reportedly pulled out the old conservative trope about universities being liberal indoctrination centers. Per the Hill, "general admission for the event was $150, and top-level sponsors were able to take a picture with Trump Jr. after the event."
Kali Holloway is a senior writer and the associate editor of media and culture at AlterNet.