Donald Trump Can't Win Without Women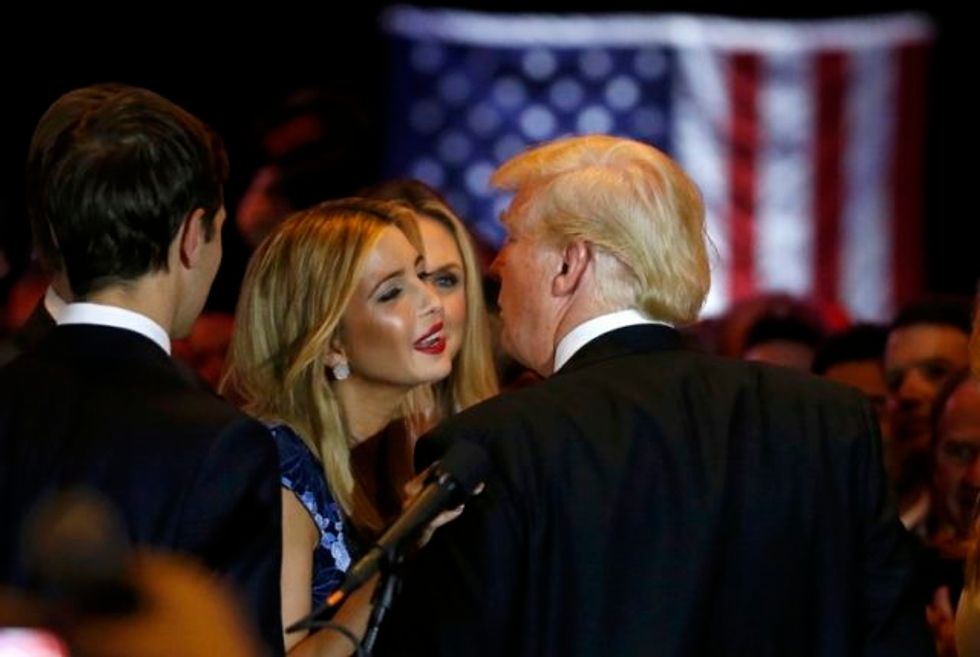 Donald Trump, the Republican Party's freshly-minted presumptive nominee for president, has called his Democratic counterpart Hillary Clinton a weak candidate lacking in stamina whose only asset is the "woman's card."
"And the beauty of this is that women don't even like her," he claimed after he won the Indiana Republican primary.
Harsh words, but not totally surprising from an unrestrained rich guy who has called Rosie O'Donnell a "fat slob," among other epithets, and suggested that Fox News host Megyn Kelly was menstruating when she asked him tough questions at the first GOP Debate. ("She had blood coming out of her whatever.")
Clinton, however, is betting that Trump's crude sexist spiel has backfired, igniting opposition to him from women across the political spectrum.
"The whole idea of 'playing the woman card,' which he charged I was doing, and by extension other women were doing, has just lit a fire under so many women across the country," she said during an interview with the editorial board of the Los Angeles Times posted yesterday.
"And I think it's because they see his attacks on me, or Megyn Kelly or Carly Fiorina or whoever else he's attacking at the moment as really a much broader attack on them. I think we are going to be pushing back and drawing the contrast whenever he does that. Because it's just absolutely beyond the pale. He's not going to get away with it, at least going forward."
About half of Republican women (some 47 percent) say they don't like Trump.
And several prominent female politicians in the Party of Lincoln are openly antagonistic to the foul-mouthed real estate mogul and his immodest proposals — like banning Muslims from entering the U.S. and deporting 11 million undocumented immigrants. Former New Jersey Gov. Christine Todd Whitman, for one, has compared Trump and other GOP candidates to fascistic dicators like Hitler.
"Trump especially is employing the kind of hateful rhetoric and exploiting the insecurities of this nation, in much the same way that allowed Hitler and Mussolini to rise to power in the lead-up to World War II," she wrote last December in Politico Magazine.
Whitman has also said she might vote for Hillary Clinton.
Carly Fiorina, the former Hewlett-Packard CEO and sole female in the GOP race for president before she dropped out, is no ideological sistah to Clinton. But she was quick to attack Trump for boasting about his endorsement in April from "tough" Mike Tyson, the former world heavyweight champion who has had seriously rocky relationships with women.
"Sorry, I don't consider a convicted rapist a tough guy," Fiorina told reporters in Indianapolis during her brief stint as Texas Senator Ted Cruz's pick for vice president. She was alluding to how Tyson was convicted of raping a teenage beauty contestant in the same city in 1992. (He spent three years in prison.)
Fiorina, who antagonized Trump when she was still running for the GOP presidential nomination, noted: "And I think it says a lot about Donald Trump's campaign and his character that he is standing up and cheering for an endorsement by Mike Tyson."
Cruz made a similar point with far stronger language when he assailed Trump as a "serial philanderer" and "pathological liar" who supports rapists as voters headed to the polls in Indiana on Tuesday. After they handed the bloviating billionaire a big win, Cruz abruptly suspended his campaign.
He was furious with Trump for making the bizarre and unsubstantiated claim on Tuesday morning that Cruz's father was somehow involved in the assassination of John F. Kennedy. Trump's proof? He had seem a picture in the National Enquirer of a man who looked like Cruz's Dad standing next to Lee Harvey Oswald. Cruz seemed astounded: "This is nuts. This is not a reasonable position This is kooky."
Cruz's has depicted Trump before as "utterly amoral," in his apparent bid for the evangelical vote. Those words are among the sound bites that appear in a brutal anti-Trump ad released by the Clinton campaign earlier this week. Clinton lets Trump's former Republican rivals on the campaign trail and other detractors to do the talking. ("A con artist," summed up Sen. Marco Rubio of Florida, who lost to Trump in his home state; "a race baiting xenophobic religious bigot," stated Sen. Lindsey Graham of South Carolina who was among the first of 17 GOP candidates to drop out of the GOP contest).
Another Clinton ad shows Trump talking himself into further trouble with female voters, telling Chris Matthew's of MSNBC's "Hard Ball" that women should receive some sort of unspecified "punishment" for having abortions in the event the procedure becomes illegal. He's also shown in an interview refusing to disavow an endorsement from KKK leader David Duke.
Trump's popularity among GOP standard bearers is hardly whole hearted.
"There's more enthusiasm for @realDonaldTrump among leaders of the KKK than leaders of the political party he now controls," Senator Elizabeth Warren, Democrat of Massachusetts. wrote on Twitter. Warren, who has yet to endorse anyone, has become a one-woman scourge of Trump.
Meanwhile, a recent CNN/ORCA survey shows Clinton mopping up the floor with her fellow New Yorker, leading him by 54 to 41, a 13 point edge. That figure augurs well for the former two-term junior senator from the big blue state should she capture the Democratic Party's nomination over Sen. Bernie Sanders in Philadelphia.
Photo: Republican U.S. presidential candidate Donald Trump gets a kiss from his daughter Ivanka at the end of a campaign victory party after rival candidate Senator Ted Cruz dropped out of the race for the Republican presidential nomination following the results of the Indiana state primary, at Trump Tower in Manhattan, New York, U.S., May 3, 2016. REUTERS/Lucas Jackson