Donald Trump Faces Several Tests Before Iowa Caucuses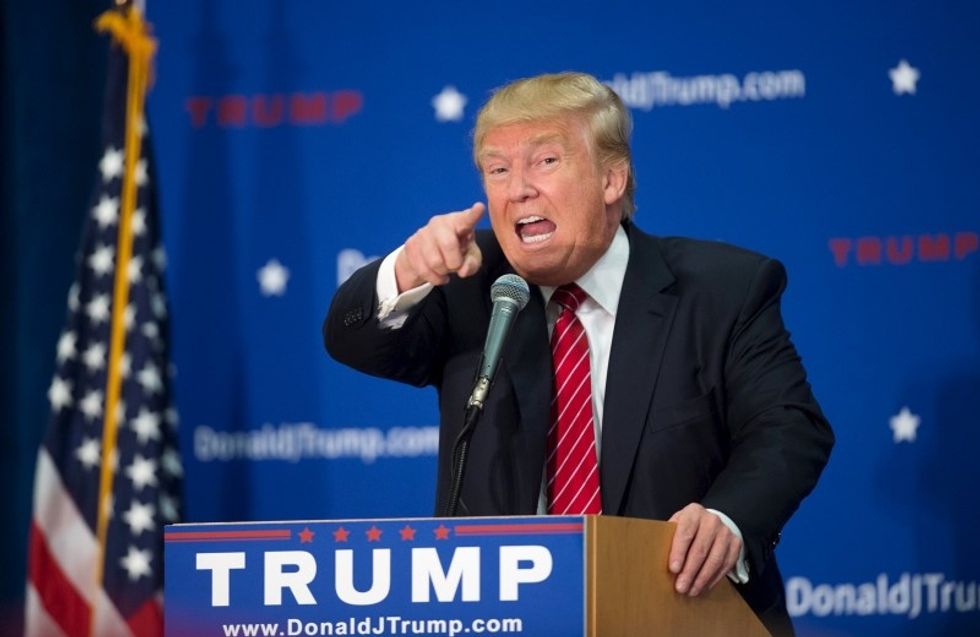 By David Lightman, McClatchy Washington Bureau (TNS)
WASHINGTON — The Donald Trump bandwagon has stalled.
His poll leads in Iowa and New Hampshire have shrunk. He's gotten attention this week largely about whether he'll stay in the race if his poll numbers tumble. Ben Carson has passed him in some surveys, and other candidates are starting to gain traction.
"It's wrong to call it a collapse, but there has been a decline," said Kyle Kondik, managing editor of Sabato's Crystal Ball, a nonpartisan political analyst.
"At some point the honeymoon ends for every candidate. That's what's happening to Trump," said Craig Robinson, editor-in-chief of TheIowaRepublican.com, a partisan website in the state with the first test in the nomination fight.
Trump fired back Tuesday, telling CNN he's in the race to stay.
His travails are common for many early front-runners in presidential races, who jump to prominence because they're familiar names who articulate, usually with clenched fists, the frustration that voters feel.
They inevitably face two fall challenges: Voters start looking more closely at them and discover flaws, and they start considering who they want as president, not just as messenger.
Here are the tests Trump faces in the four months between now and the Feb. 1 Iowa caucuses:
Fighting the ground game
Bobby Jindal, the Louisiana governor, spent 11 days in Iowa last month and jumped to fifth in the latest NBC/Wall Street Journal/Marist poll. Ben Carson has had an army of supporters working for two years in the state and is now within striking distance of Trump.
Trump is active in Iowa, with 10 full-time paid staffers. "He has a good-sized Iowa staff that's out there working," said Robinson, but he's going to have to slug it out with some experienced organizers and campaigners.
A unified Christian right
Carson's surge is evidence that the evangelical community, which is particularly strong in Iowa, has begun to rally around the retired neurosurgeon. That's trouble for Trump. The last two Republican caucus winners, Rick Santorum in 2012 and Mike Huckabee in 2008, were Christian right favorites. Both are running again. The real threat so far is Carson, though. If he gets a boost from Iowa, he would be well-positioned to do well a month later, when voters in 12 states, seven in the South, go to the polls.
Conservative backlash
Outside Iowa, a lot of hard-core conservatives remain suspicious of Trump and are intensifying their efforts. "Donald Trump is not a conservative," said David McIntosh, president of the Club for Growth, which has run ads challenging Trump in Iowa. Trump has supported Democrats and once backed a national health care system.
Overcoming big negatives
Name recognition has certainly helped Trump. But it's also a burden that could be hard to overcome. Fifty-one percent of Republicans or those leaning Republican told the McClatchy-Marist poll this summer that Trump was a distraction in the presidential process.
Getting attention
The Republican race has faded in the national conscience in recent weeks. The last debate was three weeks ago, and the next is not until Oct. 28. Trump's standing tends to improve after debates. But the long lag is giving challengers a chance to establish themselves in Iowa, New Hampshire and other key states.
Worse for Trump, most of the media attention Trump got this week involves the status of his campaign. Sunday, he told NBC's "Meet the Press" that if his poll numbers were plunging, he would not stay in.
The comments set off a flurry of speculation among political insiders that Trump had little taste for combat, so Tuesday, he clarified.
"I'm not getting out. I'm going to win, OK?" he told CNN. "The answer is: I'm going all the way and I'm going to win."
It's going to be tougher.
"Since he's not a traditional candidate, he needs to cast a wide net when looking to identify supporters," said Robinson. "That's completely different than what someone like Ted Cruz has to do, who can focus on social conservatives and evangelical voters."
(c)2015 McClatchy Washington Bureau. Distributed by Tribune Content Agency, LLC.
Photo: U.S. Republican presidential candidate Donald Trump speaks at a campaign rally in Keene, New Hampshire September 30, 2015.   REUTERS/Gretchen Ertl