#EndorseThis: Donald Trump Flips Off The Entire Planet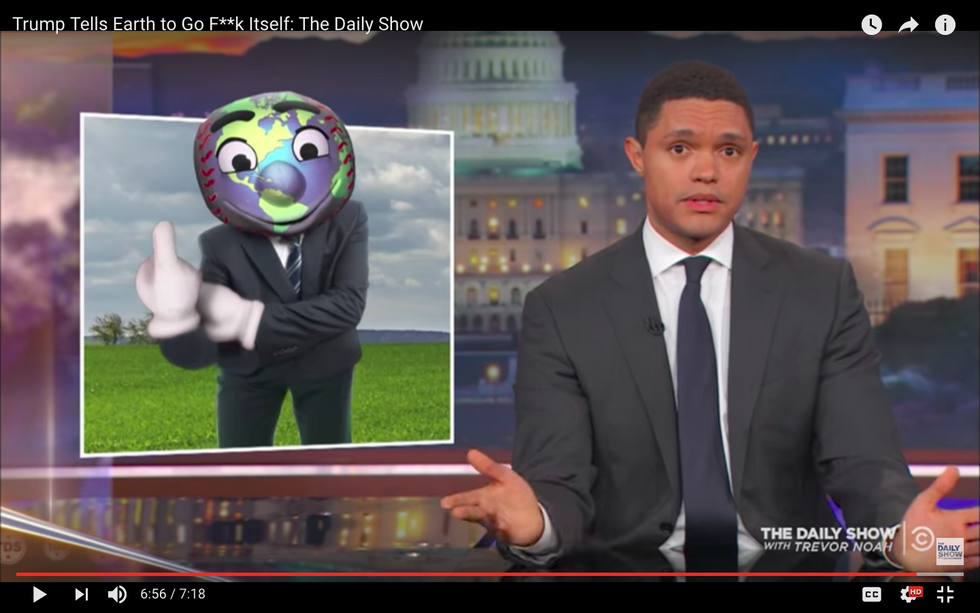 Watching the president deliver his Rose Garden announcement that the United States will withdraw from the Paris climate accord, a disastrous occasion that called for solemnity, Trevor Noah was not impressed: "I don't know what's worse, the fact that Donald Trump may have doomed the planet, or the fact that announced it like it's an episode of The Bachelorette."
As the Daily Show host noted, nowhere on earth is the climate accord controversial except in Trump's White House and among kindred far-right wing-nuts. The hundreds of nations that have led this effort include China and Russia, the entire European Union, every country in South and Central America except Nicaragua, even North Korea (Kim Jong Un may be crazy, but not that crazy), Israel and Palestine ("It's like when we agreed on pork!"). But for Trump the motives behind this historic pout are probably psychological as well as ideological, although otherwise not logical at all.
"We don't want other countries laughing at us any more," he whined. Of course, Noah tried to be reassuring. "They weren't laughing at you, Donald — at least, not for this."
We may be headed toward global doomsday but at least the orange super-villain is still good for a few laughs.