Donald Trump Jr. Hires Crime Mob Lawyer For Russia Investigation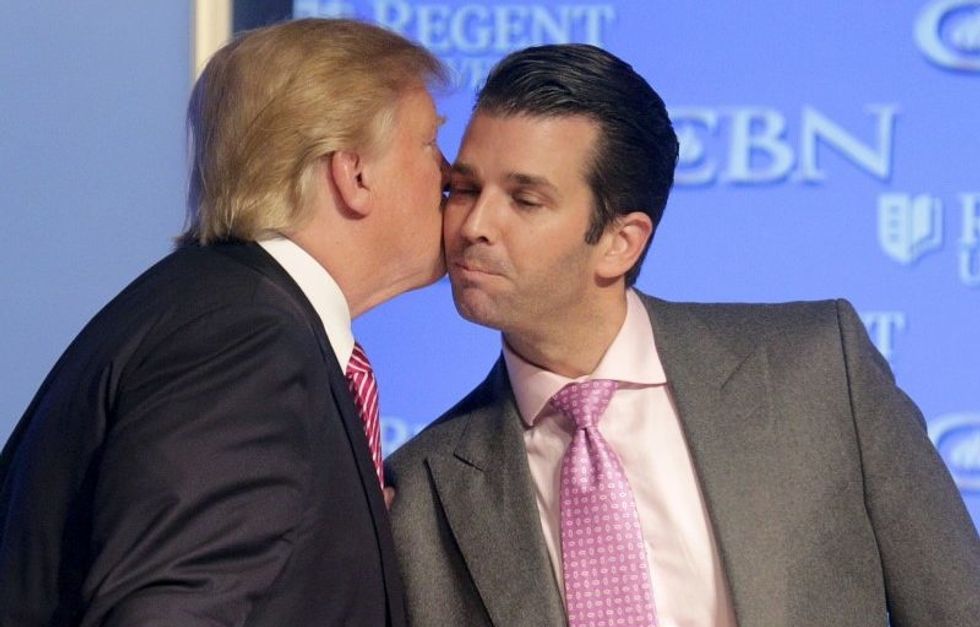 Reprinted with permission fromAlterNet.
Donald Trump Jr. has hired New York lawyer Alan Futerfas to represent him in ongoing investigations regarding his father Donald Trump and his potential ties to Russia, according to Reuters. Futerfas, a criminal defense lawyer, has had experience in the past representing members of organized crime mobs, particularly the Gambino, Genovese, and Colombo families.
The hiring of Futerfas comes on the heels of a New York Times investigation revealing that Trump Jr. had met with a Russian lawyer in the midst of the 2016 presidential election who offered to hand over potentially damaging information about Hillary Clinton.
Futerfas has a history of representing members of organized crime rings. In 1993, Futerfas represented a member of the infamous Genovese crime family, Salvatore "Sally Dogs" Lombardi from Staten Island. Lombardi and a number of other defendants from the family were facing trial for attempting to illegally expand gambling operations into Atlantic City. A jury ultimately found Lombardi guilty of racketeering, extortion and illegal gambling.
Again in 1998, Futerfas was the defense attorney for Anthony Russo, who was convicted of murder and racketeering charges along with two other mobsters for involvement in the crime family's street war. The constant violence in 1991 and 1992 caused by the crime family led to 11 deaths. In 1998, the three mobsters were denied a new trial after being found guilty in 1993.
Futerfas also represented Anthony's son, Alfonse Russo, in a case where he and two other white teenagers beat a black man in Brooklyn in 1997 in a racially motivated attack. According to the New York Times, Alfonse had beat the victim with the bar of a steering wheel. Alfonse and the two teenagers were later convicted of second-degreee assault and second-degree aggravated harassment, but escaped the more serious charge of attempted murder.
In 2012, Futerfas was the defense attorney 35-year-old Michael "Roc" Roccaforte, a mobster who was part of the group of 27 arrested by police in the Southern District of Manhattan. Roccaforte had pleaded guilty to breaking a multitude of laws in the past decade, including racketeering, selling drugs, gambling and loan sharking. He received a 118-month sentence for his crimes, a sentence four months harsher than what federal prosecutors aimed for. Futerfas unsuccessfully tried arguing for the minimum-possible 97-month sentence for Roccaforte.
Celisa Calacal is a junior writing fellow for AlterNet. She is a senior journalism major and legal studies minor at Ithaca College in Ithaca, New York. Previously she worked at ThinkProgress and served as an editor for Ithaca College's student newspaper. Follow her at @celisa_mia.