Donald Trump Might Turn Utah — Utah! — Blue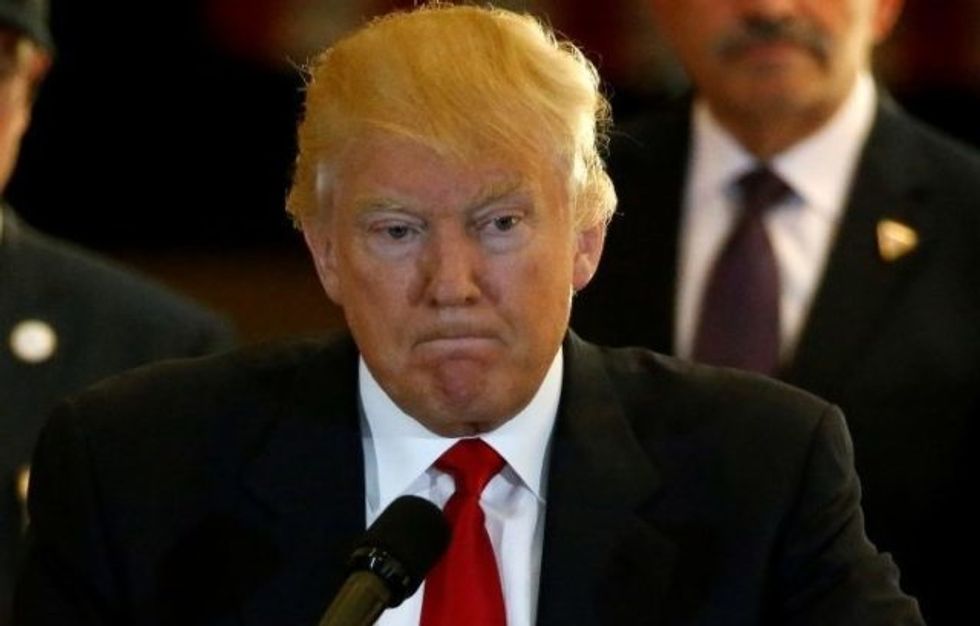 Donald Trump used to love talking about polls… until he clinched the Republican nomination and quickly slipped even further in hypothetical general election match-ups against Hillary Clinton.
The presumptive Republican candidate's favorability is so low that historically red states may be up for grabs in November.
In Utah, which has voted Republican for half a century, a new poll from The Salt Lake Tribune and the Hinckley Institute of Politics at the University of Utah found that Donald Trump and Hillary Clinton are tied at 35 percent of support from likely voters. Libertarian candidate Gary Johnson polled at an unusually high 13 percent. In another poll, from Gravis Marketing, Trump received 29 percent of support, to Clinton's 26 and Johnson's 16.
Utah conservatives seem to be looking for an alternative to Donald Trump.
This is the case with Utah voter Leonard Eversole, who told the Salt Lake City Tribune that he has voted Republican since his first vote for Richard Nixon in 1960, but not this time. "I'm not going to vote for Clinton and I'm not going to vote for Trump," he said. "What's different? Trump's big mouth."
"I'm not Muslim, by the way, but the Muslim thing was the most ridiculous. There was no manner of testing or anything, just 'no Muslims' and that's ridiculous. That's discrimination if ever there was any." Eversole said about Trump's proposed Muslim ban.
Others, like Lee Carillo, are unenthusiastically turning to Clinton. "Like most people, I think I'm pretty dismayed by the candidates, but I think Hillary Clinton is probably going to be… a more effective president," she said.
In Kansas, a state that last went Democrat in 1964, Clinton is leading the presumptive Republican nominee by 7 points, according to a Zogby poll released last week. Respondents of the poll were 44 percent Republican and 28 percent Democrat. 47 percent of respondents reported being "very dissatisfied" with the presidential nominees.
Republicans in Utah and Kansas didn't like Donald Trump from the start – Trump finished last in Utah with just 14 percent of the vote, and was defeated by Ted Cruz in Kansas with 23 percent of the vote.
These states' unwillingness to accept Trump may be a result of their large Mormon communities.
Although Mormons are usually reliably Republican voters, their rejection of Trump makes sense. The religious community knows what it's like to be on the receiving end of bigotry-inspired persecution. As a response to Trump's call for a Muslim ban, the Church issued a statement saying that "The Church of Jesus Christ of Latter-day Saints is neutral in regard to party politics and election campaigns. However, it is not neutral in relation to religious freedom."
The statement then cited a quote by Joseph Smith and stated it echoed the Church's current position:
"If it has been demonstrated that I have been willing to die for a "Mormon," I am bold to declare before Heaven that I am just as ready to die in defending the rights of a Presbyterian, a Baptist, or a good man of any denomination; for the same principle which would trample upon the rights of the Latter-day Saints would trample upon the rights of the Roman Catholics, or of any other denomination who may be unpopular and too weak to defend themselves. It is a love of liberty which inspires my soul — civil and religious liberty to the whole of the human race."
U.S. Republican presidential candidate Donald Trump speaks during a news conference at Trump Tower in the Manhattan borough of New York, U.S., May 31, 2016. REUTERS/Carlo Allegri