Donald Trump Takes Twitter Cheap Shot At Jeb Bush's Wife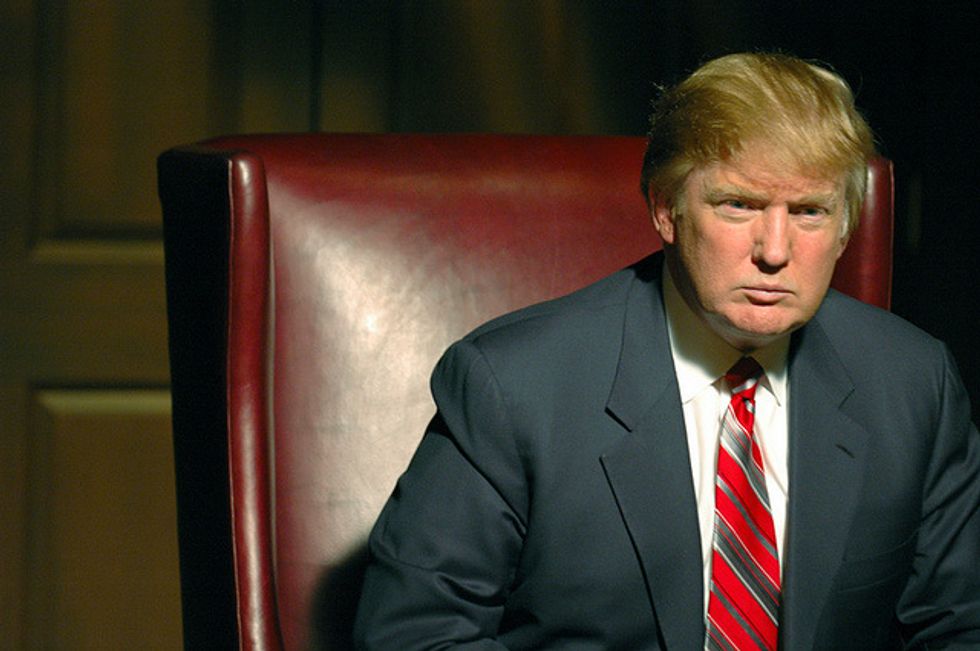 GOP presidential candidate and Right America's bombastic id, Donald Trump, is not famous for having a sense of shame or remorse. But even The Donald knows he went too far this time.
On Saturday, Trump took aim at Jeb Bush, his rival for the Republican nomination — or, more specifically, Bush's wife. In a move uniquely crass and crude even for Trump, he reposted a Twitter user's remarks speculating that the former Florida governor's immigration policies may be informed by the fact that his wife, Columba Bush, was born in Mexico. Trump removed the post after it had been online for 24 hours — but not before several users took screenshots of the offending tweet.
The tweet, a reprint of remarks from Twitter user Rob Heilbron, says: "#JebBush has to like the Mexican illegals because of his wife."
Columba Bush was born in Mexico in 1953; she married Jeb Bush in 1974, and became a naturalized American citizen in 1979.
This is the latest shot in a flame war that Trump and Bush have been waging on immigration. Trump kicked off his candidacy with an announcement speech, in which he called all Mexicans "rapists" and vowed to build a border wall ("very inexpensively"), for which he would demand Mexico cover the costs. Trump has stood by these comments. His remarks led to his business relationships with Macy's, Univision, and NBC being detonated, and forced GOP candidates to qualify their own "tough-on-immigration" stances as being removed from Trump's naked xenophobia.
Jeb Bush said on Saturday that Trump was wrong about immigration, and that his views do not reflect those of the Republican Party.
Trump rejoined that Bush "doesn't understand anything about the border or border security. In fact, Jeb believes illegal immigrants who break our laws when they cross our border come out 'out of love.'"
Photo: Kevin T. Gilbert/NBC Universal. Screenshot via Daily Kos