Donald Trump's Strange Bro-mances With Duterte And Putin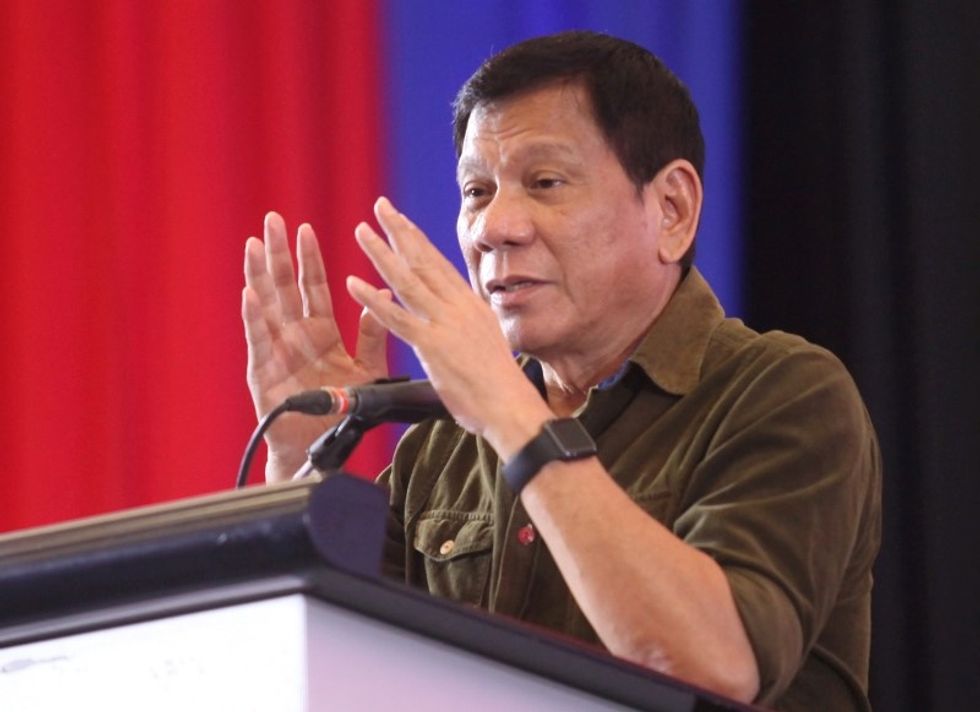 Reprinted with permission from Creators.
"We've had a great relationship," exulted a giddy Donald Trump, following his two-day schmoozefest in Manila with the thuggish president of the Philippines, Rodrigo Duterte.
Duterte, a self-styled "toughie" who boasts of personally killing many people and who likes to compare himself to Satan, has been on a murderous rampage since his election last year. In the name of eliminating drugs, he has unleashed a massive military assault across the country, not merely targeting dealers, but also anyone using drugs. His onslaught against his own people is a human rights atrocity, with untold thousands essentially being executed in what are antiseptically termed "extrajudicial killings" — ie, illegal, unjustified… murderous.
Yet, the present President of the United States says Duterte is his new buddy, and Trump stressed in their official discussions that the Philippine president can count on him and the U.S. (which includes you and me) to be a friend. And, as a friend, Trump didn't bother his authoritarian buddy with any unpleasant talk about those rampant human rights abuses.
Instead, the Duterte-Trump get-together was one of mutual praise and even affection. Indeed, Donald was delighted when Rodrigo impulsively grabbed the microphone at a gala state dinner and serenaded Trump with a love ballad: "You are the love I've been waiting for," he crooned.
In fact, Duterte had earlier demonstrated that love when he named Jose Antonio to be his trade representative to our country. Antonio, a Philippine real estate mogul, happens to be a partner with our president in the luxurious new Trump Tower, now under construction in Manila. Cozy, huh?
This might be good business for Trump, but it's a sorry deal for our national interest.
But as Trump explains, "Strange things happen in life."
Yes — like him! Take that strange bro-mance he's got going with another presidential counterpart, Vladimir Putin. The two recently had a private tete-a-tete, after which our president said that Russia's president had vehemently denied the findings of U.S. intelligence agencies that Putin's hackers and tricksters ran a slew of fake news ads and spread propaganda to help defeat Hillary Clinton last year. Trump added that he thinks Putin is "very insulted" to be accused of such a thing, and that the Russian told him straight-out that "he absolutely did not meddle in our election."
Well, gosh, I guess Putin would deny that, wouldn't he? But Trump really, really wants to believe that his bro wouldn't fib to him. "We seem to have a very good feeling for each other," Donald said sweetly. "I believe that when [Putin] tells me that, he means it. I believe that he feels he and Russia did not meddle in the election."
"Feels?" Putin is a former KGB espionage agent, a practiced liar and a conniving authoritarian who rules Russia with an iron fist. He doesn't govern by his feelings, but his "feelers" — loyal operatives who make sure he knows everything that's going on. And he certainly knows that Russia did indeed mess with America's most sacred democratic principle: free and fair elections. Moreover, he knows that by duping Donald, he's free to keep messing with our internal affairs.
Trump has zero knowledge, experience or skills in foreign policy, and he's in way over his head when dealing with someone like Putin. Why wouldn't our president at least challenge this dangerous foreign threat to our people's democracy? "Well, look," Trump meekly replied when asked this question, "I can't stand there and argue with him."
Really? Well since you're not up to the job, please get out of the way so we can find a president who will stand there and argue with the Putins and Dutertes of the World.