Don't Sleep On Mike Huckabee In 2016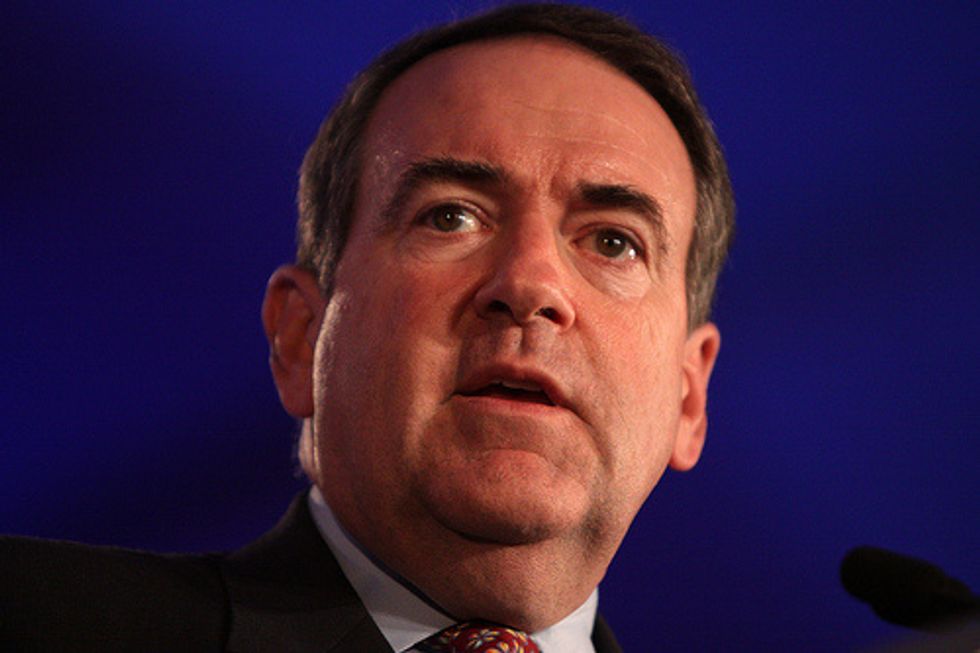 The 2016 presidential election is still almost 700 days away, but the campaign is already getting underway. Over the weekend, former Arkansas governor Mike Huckabee became the latest candidate to explore a run for the White House.
Huckabee, who unsuccessfully pursued the Republican presidential nomination in 2008, announced on Saturday that he is ending his eponymous Fox News show to consider joining the race.
"As much as I have loved doing the show, I cannot bring myself to rule out another presidential run," Huckabee said. "As we say in television, stay tuned!"
Huckabee would be a long shot to actually win the Republican nomination, much less the presidency. While his unflinching social conservatism has made him popular with the religious right, his far-right views would leave him incredibly vulnerable in a national campaign. Huckabee's opponents could make a strong case that his history of inflammatory comments — such as his lecture on "Uncle Sugar" and women's libidos, or his insistence that Roe v. Wade makes America worse than Nazi Germany, or his full-throated defense of Todd Akin — would make him completely unelectable in a general election. In contrast to his extreme social conservatism, Huckabee's economic record as governor — which includes raising taxes, increasing government spending, and trying to protect some undocumented immigrants from deportation — leaves many Republicans suspicious. And perhaps most importantly, it remains unclear whether Huckabee can raise the roughly $150 million needed to survive the primary season.
Still, Republicans must take his candidacy very seriously. Because even if Huckabee doesn't win the nomination, he could play a huge role in determining who ultimately does.
Huckabee is arguably the most popular politician in the country among conservative Christians. In 2008, he won eight states — Alabama, Arkansas, Georgia, Iowa, Kansas, Louisiana, Tennessee, and West Virginia — all of which rank among the most evangelical in the nation. As Aaron Blake recently illustrated in the Washington Post, Huckabee's vote totals nearly equaled the evangelical population in most of the 31 states in which he appeared on the ballot.
There's reason to believe that he could repeat or even improve upon those results if he runs again 2016. Huckabee has spent the past six years regularly appearing on Fox News, raising his name recognition to the top tier of prospective GOP candidates. He is better liked than any of his competitors. And as a result, he currently leads most of his likely opponents in early polling of the 2016 race.
That said, it seems likely that the competition for evangelical voters will be much tougher in 2016 than it was when Huckabee last ran; candidates such as Texas senator Ted Cruz, Louisiana governor Bobby Jindal, and former Texas governor Rick Perry will surely compete for Huckabee's base, and cut into it to at least some degree. That could be bad news for evangelicals' hopes of nominating a culture warrior. If, for example, Cruz were to split the evangelical vote with Huckabee, it could doom both of them in the Iowa caucus and in a potential "SEC Super Tuesday," featuring March 1 primaries in Alabama, Arkansas, Georgia, Mississippi Tennessee.
So ironically, Huckabee's candidacy may be the best thing that could happen for perceived moderates like Jeb Bush or Rand Paul. But if he can unify the religious right behind him — and he seems to have a better chance of doing so than any other Republican — then Mike Huckabee could be a very formidable challenger in his own right.
Photo: Gage Skidmore via Flickr