Arizona's GOP Governor Touts Broadband Expansion His Party Obstructed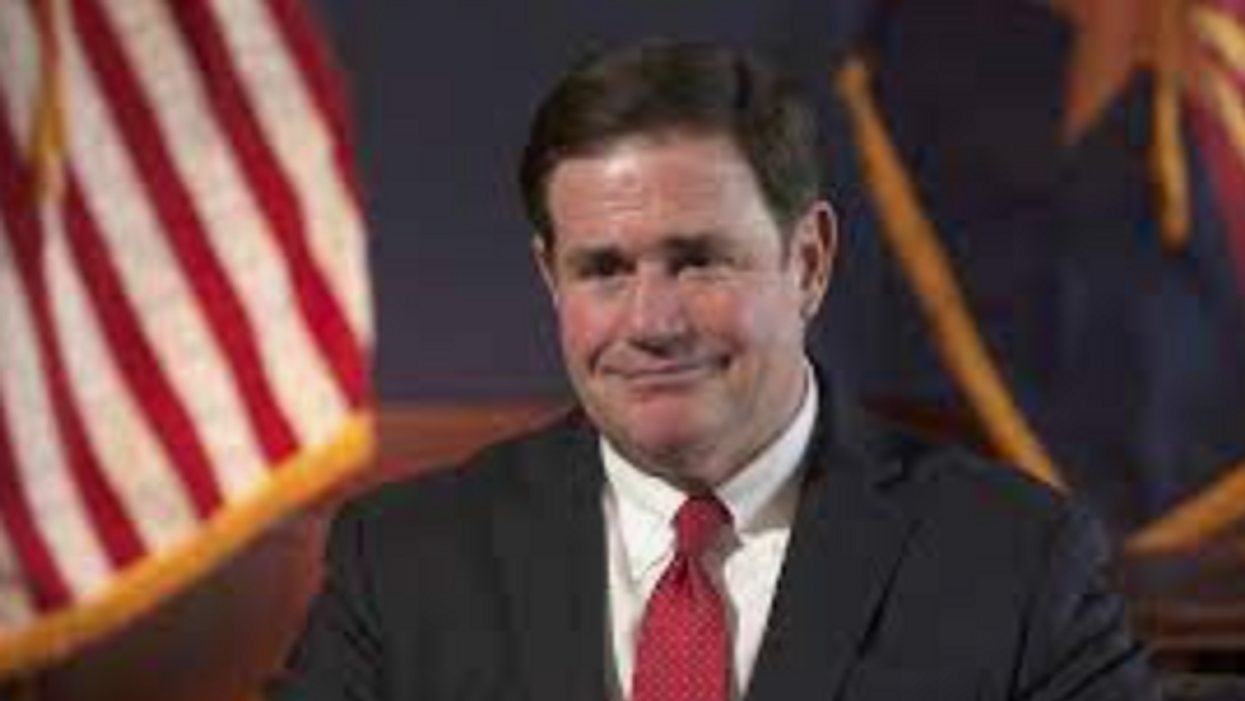 Arizona Republican Gov. Doug Ducey announced on Monday a $100 million investment to expand high-speed broadband internet service in his state — a move that was made possible by the Democrats in the state's congressional delegation.
Ducey said the $100 million investment was made possible by the American Rescue Plan Act, the COVID-19 relief bill President Joe Biden signed into law back in March.
Every single one of Arizona's four GOP House members voted against the legislation. And every Democratic member of the state's Congressional delegation — including Arizona's two Democratic Sens. Mark Kelly and Kyrsten Sinema — voted for it.
"In today's digitally connected world, ensuring access to high-speed internet is key to growing opportunity," Ducey said in a news release. "Today's historic investment will build on the progress of recent years to get even more schools, businesses, tribal communities and homes connected, opening up more opportunities for services like telemedicine and digital learning."
Not a single Republican in either the House or Senate voted for the American Rescue Plan. Included in that funding package — aside from another round of stimulus checks and expanded unemployment benefits — was $350 billion in state and local aid that could go toward upgrades for broadband internet.
The COVID-19 pandemic helped expose the problems Americans face when they don't have access to high-speed internet.
"Stories from the past year made it impossible to ignore how essential broadband is in our daily lives: young students unable to login to their digital classroom; workers without in-home connectivity forced to travel to their job sites; retirees who couldn't video chat with their families; and sick people who couldn't access telehealth services," according to an analysis piece from two Brookings Institute experts.
Congressional Republicans, such as Senate Minority Leader Mitch McConnell, railed against the state and local funding, deeming it a "blue state bailout."
Ducey was not one of the Republicans who railed against providing direct aid to states and had instead asked Congress for relief funds.
However, he has come under fire for how he's allocated the funds, including in August, when he announced that he was giving $163 million in grants from the American Rescue Plan to schools that did not have mask mandates, as the COVID-19 pandemic continued to rage. The Treasury Department warned Ducey in October that the way he was selectively giving out funding to schools that defy mask mandates could cause the state to lose recovery funds.
Ducey's bragging over the expansion in broadband internet is yet another instance in which Republicans are taking credit for something they didn't support.
Numerous GOP lawmakers have celebrated or taken credit for things funded by the American Rescue Plan that they didn't vote for.
For example, multiple GOP lawmakers praised a provision in the plan that granted relief to restaurants hit hard by the COVID-19 pandemic.
Others, such as New York Republican Reps. Garbarino and Lee Zeldin, took credit for canceled service cuts on the Long Island Rail Road, which was made possible by funds they did not vote for.
It's also possible that Republicans who voted against the infrastructure bill Biden is signing Monday afternoon will take credit for projects it funds. Sen. Rick Scott (R-FL) wouldn't rule that possibility out in an interview with CNN earlier in November.
Published with permission of The American Independent Foundation.