Dowdgate? Biden Insists Deathbed Scene With Son Beau Never Happened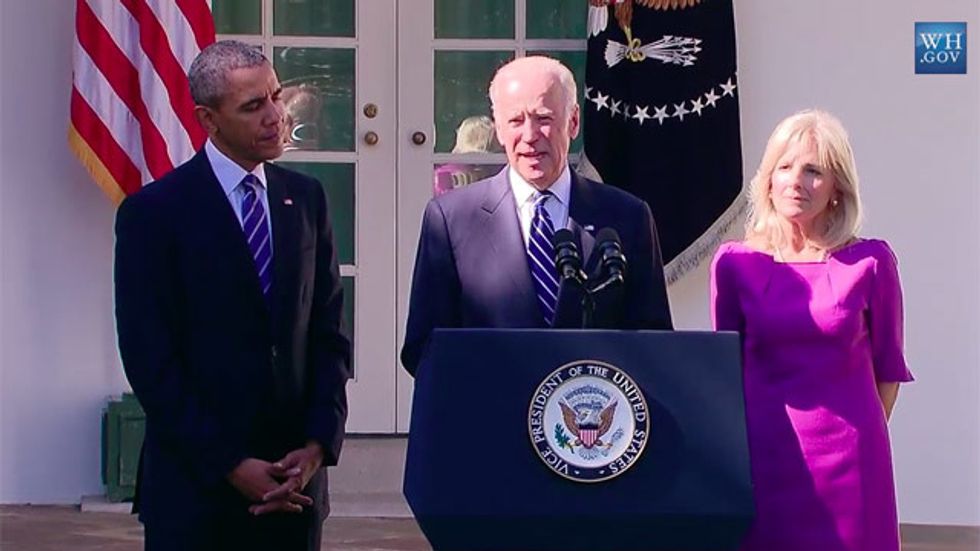 Not every day does the Vice President of the United States accuse America's most respected newspaper of publishing a falsehood about him and his family. Over the weekend that is what Joe Biden alleged, posing a difficult problem for The New York Times.
Appearing on CBS 60 Minutes, Biden denied that the affecting deathbed scene between him and his older son Beau, as famously recounted by Times Op-ed columnist Maureen Dowd, had ever occurred. Dowd's sensational August 1 column sparked a media conflagration, fired up the "draft Biden" movement, and the scene, not incidentally, was reported on the paper's front page that same Sunday.
According to Dowd, Beau Biden on his deathbed "had a mission: He tried to make his father promise to run, arguing that the White House should not revert to the Clintons and that the country would be better off with Biden values." But according to Joe Biden, it didn't go down that way at all.
Asked by correspondent Norah O'Donnell about the conversations he had with Beau about running for president, he replied:
Well, first thing I'd like to do, and you're being very polite the way you're asking me the question because some people have written that, you know, Beau on his deathbed said, "Dad, you've got to run," and, there was this sort of Hollywood moment that, you know, nothing like that ever, ever happened…Beau all along thought that I should run and that I could win…there was not what was sort of made out as kind of this Hollywood-esque thing that at the last minute Beau grabbed my hand and said, 'Dad, you've got to run, like, win one for the Gipper.' It wasn't anything like that.
While the facts behind this bizarre drama remain mysterious, the motivations seem obvious. Certainly Dowd, whose corrosive hatred of Hillary Clinton is the stuff of soap opera, wanted to encourage the entry of Biden into the Democratic presidential primary (as did many of her colleagues in the Beltway press corps). As for Biden, the dramatic scene in Dowd's column encouraged supporters and sympathizers to rally behind his possible campaign, which may explain why he failed to shoot down the story until now.
While the vice president allowed this anecdote to persist for two months — notably failing to deny it when he appeared on The Late Show with Stephen Colbert or when Politico reported that he was its source — he seems to have no compelling reason to prevaricate about the matter now.
That leaves a big dark cloud of doubt over Dowd and the Times editors. (In today's edition, a story on an inside page about Biden's 60 Minutes interview glancingly notes his denial of "news reports about conversations with his dying son," while neglecting to mention the role of the newspaper and its star columnist.) Presumably the public editor, Margaret Sullivan, will inquire how this happened on behalf of perplexed readers. The explanations should be interesting.