Dr. Carson And The Media Vampires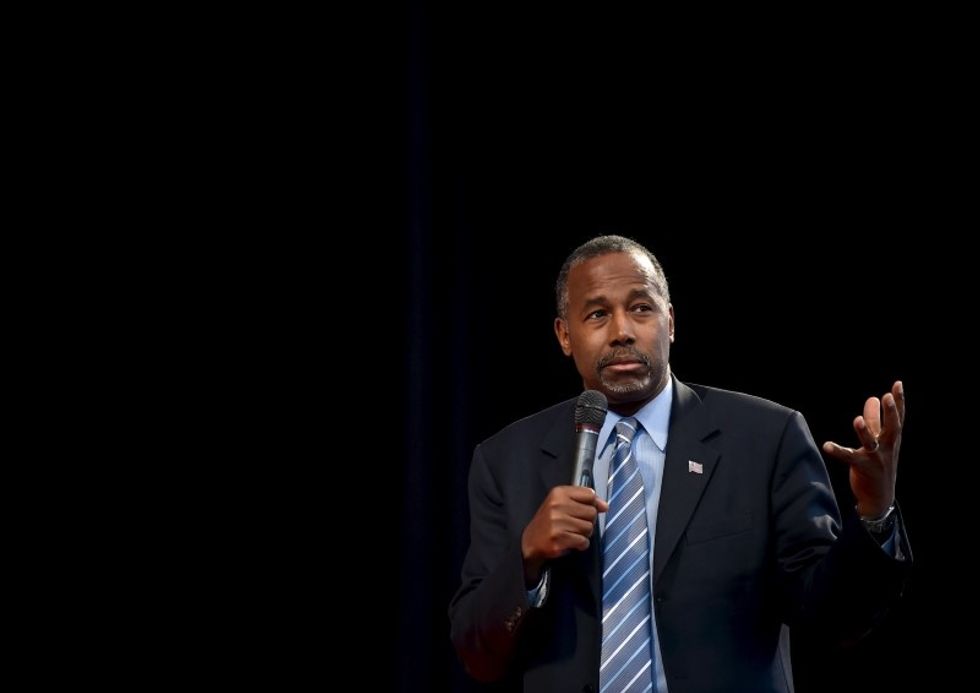 Dr. Ben Carson's ghostwriter seeks literary guidance:
—
Dear Ben,
I'm so happy the new book is doing well, and I'm already hard at work on the sequel. Working title: Wake Me When It's Over.
Just kidding!
Seriously, though, this time we need to be more careful about which anecdotes we use to dramatize your inspiring journey from angry Detroit street kid to brilliant neurosurgeon.
Given all the heat you're taking, I regret not doing more research to verify some of those crazy stories you told me.
For example, one simple phone call would have clued me to the fact that West Point never offered you a full scholarship, because (a) you never applied there and (b) West Point doesn't give scholarships. All cadets get free tuition.
I'm not sure how your memory got so jumbled, but in retrospect I should have fact-checked it myself.
And that one where you supposedly grabbed a hammer and chased your mother around the house during an argument? I know this is one of your favorites, but I sure wish someone had told me that your mom gave an interview back in 1988 saying she was the one who had the hammer.
A minor point, I agree, but still it looks like you twisted the truth.
Same goes for that story about you getting mad and trying to stab a friend, who was saved when his belt buckle miraculously broke the blade of your knife.
As you know, none of your neighborhood pals who've spoken to reporters can recall such an incident, or even any anger problems in your past.
But you make a good point — it happened a long time ago. Who can be expected to remember one little attempted murder?
Still, I was surprised the other day to hear you've now changed the story — the student you tried to stab at age 14 was actually a relative, not a friend. You again declined to identify the person, which makes your version nearly impossible to confirm.
Once more, this has stirred credibility questions that we should try to avoid in the next book. Obviously those vampires in the liberal media will seize on any teensy detail that makes you look phony or dishonest.
As a front-runner for the White House, your decision to present a dramatic self-narrative is smart. Voters can't resist the tale of a volatile delinquent who overcomes a troubled adolescence by connecting with God, then rises to the pinnacle of the medical profession.
However, it's possible we've tapped out the "pathological temper" theme.
I just received the new package of childhood memories that you'd like me to include in the next book. Honestly, Ben, the material isn't as strong as I'd hoped for.
For instance, you recount an outburst in junior high school when you "viciously punched" your locker not once but twice, in plain view of several classmates.
While I'm sure you were very upset at the time, I feel obliged to point out that every teenage boy in America punches his school locker when the combination won't work. This isn't a particularly compelling anecdote.
Likewise, I have doubts about devoting a whole chapter to the "reckless rock-hurling" episode that supposedly occurred in your backyard when you were only 5 years old.
Ben, let's get real. Scaring off a rat isn't proof that you struggled with terrible anger issues. Rats are gnarly. If I saw one in my yard, I'd heave a rock at it, too.
It seems like you're scraping for material to bolster your rags-to-riches biography. Perhaps the time has come to back off the idea that you were a violent, hotheaded youth.
Sure, it sold books. That doesn't mean it's the smartest path to the nomination.
Some of your Republican rivals are beginning to use these sketchy stories against you. That includes Donald Trump, the king of all serial exaggerators.
The truth is, stabbing a guy isn't ordinarily something a candidate advertises, especially if he can't even prove it happened.
An equally dubious credential for the presidency is swinging a hammer at somebody. If your own mom could set you off that badly, what's going to happen the first time Putin gives you the finger?
Ben, let's try a slightly different direction with your life narrative.
Tell me again about that time you single-handedly saved a kitten stuck in a tree.
(Carl Hiaasen is a columnist for the Miami Herald. Readers may write to him at: 1 Herald Plaza, Miami, Fla., 33132.) (c) 2015, The Miami Herald Distributed by Tribune Content Agency, LLC.
Photo: U.S. Republican presidential candidate Ben Carson speaks at a rally at the Henderson Pavilion in Henderson, Nevada November 15, 2015. REUTERS/David Becker