Stuck In Immigration Limbo, Dreamers Are Losing Patience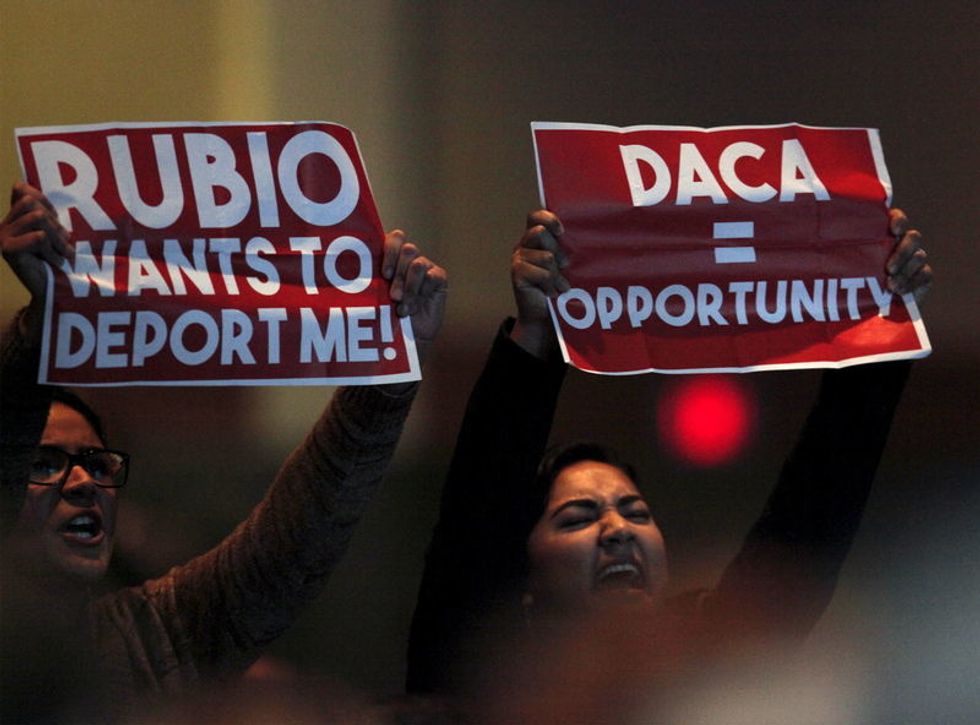 Tactics aside, though, they deserve to be heard.
They planned to make a statement on the Bridge Act, the latest congressional effort intended to help Dreamers. It would still keep them suspended in legal status limbo, extending DACA with "provisional protected presence." It's a workaround in case Trump yanks the rug out from under the Dreamers.
"The Bridge Act does not go far enough. It does not provide a path to citizenship and does not include protections for the parents of undocumented youth. What good is a Bridge if our families can't cross it with us? We are tired of putting a bandage on the wound. We want to heal this wound," reads the Kansas/Missouri Dream Alliance statement.
Cleaver's staff took a copy. All the alliance wanted was affirmation of a commitment to addressing their plight.
Quiñones' story is typical of many Dreamers'. He's Mexican by birth, but American in viewpoint, having spent nearly his whole life in the U.S.
He was born in Durango, Mexico, but was brought to the U.S. when he was a year old. The family is mixed — undocumented parents, two children who are U.S. citizens by birth and Quiñones. He graduated from high school and, like any smart teenager, set his sights on college.
Then the Missouri legislature cut that off as a viable financial option. So he went across the state line and paid (with the help and encouragement of his parents) the far higher out-of-state tuition rates at Emporia State University, studying psychology.
The Dreamers are motivated first by gratitude to their own families. But they also are steeled by what America has meant to them.
So forgive a few outbursts as their patience wears thin. They are asking that America not give up on them. And they won't give up on the U.S.
IMAGE: Protesters shout slogans about immigration in protest against U.S. Republican presidential candidate Marco Rubio at the 2016 Kemp Forum on Expanding Opportunity in Columbia, South Carolina, January 9, 2016. REUTERS/Randall Hill