Dreaming Of Writing Debate Lines For Hillary
@JamieStiehm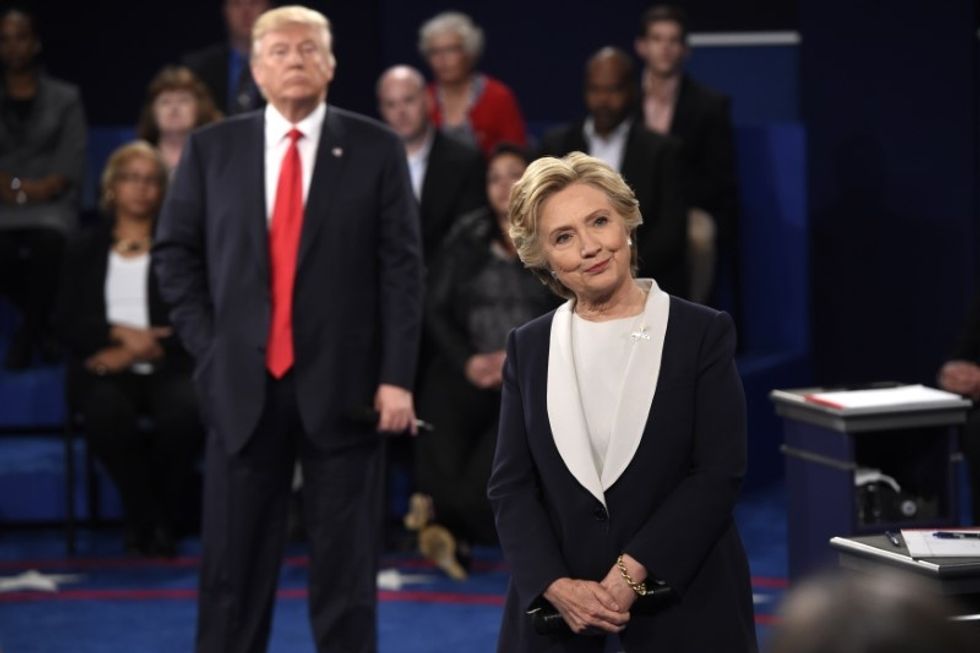 "You'd be in jail." Donald Trump snarled at Hillary Clinton, who smiled and said it's lucky he's not in charge of the law.
But Clinton could have hit him back harder in their second debate. The mogul got off easy. Given how outrageous the moment was, I wished to hear her say:
"Is that a threat? Are you threatening me in front of all of America?"
Sass was missing from Clinton's cup of tea, for me. The Democratic candidate for president has spirit to spare, yet she was coached to hold her fire. Why? Because anger is the last thing people look for in a woman running for office.
Yet the Republican nominee Trump's words betrayed zero tolerance for democracy and fair play. The speechwriter in me wished I could punch up Clinton's responses, which were fine. But this was no ordinary debate for her. It was an extraordinary match against a visceral piece of work, with the last to come soon.
The truth is, psychological warfare has taken over the waning days of the 2016 presidential race. A savvy self-defense is critical for Clinton. In psychological terms, she must be "well-defended" against a predator who tore apart the Republican Party he represents as standard-bearer.
Trump moved to menace Clinton, physically getting close behind her in background darkness. She said later she was aware of his "presence." But his aggressive posture was not normal. Clinton could have called him on it since the moderators let him get away with it. Let's hear it:
"Donald, stand where I can see you. Come out of the darkness into the light."
Sure, Clinton was a sport, but she looked uneasy, intimidated by Trump's hulking body language. Who wouldn't be uneasy with that large dark clown prowling behind you?
Trump's full frontal on William Jefferson Clinton, bringing three Clinton accusers to the event, was as brazen as only he can be: "There has never anybody in the history (and) politics of this nation that has been so abusive to women." A short retort would do:
"How dare the likes of you insult President Clinton!"
Then there's Trump's "locker room talk" tape, for which he apologized, kind of.
Let's listen: "When you're a star, they let you do it … Grab 'em by the p——. You can do anything."
Clinton said the voice captured who Trump really is. Misogyny speaks.
However, the disgust many Americans felt at Trump's preening vulgarity didn't come across in Clinton's restrained delivery. Her strategy was not to get too worked up. Yet Clinton could have spoken for millions of women and girls had she said:
"There's a name for that language. It's called hate speech. That's how predators talk when they brag about grabbing their victims."
Trump has launched an unintended consequence. Let a thousand hashtags bloom, with women mobilizing, not only for the first woman president, but for justice in the workplace — and equity at home — and freedom from sexual assault.
I'm excited to see this revolutionary wave come in. We can see it from here.
Another thing Trump said as if to dismiss her: "It's just words, folks."
Clinton: "Yes, and words matter, Donald. Words matter in conducting diplomacy. Words matter in the Senate. And words matter in the White House. We know you live in your own reality (repeating from the first debate) but words matter to the American people."
Trump spoke of "her" or "she," rarely by name or by title. That's simply sullen disrespect.
"You can call me Hillary, Mrs. Clinton or Secretary Clinton."
Compared to the first fluid debate, Clinton seemed frozen and stuck to a script rather than showing flashes of her unmistakable laugh. The vibe was heavy and dark, which rained on her effervescence.
Electing a president ain't beanbag, After 26 years, we know this lady pretty well. Let her be the "Hillary" her close circle raves about.
Like the bully next door, Trump will hate losing to a "girl," writ large.
When they meet again Wednesday, let her speak words that will lift our hearts.
To find out more about Jamie Stiehm and read features by other Creators Syndicate writers and cartoonists, visit www.creators.com
Photo: Donald Trump and Democratic U.S. presidential nominee Hillary Clinton listen to a question from a member of the audience during their presidential town hall debate at Washington University in St. Louis, Missouri, U.S., October 9, 2016. REUTERS/Saul Loeb