Drought-Fed Wildfire Burns At Least 130 Structures In Texas Panhandle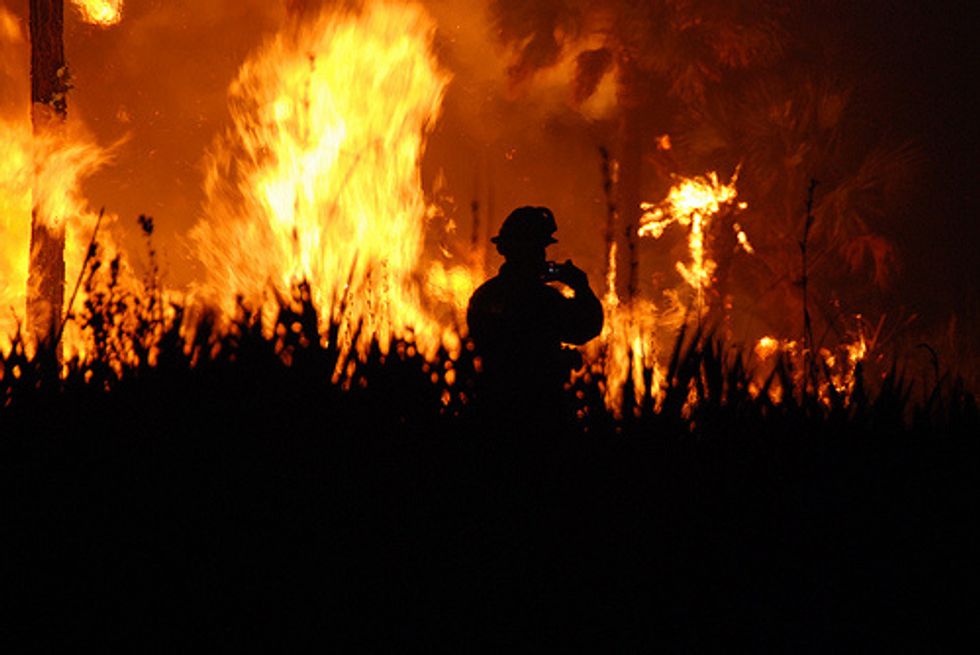 By Molly Hennessy-Fiske, Los Angeles Times
HOUSTON — At least 131 structures were destroyed in the Texas Panhandle and 2,100 residents were evacuated after a wildfire burned up to two square miles northeast of Amarillo, fire officials said Monday.
One person died of a heart attack during the blaze, but it was unrelated to the fire that started in the small town of Fritch late Sunday afternoon, said Phillip Truitt, a spokesman for the Texas A&M Forest Service.
The fire, which burned through the Lake Meredith Harbor subdivision, was about 35 percent contained Monday. It was whipped up by seasonal winds and fed by dry, parched brush due to an ongoing drought, said Hutchinson County Deputy Fire Chief Jason Wright.
About 300 firefighters were still working in the area Monday, assessing hot spots and damage, Wright said.
Texas Department of Public Safety Trooper Christopher Ray said there were "fire trucks as far as the eye can see."
Firefighters faced numerous challenges in containing the blaze in the northwestern Texas canyons, he said.
"The wind is stirring up the smoke and dust, so we've got some visibility problems," Ray said, and, "You can't go down a ravine or crevice — you have to wait for the fire to come to you."
It's not clear what caused the blaze. But the Panhandle has been in a state of exceptional drought for years, and this spring has been marked by winds gusting up to 50 mph and the humidity below 10 percent.
"This time last year we had 4 inches of rain. This year we've only had about an inch," Ray said.
Weather conditions turned favorable for firefighters, though — a cold front arrived overnight Sunday, temperatures dropped 30 degrees into the 60s and humidity stabilized at 28 percent.
Firefighters have been able to extract plenty of water to fight the fire from a local lake and well.
"Tomorrow they're hoping for some drizzle to come in," Ray said.
Photo: USFWS/Southeast via Flickr
To keep up with news across the nation, sign up for our daily email newsletter.