Drowning In Weak Polling, How Long Can Lindsey Graham Stay In 2016 Race?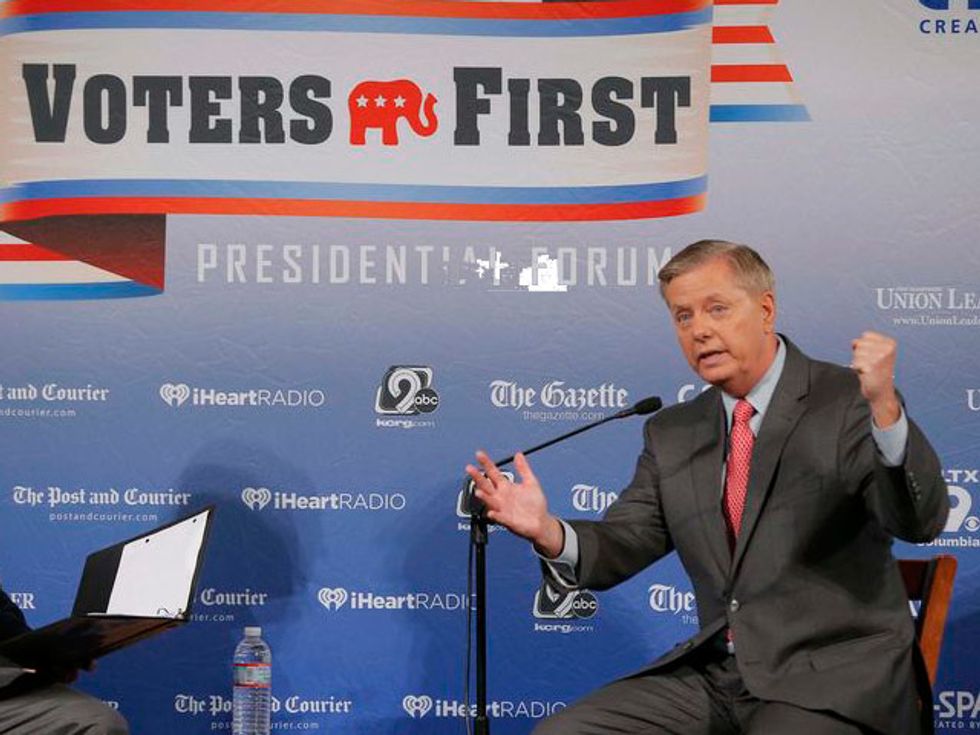 By Matthew Fleming, CQ-Roll Call (TNS)
WASHINGTON — Sen. Lindsey Graham's presidential campaign has had a tough time getting traction so far, and a new Quinnipiac University poll keeps him in the conversation about who might be the first of the 17 Republican presidential candidates to fold.
But do his low poll numbers suggest the end is near?
The poll released Thursday showed nothing new: The South Carolina Republican has been unable to differentiate himself from other candidates in any way. But the national poll — which says that 13 percent of Republican or leans-Republican voters said they'd never vote for him and zero percent said they would vote for him — shows that things are not improving.
Even "someone else" polled at 1 percent (cue the joke about how hard it would be to find someone else who isn't already in the race). The highest Graham polled nationally was at 2 percent, according to Real Clear Politics.
In Graham's home state, he's polling at 5 percent, and in New Hampshire, where he hoped to get a bump from the prior success of his buddy, Sen. John McCain, R-Ariz., Graham is polling only at 1 percent, according to Real Clear Politics averages.
And his campaign, centered on hawkish defense positions, has now largely devolved into a sideshow of Graham vs. GOP front-runner Donald Trump.
A few days ago on CNN, the South Carolina Republican said about the current GOP front-runner Trump: "Come to South Carolina and I'll beat his brains out." But Trump's 26-point advantage there would suggest otherwise.
So why hasn't Graham dropped out? His campaign argues that polling this early could be unreliable.
"Polling taken this early rarely reflects the final outcome of the election," Graham spokeswoman Brittany Bramell said in a statement. "Senator Graham is focused on outlining real solutions to the issues facing voters and describing how to best secure our nation against radical Islamic terrorism, not polls."
Another explanation is that the benefits outweigh the cost, as long as there's still money in the campaign coffers.
"I don't see any reason, if you have some resources, not to stay in the race and hope that at least there will be some debates where you can get your message across or other venues where you can make that happen," said Norman J. Ornstein, a political scientist with the American Enterprise Institute. "You have nothing to lose."
Graham has always been a frequent guest on talk shows, but nothing can compete with the exposure provided by a presidential campaign, particularly if someone has views they want to share.
"When you are an announced candidate for president, you hope that you're going to get on the debate stages so you can make your points," said Ornstein.
But that's a chicken-or-the-egg problem for Graham. Without improved polling, he won't be able to get a seat, or lectern, at the top-tier debates. But without the exposure that comes from those events, his polling is unlikely to improve.
Graham's two main points are his aggressive foreign policy views — such as supporting heavy deployment of troops in the Middle East and a bitter disdain for the Iran nuclear deal before Congress at the moment — and a desire to lead on other issues, like climate change and immigration.
"If he had that debate stage, you would see a Lindsey Graham who would not be calculating what he could do to win more primary voters, but basically, as he would see it, speaking truth to power," Ornstein said. "And that could be on issues like immigration and climate change.
Trump's unexpected dominance of the primary field so far has left other candidates with little room to do anything but chase and react. But of the 2016 Republican candidates, Graham has become one of the most vocal foes of Trump, who many see as negative for the Republican Party in general due to his controversial views and or comments on immigration and women.
"He's just trying to punch through, which any candidate would try to do in his position," said Ron Bonjean, a Republican strategist who served as spokesman for both a former speaker of the House and Senate majority leader. "He does get some media attention. What he needs is consistency in that attention, over time, and that's what Trump is preventing from happening."
Ornstein predicts that Graham will stay through at least the first few primaries. There's the possibility that poor performances in South Carolina could "damage" his standing back in Washington.
But excluding that, there's probably little to lose in an election season that has upended conventional wisdom at every turn.
"The more candidates there are, the less reason you have as an individual to drop out," Ornstein said. "You can imagine mainstream candidates splitting up a bunch of votes where you could gain some traction. Maybe you get some delegates. Maybe you have some role at a convention. I think the usual winnowing out process doesn't necessarily work this time, at least work in the same way."
Photo: Republican U.S. presidential candidate and U.S. Senator Lindsey Graham participates in the Voters First Presidential Forum in Manchester, New Hampshire August 3, 2015. REUTERS/Brian Snyder