Duckworth: Vacating Roe V. Wade Would Curtail Right To Motherhood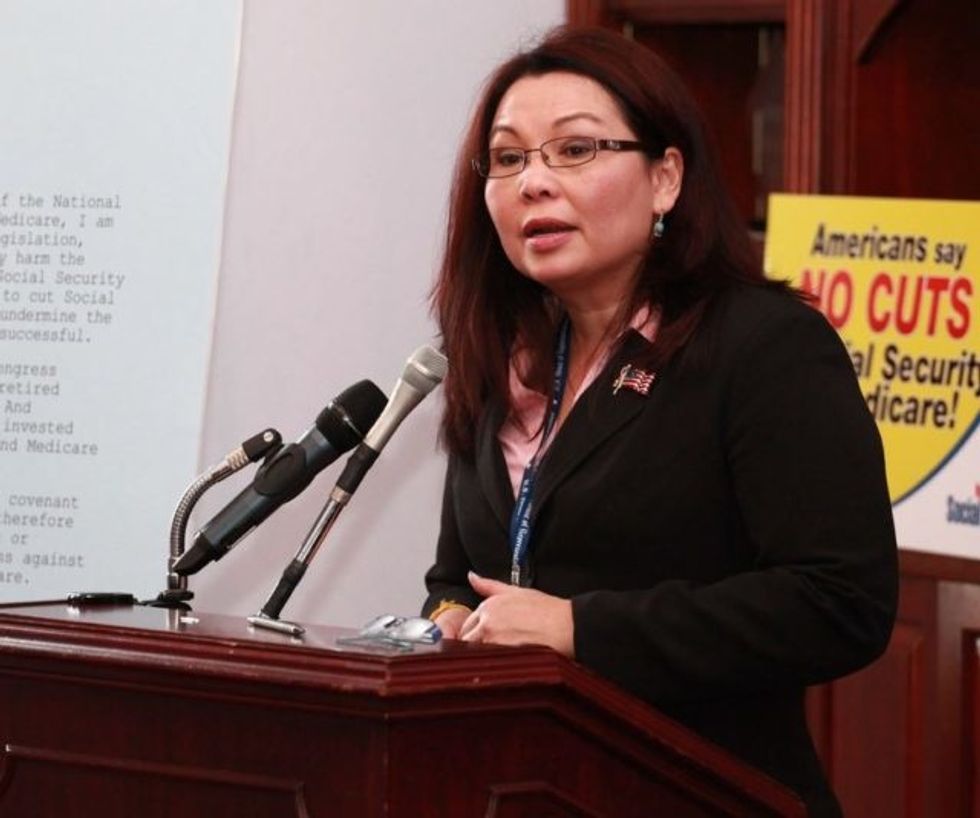 Reprinted with permission from Shareblue.
Sen. Tammy Duckworth (D-IL) is the first senator to give birth while in office. She recently showed up to a rally of women protesting Trump's family separations with her infant daughter strapped to her chest.
And on her last day of maternity leave, she went on national TV to tell her colleagues in the Senate that if they vote to confirm a Supreme Court justice who would overturn Roe v. Wade, they will be voting to keep women like her from becoming mothers through fertility treatments like in vitro fertilization (IVF).
On CNN's "State of the Union" on Sunday, host Jake Tapper asked Duckworth about her push to change the Senate rules so that she could be allowed to bring her baby onto the floor.
"How are your male colleagues adapting to this new rule?" Tapper asked.
After acknowledging they had been "great" and "very, very bipartisan" about it, Duckworth pivoted to a much less bipartisan issue — the crucial fight over who gets to replace retiring Supreme Court Justice Anthony Kennedy.
"I hope that they will keep that in mind when we start looking at the Supreme Court nominee," Duckworth said, making a personal appeal to her colleagues to remember her baby when considering their vote.
"You know, Roe v. Wade is important to me," Duckworth continued. "I would not be able to have both of my beautiful children and my newborn daughter without IVF, and the abolishment of Roe v. Wade could actually deny those of us who use IVF the ability to seek fertility treatments."
Duckworth is absolutely right. While abolishing Roe v. Wade wouldn't automatically outlaw IVF nationwide, it would allow states to pass bans on abortion that are so extreme, they would also ban IVF and many forms of contraception.
That would shut the door on women with disabilities like Duckworth who can't conceive without IVF, and it would cruelly deny a well-established treatment to couples with fertility issues.
This shocking scenario isn't just a theoretical possibility.
Anti-choice activists in 13 states have tried to put laws on the ballot that would legally define a fertilized embryo as a person, and give that embryo the same rights as a fully developed, live-born infant.
While voters have overwhelmingly rejected these "personhood" bills so far, there's no guarantee that their state lawmakers wouldn't pass one.
In 2017, personhood measures that would ban IVF and many forms of birth control were introduced in 17 states.
And two states, Kansas and Missouri, already have "personhood" language on their books. Neither law is currently in effect, because both clarify that the laws are subject to the U.S. Constitution and the decisions of the Supreme Court.
But if the Supreme Court decided to overturn Roe v. Wade, those laws could go into effect — and women in Kansas and Missouri would be denied fertility treatments, forbidden from accessing hormonal birth control, and placed at risk of being arrested for having a miscarriage.
Tammy Duckworth's Republican colleagues in the Senate need to listen to her. If they confirm a Supreme Court appointee from Trump's right-wing list, Roe v. Wade could be history, and women will suffer — both women who don't want to be mothers, and those who very much do.
Published with permission of The American Independent.