Duke Energy Ignored Warnings Before Ash Spill, Prosecutors Say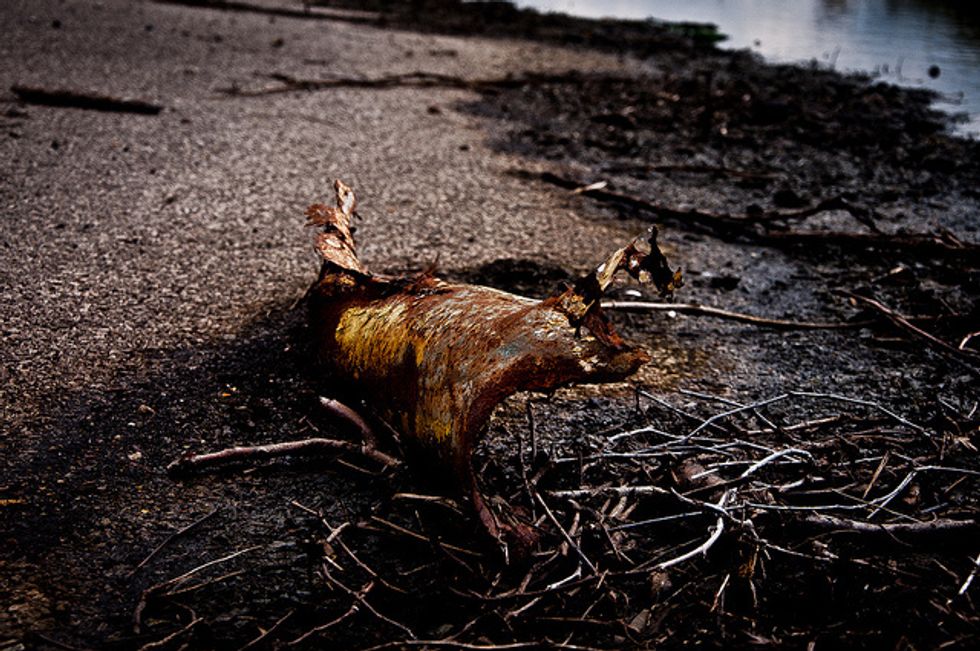 By Bruce Henderson, The Charlotte Observer (TNS)
CHARLOTTE, N.C. — Duke Energy ignored repeated warnings before a broken pipe dumped tons of coal ash into the Dan River last year, prosecutors said Thursday as the company faced a federal judge.
Duke twice refused to spend $20,000 on video inspections of the pipe that would have shown it to be made of a weaker-than-believed material, a government lawyer told Senior U.S. District Judge Malcolm Howard.
Instead, the company filed guilty pleas to nine criminal charges that it has agreed to settle for $102 million.
Duke's chief legal officer, Julia Janson, quietly acknowledged the company's guilt in a 10-minute recitation of nine misdemeanor counts against three Duke subsidiaries. Chief executive Lynn Good did not appear in court.
Sentencing was set to begin Thursday afternoon.
Duke has agreed to pay $68 million in fines, which it can't pass to customers and is one of the largest under the 43-year-old Clean Water Act.
Duke also agreed to serve five years of probation under a court-appointed monitor and pay $34 million for environmental projects.
Two stormwater pipes ran under a 27-acre ash pond at the Dan River plant.
Installed in 1954, the part of the 48-inch pipe that failed on Feb. 2, 2014, was made of corrugated metal — a fact that plant employees knew but engineers and budget writers did not, attorney Banu Rangarajan of the U.S. Attorney's office in Raleigh told the judge. They believed the whole pipe was stronger reinforced concrete.
Duke had repaired leaks in both pipes in 1979, Rangarajan said, and independent consultants had identified the aging pipes as potential problems since 1981.
But Duke didn't measure the water flowing from the pipes, to detect leaks, as consultants repeatedly recommended, she said.
"Duke continued to not address warnings of the potential for problems of this type," Rangarajan said.
When plant officials asked for $20,000 internal video inspections of the aging pipes in 2011 — which would likely have shown heavy corrosion in the pipe that failed — Duke's corporate office twice denied the request.
The money was denied again in 2012, when Dan River's coal unit was retired.
"Had they done so, the actual composition of the 48-inch pipe would have been made known and the leaks would have been detected in the 36-inch pipe," Rangarajan told Howard.
Video inspections of the 36-inch pipe that didn't break, done days after the spill, found water jetting into it from the ash pond above it.
"This closes an important chapter for the company and is allowing us to focus on the future," Duke spokeswoman Paige Sheehan said in a brief statement during a break in the hearing.
The company has emphasized the steps it has taken since the spill. Those include an overhaul of coal ash management, including the naming of an outside advisory board, and closing ash ponds in both Carolinas.
The Dan River spill was the nation's third-largest of the past decade. Neither of the other two spills, in Tennessee and Pennsylvania, resulted in criminal investigations.
Duke also pleaded guilty to ash violations at four other power plants.
Those charges involve improper maintenance of equipment at a power plant in Chatham County, leading to ash pond leaks into the Cape Fear River. Duke had also failed to do a recommended inspections of leaking pipes called risers, prosecutors said.
At three other plants the charges say Duke illegally channeled seeps from ash ponds into the rivers.
The federal grand jury investigation that resulted in Thursday's expected plea began two weeks after the Dan River spill.
Wide-ranging subpoenas went to Duke, 18 current or former state environmental regulators and the Utilities Commission. The subpoenas demanded inspection records, correspondence and enforcement files for the 108 million tons of ash Duke stores in 32 ponds.
U.S. attorneys in Charlotte, Greensboro and Raleigh filed charges against Duke in February.
The $68 million in fines appears to be the second-largest penalty ever assessed under the landmark Clean Water Act, which was enacted in 1972. It's also the largest environmental penalty the century-old Duke has paid, dwarfing the $8 million in fines and environmental projects in a 2009 air-pollution case in Indiana.
Duke, which earned nearly $1.9 billion in 2014, recorded a 14-cent charge on its fourth-quarter earnings to reflect the fine.
The settlement doesn't resolve state investigations of groundwater contamination from coal ash. Duke is fighting a $25 million state fine levied in March for contamination at the Sutton power plant in Wilmington. The state has also cited Duke for violations at its Asheville plant, but has not issued a fine.
Duke also faces more than a dozen lawsuits over ash contamination filed by North Carolina and advocacy groups, and six shareholder suits claiming company officers and directors placed Duke at financial risk.
(c)2015 The Charlotte Observer (Charlotte, N.C.) Distributed by Tribune Content Agency, LLC.
Photo: Duke Energy has pled guilty to nine criminal charges stemming from a broken pipe that dumped coal ash into the Dan River last year. Photo Stuart McAlpine via Flickr https://flic.kr/p/9nF5gN