Durbin Hopes Tide Turning Against Corporate Inversions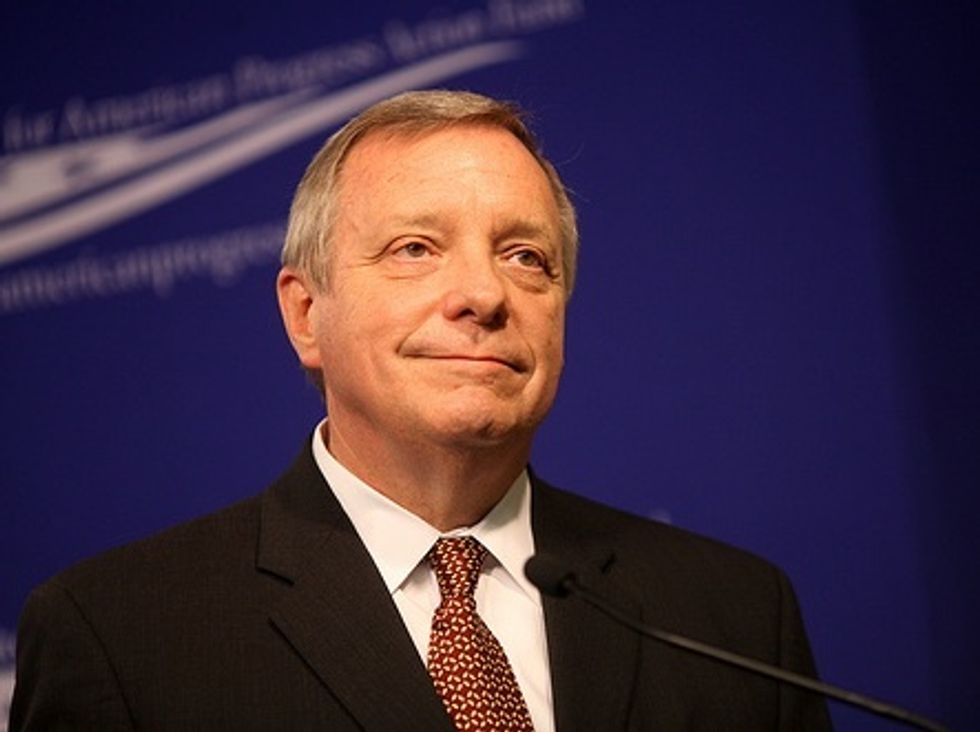 By Humberto Sanchez, CQ Roll Call (MCT)
WASHINGTON — Senate Majority Whip Richard J. Durbin (D-IL) is hoping the tide is turning against corporate inversions — a practice aimed at minimizing U.S. taxes by merging with overseas firms.
After taking to the Senate floor to shame Chicago-based pharmaceutical company AbbVie into changing its plans to merge with an Irish firm, Durbin welcomed news of AbbVie's waffling.
"I'm encouraged by reports that AbbVie will reconsider its decision to move its tax address out of the United States," Durbin said in a release.
AbbVie's initial decision to merge was spurred by a provision in the tax code — known as a corporate inversion — that permits companies to join with foreign, and often times smaller, firms. The resulting new companies then base themselves abroad, where taxes can be lower than in the U.S., and thereby avoid paying taxes that U.S.-based firms would have to pay.
"When corporations choose to invert and don't pay their fair share of taxes, they leave the rest of us to pick up the tab," Durbin said. "That isn't right, and I hope that more companies will see the light."
Durbin's comments come after the Treasury Department announced last month that it intends to issue new rules to crack down on inversions.
In light of Treasury's announcement AbbVie, who had been planning an inversion with Dublin-based Shire Pharmaceuticals, said Tuesday that it had communicated to Shire that AbbVie's board of directors planned to "reconsider the recommendation made on July 18, 2014, that AbbVie stockholders adopt the merger agreement needed to complete the proposed combination of AbbVie and Shire."
Shire announced Wednesday that it had received word from AbbVie that it will reconsider the merger and that Shire would waive the requirement under the merger agreement between the companies that AbbVie give three days notice before their board meets to consider the merger "in order to allow the period of uncertainty for its shareholders, employees and other stakeholders to be reduced," Shire said in a statement.
The AbbVie board had planned to meet on Oct. 20.
In July, Durbin sent a letter to Richard Gonzalez, CEO of AbbVie, urging him and the board of directors to reverse their plans to invert and to weigh the long-term consequences this move would have on a company that relies on U.S. taxpayers and U.S. taxpayer-funded programs to profit and thrive.
In addition to targeting AbbVie, Durbin also called out Illinois-based Walgreens, which had also sought to invert with a Swiss company.
He criticized both harshly in speeches on the Senate floor and used his perch atop the powerful Defense Appropriations Subcommittee to put language in his appropriations bill that would make it tougher for inverted companies to get Defense Department contracts.
Durbin also cosponsored a bill with Sen. Carl Levin (D-MI) that would make it more difficult for companies to invert. The bill would require that the shareholders of the American firm could own no more than 50 percent of the inverted company rather than the current 80 percent shareholder threshold for defining a foreign company.
The bill would apply to all inversions that were not finalized by May 8, 2014, and also would curb subcontracting to inverted corporations by allowing federal agencies to ban businesses from holding federal contracts if they subcontract with inverted corporations.
Sen. Charles E. Schumer (D-NY) also has an inversion proposal. But Senate Finance Committee Chairman Ron Wyden (D-OR) wants a bipartisan solution and has been working with ranking member Orrin Hatch (R-UT). It remains unclear if a bipartisan solution can be reached or if Congress will address the matter in the lame-duck session.
The rate of corporate inversions has picked up in recent years, with drug maker AbbVie among the most recent to announce they are moving their mailbox overseas to avoid paying their fair share of U.S. taxes, Durbin's office said.
Photo: Center for American Progress Action Fund via Flickr