Dylann Roof To Face Trial In 1 Year; Gag Order Extended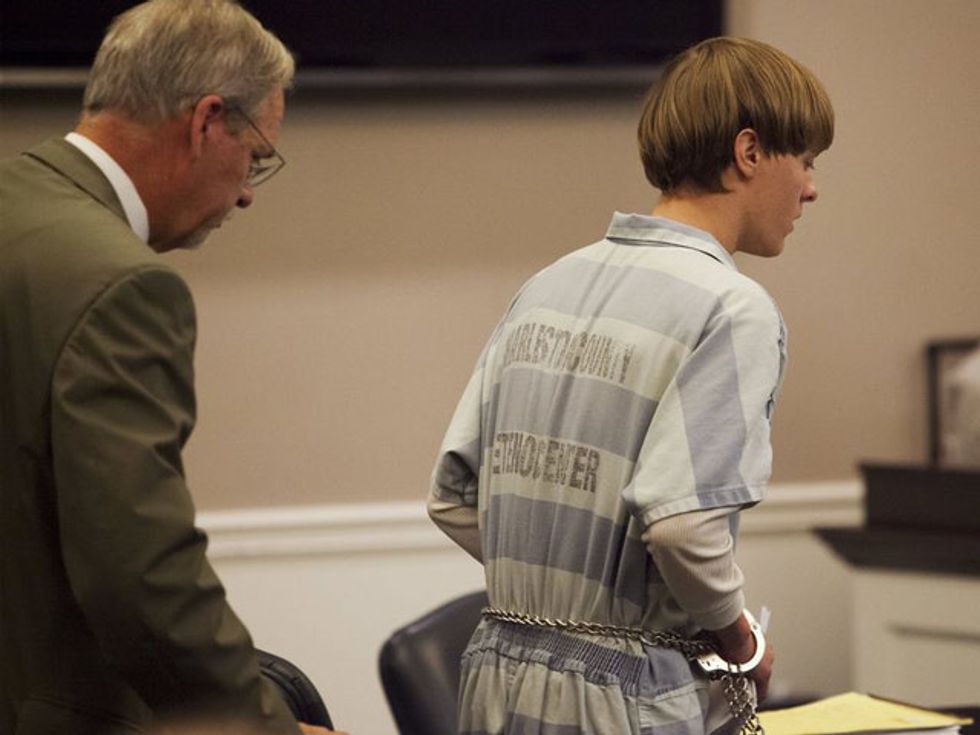 By John Monk, The State (TNS)
CHARLESTON, S.C. — State Circuit Judge J.C. Nicholson set a tentative court date of July 11, 2016, for Dylann Roof, who was charged with nine counts of murder and three counts of attempted murder after he allegedly opened fire on parishioners attending a Bible study at the Emanuel AME Church in Charleston.
During a 24-minute hearing, Roof's defense attorney Ashley Pennington told the judge that there were no issues at this time regarding Roof's mental competence to stand trial. Roof, who appeared in court, sat quietly while the hearing took place.
Scarlett Wilson, the 9th Circuit solicitor, told the judge that although this is a potential death penalty case, no decision has been reached by the solicitor to seek the death penalty against Roof.
With respect to a temporary gag order that Nicholson issued last week, he said he is giving all interested parties until next Wednesday at 5 p.m. to file their concerns about releasing any pretrial information to the media.
In a sweeping gag order last week, the judge prohibited the release of information pertaining to the case to news media. The order also prohibits all people involved in the case, including potential witnesses, from speaking to news media.
However, Nicholson said Thursday that his order is only temporary, and he has no interest in making it permanent unless good causes can be shown by anyone of three interested parties, which includes law enforcement, including federal agencies, the victims' families and the defense council for Roof.
Roof, an alleged white supremacist who wanted to start a race war, is accused of shooting the nine African-Americans as they attended a prayer meeting at the church. One of the victims was state Sen. Clementa Pinckney, a respected and well-liked member of the South Carolina Legislature. Pinckney was also pastor of the church.
Thursday's hearing was the second court appearance by Roof.
His first hearing — a bond appearance on June 19, two days after the shootings — made national news because relatives of the victims spoke publicly, telling Roof their Christian faith caused them to forgive him.
Those public and unexpected acts of forgiveness were the catalyst for Republican Gov. Nikki Haley to call for the removal of the Confederate flag from its position of honor by the State House. The flag has long been used by white supremacists and segregationists to send a message to blacks that they are second-class citizens.
After the Charleston killings and the discovery that the Confederate flag provided inspiration for the Mother Emanuel church killings, white heritage groups lost their power over most members of the General Assembly, who voted to take the flag down. It was removed July 10 in an event attended by a cheering crowd of thousands.
Roof, 21, grew up in Columbia and attended public schools in Lexington and Richland counties and apparently didn't get beyond ninth grade. Law officers are exploring how he came by his extreme white supremacist views.
Sources have told The State that law enforcement investigations into Roof have expanded and that others may now be targets.
Photo: Dylann Roof (R), the 21-year-old man charged with murdering nine worshippers at a historic black church in Charleston last month, is helped to his chair by chief public defender Ashley Pennington during a hearing at the Judicial Center in Charleston, South Carolina July 16, 2015. (REUTERS/Randall Hill)