E-Cigarettes Should Be Banned For Minors: U.S. Heart Association
@AFP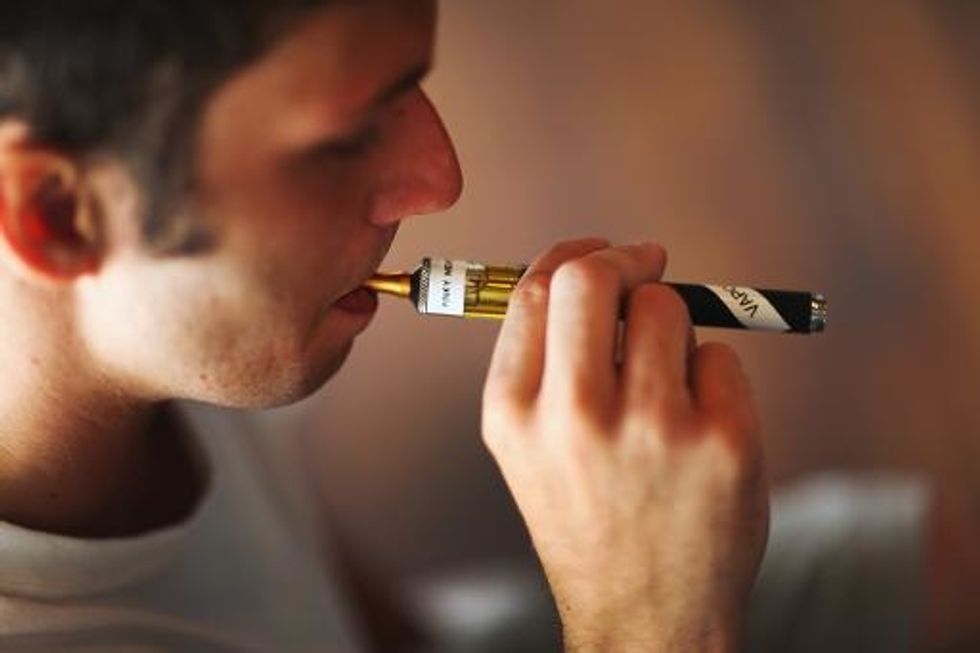 Washington (AFP) — E-cigarettes should be subject to the same regulations as cigarettes and should not be sold to minors, the American Heart Association (AHA) said in new policy guidelines out Monday.
The use of e-cigarettes, which are electrical devices that heat flavored nicotine liquid into a vapor that is inhaled, much like traditional cigarettes but without the smoke, has been rising rapidly among youths in recent years, raising concerns about the potential for addiction risks and health damage.
E-cigarettes are currently unregulated, meaning they can be sold to youths and are openly advertised, unlike cigarette-makers which must follow strict rules about where and how their products are marketed.
The AHA guidelines go a step further than the U.S. Food and Drug Administration's April proposal, which set out a new series of regulations on e-cigarettes that included banning their sale to minors, but did not restrict advertising or online sales of the candy and fruit-flavored liquids that some say are targeted at young people. A public comment period on the FDA's proposal ended earlier this month, and the new rules have not yet been implemented.
"Recent studies raise concerns that e-cigarettes may be a gateway to traditional tobacco products for the nation's youth, and could renormalize smoking in our society," said Nancy Brown, CEO of AHA.
"These disturbing developments have helped convince the association that e-cigarettes need to be strongly regulated, thoroughly researched and closely monitored."
The guidelines, published in the journal Circulation, recommend that since e-cigarettes contain nicotine, they "should be subject to all laws that apply to these products."
The AHA "also calls for strong new regulations to prevent access, sales and marketing of e-cigarettes to youth, and for more research into the product's health impact."
The sales of e-cigarettes have risen sharply since they were introduced to the market in 2007, according to health officials.
The number of high school students who tried e-cigarettes nearly doubled, from 4.7 percent in 2011 to 10 percent in 2012, and sales of e-cigarettes could top $2 billion this year, according to industry estimates.
According to Georgetown University pulmonologist Nathan Cobb, the AHA "is right in calling for this minimal set of regulations to be implemented no later than the end of the year."
He also said more aggressive regulations should follow.
"They can and should be part of a concerted regulatory push to drive towards a tobacco 'end game,' which increases the price of combusted tobacco cigarettes while guaranteeing the safety and consistency of e-cigarettes."
Cobb added that the FDA's "bare bones regulations" fall short because they subject manufacturers to "significantly less oversight and safety requirements than pet food manufacturers, and are truly a minimum."
AFP Photo/Joe Raedle
Interested in national news? Sign up for our daily email newsletter!