Economy Adds 288,000 Jobs In April; Unemployment Rate Down To 6.3 Percent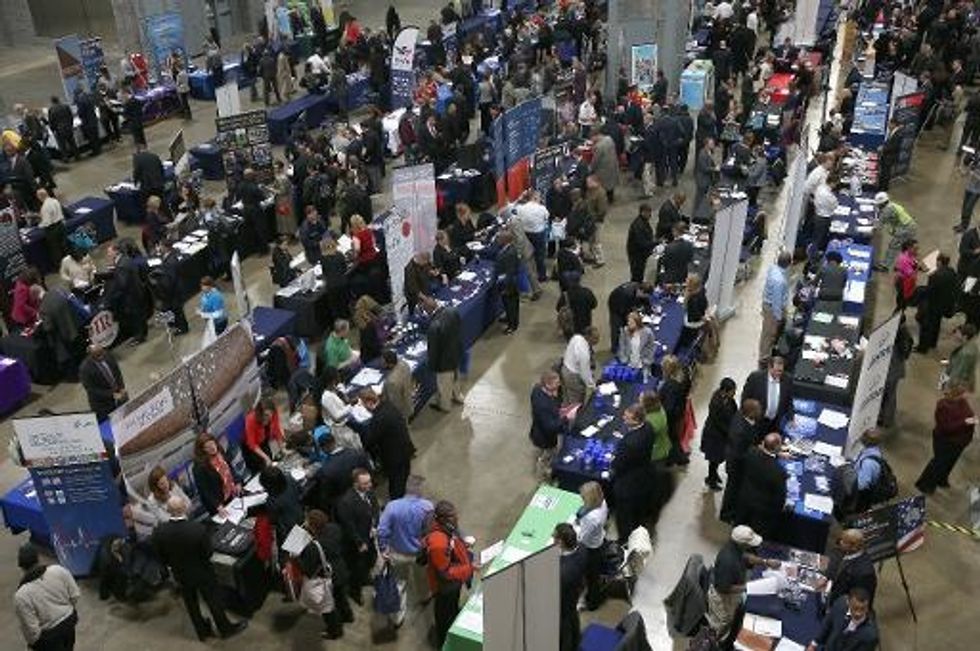 WASHINGTON — Hiring surprisingly surged last month as the economy added 288,000 net new jobs — the best performance in more than two years — and the unemployment rate dropped to 6.3 percent, its lowest level since September 2008, the Labor Department said Friday.
Job-creation figures for February and March were also revised upward by a combined 36,000, meaning the economy has added a monthly average of about 214,000 positions this year. The revised figure for March was 203,000.
Economists had expected a more modest pickup, with the economy adding 215,000 net new jobs in April and the unemployment rate dropping just a tenth of a percentage point to 6.6 percent.
The last time the economy added more jobs than last month was in January 2012.
Job growth slowed during the winter as unusually harsh weather took a toll on the economy. The Commerce Department said this week that the economy expanded at just a 0.1 percent annual rate in the first three months of the year.
Some of April's large jobs growth was the labor market catching up from the winter slowdown, said Bart van Ark, chief economist at the Conference Board.
"But that is only one part of the story," he said. "Indeed, the more important part is that the economy has been gathering strength for some time. "
He predicted continued strong job growth through the spring and maybe into the summer.
The private sector added 273,000 net new jobs in April and government added 15,000.
The large drop in the unemployment rate — to 6.3 percent in April from 6.7 percent the previous month — came in part because of people dropping out of the workforce. The labor force participation rate fell to 62.8 percent, from 63.2 percent in March, after three months of gains.
The April jobs report came amid mixed signs about the strength of the economy in a year most economists had predicted growth would accelerate.
Consumer spending jumped by 0.9 percent in March, the best performance since 2009 and a surge that should have helped spur job creation last month.
But initial claims for unemployment benefits rose last week to a two-month high of 344,000. It was the third straight weekly increase after hitting the lowest level since 2007, indicating job cuts picked up in April.
AFP Photo/Mark Wilson