Clinton's Education Proposal Shows Promise For Sanders' Influence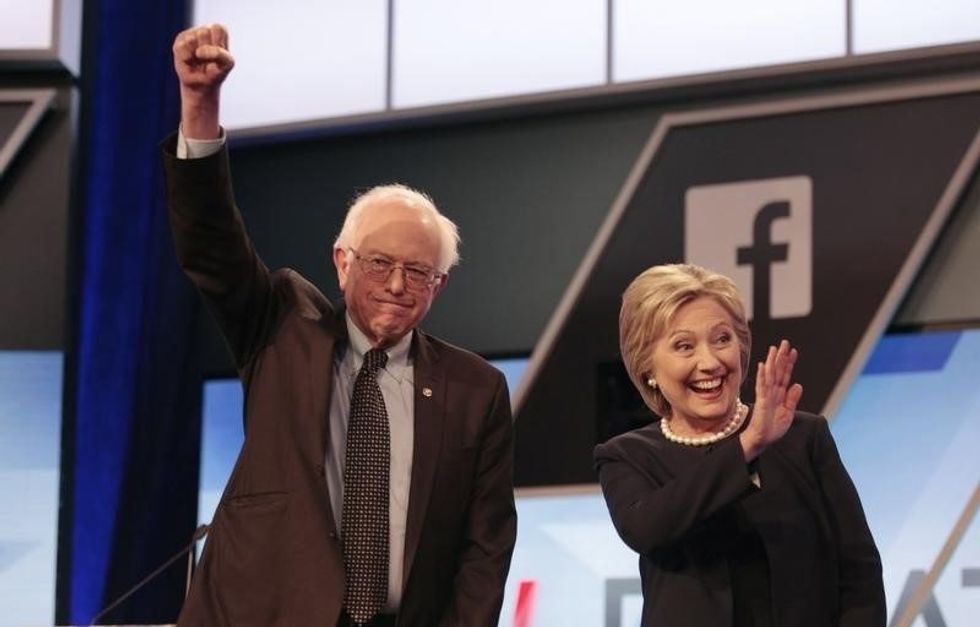 Hillary Clinton announced a new initiative Wednesday to make higher education more affordable, marking a significant shift to the left and possibly hinting at further concessions to Bernie Sanders' young, progressive supporters.
 The past few weeks have not been kind to the notoriously stubborn Vermont senator. Reports say that he was booed by House Democrats in a meeting with them this week, and party insiders have expressed frustration that Sanders has still not endorsed Clinton — or, for that matter, formally ended his campaign.
But Clinton's announcement, of a plan which would make in-state schools tuition-free for students with annual family incomes under $85,000, marks a clear shift in direction for Sanders' legacy. As Clinton looks to unify the party and attract his young, liberal supporters to her side, he's holding out to push her platform a little further to the left.
During the primary, Clinton criticized Sanders' proposal for free tuition at all public colleges, "College for All," arguing that its opt-in nature would be costly and create discrepancies from one state to the next. Instead, she called for more limited policies that would calculate tuition based on family income and create "debt-free" education.
Clinton's new plan isn't identical to Bernie's ambitious vision, but it's not far off, either. By raising the cap on annual family income over the next four years to $125,000, this proposal may apply to an estimated 80 percent of families. Indeed, the Los Angeles Times reported that the idea is the product of negotiations between Clinton and Sanders.
Her platform on higher education also includes a three-month moratorium that would allow young people to delay payment of their student loans, as well as year-round Pell Grants to fund low-income students taking summer classes.
Sanders praised Clinton's free tuition plan, calling it "a revolutionary step forward" and "very, very significant" idea that combined the best of both their ideas.
It's a far cry from the argumentative nature of their policy debates during the primary season, whenSanders slammed Clinton as a representative of "establishment politics and establishment economics."(Meanwhile, she once countered the pro-Sanders protesters who interrupted her rallies by telling them to "read the fine print" regarding the comparative cost of their proposals.)
Sanders' views may have more influence over education than other topics given his base's youth, but it's unclear how many more of his progressive policies Clinton will adopt before November. Wednesday's proposal certainly points towards the left, though.
The stakes weren't lost on Sanders either. Persistent as ever, he told the Wall Street Journal that despite the merits of her education proposal, "this is one issue — there are other issues."
Photo: Democratic U.S. presidential candidates Senator Bernie Sanders and Hillary Clinton wave before the start of the Univision News and Washington Post Democratic U.S. presidential candidates debate in Kendall, Florida March 9, 2016.  REUTERS/Javier Galeano