Edward Snowden Asks Putin On Live TV: Does Russia Spy On Millions?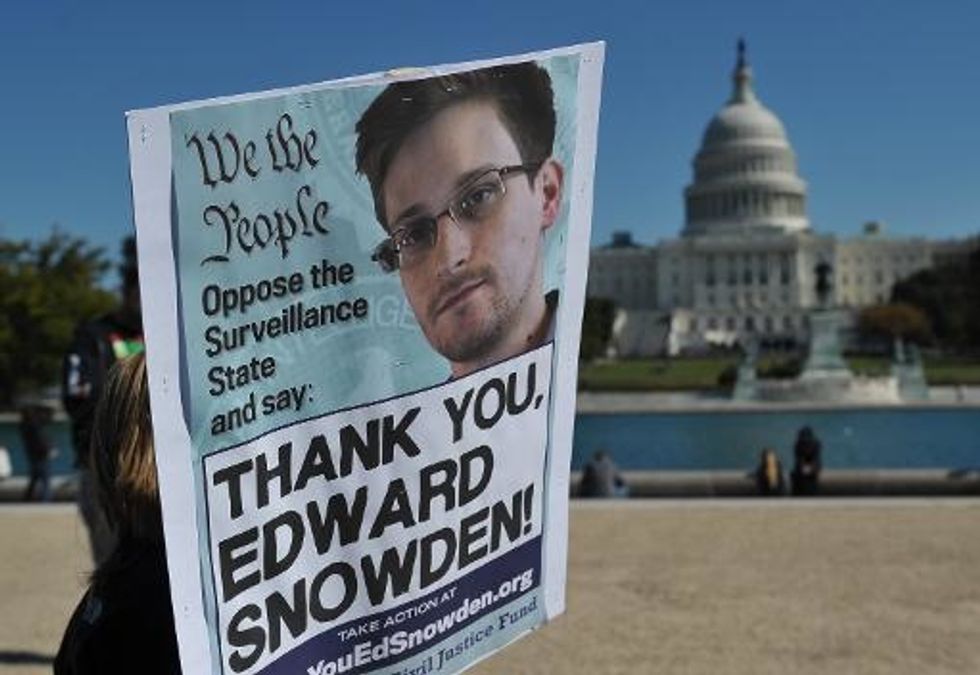 By Sergei L. Loiko, Los Angeles Times
MOSCOW — Edward Snowden, the former National Security Agency contractor who was granted asylum in Russia, made a surprise appearance at President Vladimir Putin's annual televised call-in session Thursday to ask whether the country conducts mass surveillance like the United States does.
Snowden's revelations about U.S. spying practices set off a national debate about the trade-offs between security and privacy.
"Recently in the United States, two independent White House investigations, as well as the federal court all concluded that these programs are ineffective in stopping terrorism," Snowden said via video link from an undisclosed location.
"They also found that they unreasonably intrude into the private lives of ordinary citizens — individuals who have never been suspected of any wrongdoing or criminal activity — and that these kinds of programs are not the least intrusive means available to such agencies for these investigative purposes."
"Now, I've seen little public discussion of Russia's own involvement in such surveillance," Snowden continued. "So I'd like to ask you: Does Russia intercept, store or analyze in any way the communications of millions of individuals, and do you believe that simply increasing the effectiveness of intelligence or law enforcement investigations can justify placing societies, rather than subjects, under surveillance?"
Putin, a former KGB officer, responded with a smile.
"Dear Mr. Snowden, you are a former agent, and I used to work in intelligence," he said, a remark interrupted by massive studio applause and laughter. "So we will talk in a professional language."
"First of all, the use of special means by special services is strictly regulated by the law here," Putin said. "And this regulation includes the need to get a court permission to (conduct surveillance on) a specific individual. And this is why it doesn't have a massive, unselective character here and cannot have in accordance with the law."
"Of course, we proceed from the fact that modern means of communication are used by criminal elements, including terrorists, in their criminal activities," Putin continued. "And special services, of course, must react accordingly … using modern methods and means to struggle against their crimes, including terrorist crimes. And of course, we are doing it."
But, he added, "We don't allow ourselves to do it on a massive and uncontrolled scale, and I hope very much we will never allow that."
"Besides," he said, "we don't have the technical means and the funds for it like in the United States. After all, our special services are strictly controlled by the state and society."
Putin has said repeatedly that Russian intelligence services are not working with Snowden, who was granted temporary asylum last year. The United States has demanded that Snowden be returned to face charges of espionage and theft of government property.
His Russian lawyer, Anatoly Kucherena, told the Los Angeles Times last year that Snowden has an apartment in Russia and is taking Russian language lessons.
He demonstrated the progress he is making Thursday by beginning his question in Russian. "Zdravstvuyte," he said. "Hello."
It was the only Russian word he used.
AFP Photo/Mandel Ngan