Egypt Holds More Brotherhood Members, Mubarak Seeks Release
@AFP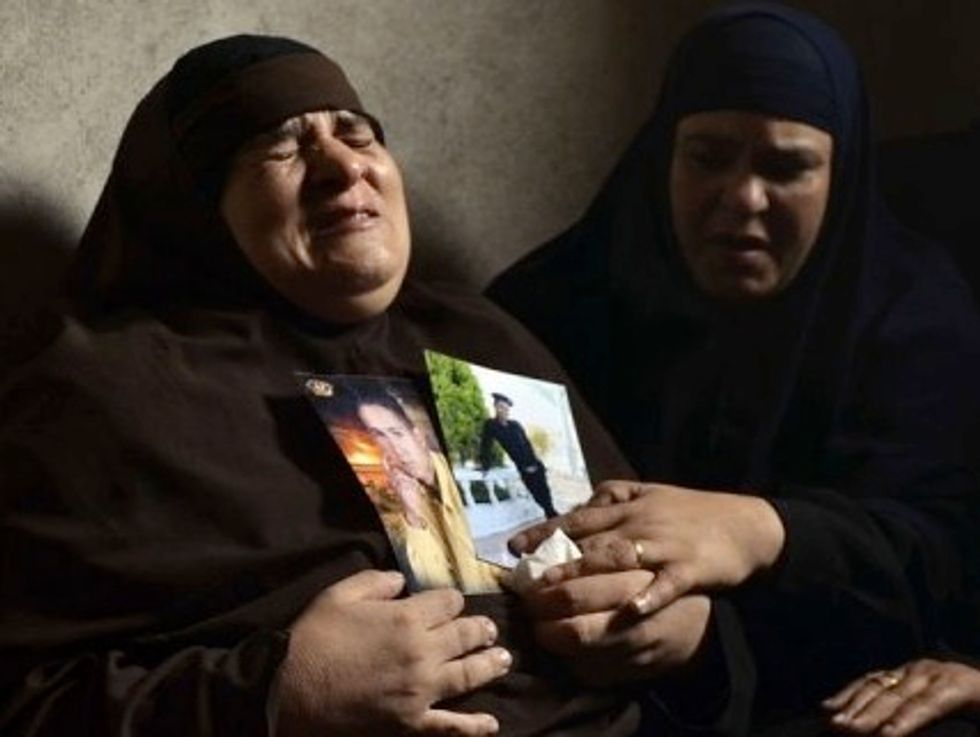 CAIRO (AFP) – Egypt has carried out further arrests of key Muslim Brotherhood members, sources said, as former president Hosni Mubarak was Wednesday to ask a court to grant him conditional release.
Mubarak's hearing threatens to add a volatile new element to the political turmoil that has left nearly 1,000 people dead in a week of clashes between Islamists and security forces.
In the past, however, prosecutors have leveled new charges against Mubarak each time he has been granted release to ensure he remains in detention.
The high death toll has prompted international criticism and the European Union was to hold high-level talks on ties with Egypt on Wednesday, a day after Washington said it was reviewing its aid to Cairo.
Overnight, authorities detained top Brotherhood preacher Safwat Hegazy as well as a spokesman for the group's Freedom and Justice Party, Mourad Ali, sources said.
Hegazy was arrested near the Egyptian border with Libya, they said, while Ali was detained at Cairo airport as he tried to leave for Rome.
Since the July 3 ouster of president Mohamed Morsi, a Brotherhood member, authorities have issued hundreds of detention orders and arrest warrants for partisans of the group.
Dozens of its leaders have been rounded up, including, most recently, its supreme guide Mohamed Badie, who was detained in the early hours of Tuesday.
It was the first time a Brotherhood supreme guide has been detained since 1981 and came as the group reels from the detention and deaths of hundreds of members.
The Brotherhood swiftly named deputy Mahmud Ezzat, described by experts as a "hawk" and conservative, to serve as interim guide.
Badie and two other senior Brotherhood leaders are expected to appear Sunday before a court on allegations they incited the murder of protesters in front of the Brotherhood's headquarters on June 30.
Mubarak, who was ousted in Egypt's 2011 uprising, is also expected in court on Sunday for a new hearing in one of four cases against him.
But on Wednesday, his lawyer will ask a court to grant him conditional release in the fourth and final case against him, after he won court approval for release in the three other cases he faces.
The legal proceedings come after a week of unprecedented political bloodletting in Egypt, which began when security forces stormed two Cairo pro-Morsi protest camps.
The crackdown and resulting violence killed nearly 600 people in a single day, the bloodiest in Egypt's recent history.
It has been followed by days of violence that have seen the country's toll rise to nearly 1,000 dead, including 37 Islamist prisoners who died in custody on Sunday night.
But it excludes the toll in the Sinai peninsula, where militants have launched near daily attacks against police and army facilities.
Vehicles drive on Tahrir Square after it has been partially reopened to traffic on August 20, 2013 in Cairo
On Monday, 25 policemen were killed in a single incident, when gunmen dragged them from two buses and executed them near the border with the Gaza Strip.
The incident, which prompted national condemnation and mourning, brought the week's toll in Sinai alone to 45, according to an AFP count.
The international community has responded with shock to the violence, and EU foreign ministers were to meet Wednesday to consider a response.
Diplomats said the organization was unlikely to cut the nearly 5 billion euros ($6.7 billion) in aid pledged for Egypt for 2012-13.
"We can't act as if nothing has happened, but at the same time we need to be careful not to be counter-productive," said a French diplomat, on condition of anonymity.
In Washington on Tuesday, President Barack Obama huddled with top aides to review Egypt policy.
The White House criticised Badie's arrest, but denied reports it was halting its $1.3 billion annual aid package to Egypt.
Spokesman Josh Earnest said a review of U.S. aid ordered in early July had not yet been completed and that "reports… that suggest that assistance to Egypt has been cut off are not accurate."
On Tuesday, in an interview with ABC News, Egyptian prime minister Hazem el-Beblawi said it would be a "bad sign" for the U.S. to cut off aid.
But, while he said a halt to U.S. aid would "badly affect the military for some time," he insisted that "Egypt would survive" and could turn to other donors.
Oil-rich Saudi Arabia, which backs the army-installed interim Egyptian government, has said it would step in with other Arab station to fill any funding gap if Washington halts aid.
Photo Credit: AFP/Mohamed el-Shahed